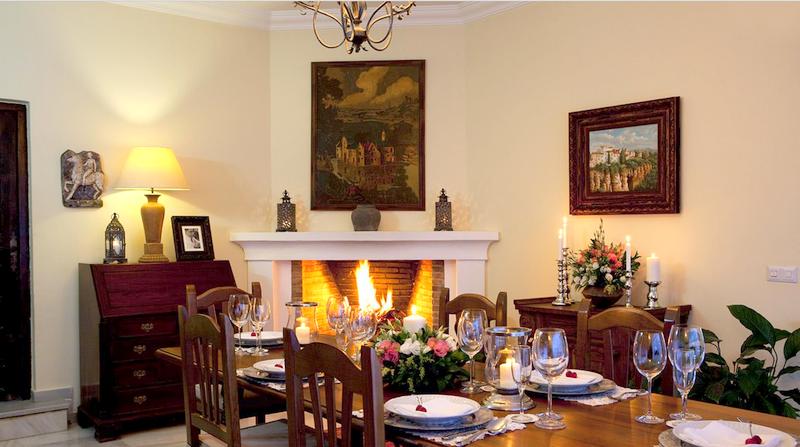 As temperatures begin to cool and shorts and bikinis are tossed to the backs of wardrobes, here at The Luxury Villa Collection we understand the anguish of coming to terms with the summer's end. But you needn't worry; there is a way to effectively remedy those summer blues, and that is to simply plan another holiday.
The sun-soaked Costa del Sol is ideal for a Christmas break to escape from the depressing perma-gloom of chillier climes. While beaches are probably out – for all but the hardiest of bathers, at least – December temperatures can still nudge the early 20s. And besides, cultural traditions are very much in, with the dazzling Malaga Christmas Lights display, the spectacular Reyes Magos parade and a heart-warming festive mood in the air right the way through the Christmas period.
Some of our best villas are available for rent over the festive period. Here are several that we've picked out for that indulgent Christmas break…
For the Ultimate in Style and Convenience
Villa Malibu, Los Monteros Beach, Marbella (£9,200 per week; sleeps 12)
With easy access to Malaga airport and all the festive fun in Marbella (just a five-minute drive way), Villa Malibu could hardly be more convenient. Facilities-wise, it boasts an ultra-modern, brand new gourmet kitchen (ideal for preparing a truly decadent Christmas dinner), an international TV and surround sound system, a home cinema to watch your favourite Christmas movies and a whirlpool to slip into with a cheeky bottle of bubbles.
Find out more about Villa Malibu and book.
Villa Roma, Los Flamingos Marbella (£7,800 per week; sleeps 10)
Another gorgeous property with a home cinema, Apple TV with surround sound, a family friendly dining-living room and TV lounge for a home-from-home Christmas day experience – the elegant Villa Roma has the same key features and location benefits as Villa Diamante (see above). It also comes with a sauna, and a small cocktail bar with LED lighting in the sound-proofed cinema room, perfect for New Year's Eve parties.
Find out more about Villa Roma and book.
Group Villas for a Spanish Christmas and New Year
Hacienda Madronal I, El Madronal Marbella (£9,950 per week; sleeps 20)
This remarkable villa is surrounded by spectacular scenery in the hills above Marbella. There are 9/10 bedrooms so it's perfect for bringing the whole family over for a luxurious Christmas break (with staff on hand to assist). With a spacious living room, traditional open fires, wooden beams, a woodland setting, crisp New Year/Christmas Day walks, a heated pool and a Jacuzzi, Hacienda Madronal I provides all the Christmassy home comforts you could ask for while still retaining a definite Spanish feel.
Find out more about Hacienda Madroñal I and book.
Hacienda Madronal 2, El Madronal Marbella (£6,800 per week; sleeps 13)
Previously home to a Hollywood actress and a world-famous rock star, this sumptuous property has an unparalleled way of charming its guests. The design and décor oozes Spanish history, with an Andaluz-style kitchen, typical whitewashed, pillared arches and an Andalucian patio with a fountain at its heart. The dining room is perfect for family Christmas dinners and there is a grand fireplace around which traditional board games can be enjoyed after dinner. To top it off, Hacienda Madronal II is surrounded by woodland and acres of beautiful gardens.
Find out more about Hacienda Madronal II and book.
For Supreme Luxury
Villa Las Artes, Marbella (£34,000 per week; sleeps 10)
For a very special family Christmas/New Year's break, this jaw-dropping villa has it all. Just a few of its highlights include a brand-new high-tech kitchen, a home cinema system, an antique slate bed snooker table, a pre-stocked bodega (tasting sessions available), an indoor pool and sauna, an outdoor soft saltwater infinity pool lounge with an open fire, and a waterfront location. All the necessary ingredients to ring in the New Year in style, in other words.
Find out more about Villas Las Artes and book.
Villa Vivaldi, La Zagaleta, Benahavis (£19,250 per week; sleeps 14)
There's nowhere quite as luxurious and exclusive as La Zagaleta in Benahavis, a magnificent private country estate with a bird's-eye view over Marbella and the Costa del Sol. So if celebrating in style is your thing, then this is as good as it gets!
Villa Vivaldi mixes the best of Classical Spain with the modern home comforts and designer finish you would expect in a villa of this calibre; fine works of art, a refined sense of style and sophistication, with a super-modern 2 bedroom guest apartment to house your dearest friends who may want to come along and enjoy the fun! There's a complete Hollywood-style movie theatre and a Gentleman's Club in the basement, with a full size antique slate-bed snooker table and stylish bar (We're sure the ladies would be allowed in too!), and your live-in housekeepers will be there to assist with anything you may need.
Find out more about Villa Vivaldi and book
Like our pick of luxury Spanish villas for a Christmas break? Pair it with a festive table at one of our favourite restaurants in Marbella.
https://theluxuryvillacollection.com/wp-content/uploads/2015/10/Villa-1-living.jpg
447
800
Lindsay
http://luxuryvillas.wpengine.com/wp-content/uploads/2013/04/Main_Logo-340-300x127.png
Lindsay
2015-10-08 19:25:40
2017-11-08 08:39:41
Our Best Luxury Villas for Christmas & New Year