It's probably fair to say that Spain's foodie credentials need little introduction. However, we know what it's like to try and distinguish the good from the, well, not so good on holiday.
So to help you sort the wheat from the chaff, here's a Luxury Villa Collection edit of the very best Marbella restaurants. Whether you love the informal sharing of a plate of Jamon Iberico or some El Buli-esque molecular gastronomy, there should be something here that gets your taste buds tingling…
Marbella
Best Gourmet
Local boy Dani Garcia has three eateries in Marbella – the eponymous Dani Garcia, BiBo and Lobito de Mar. The restaurants sit pretty much next door to each other, and offer cuisine to delight the eye and tackle even the most discerning of taste buds, serving up Michelin-standard food which is innovative and intense at times but most definitely Spanish.
Dani Garcia
The food is theatrical, the service is first-class and the prices are to match. The restaurant offers a 19 course (we kid you not) tasting menu at €168, a short version at €75 and a full a la carte selection (where you can select half-portions). Molecular gastronomy is the name of the game here, for the most part, created before your eyes in the open kitchen. This allows Garcia to go wild with both the flavours and the presentation, and every plate on our last visit was met with a 'Wow' and a 'Oooh'. Simply sensational.
Address: Hotel Puente Romano, Avenida Bulevar Principe Alfonso von Hohenlohe, s/n, 29602 Marbella, Malaga. Grupodanigarcia.com.
BiBo
For a quicker or lighter bite, BiBo is ideal. It's a buzzy and bustling but relaxed bistro with four different areas: the terrace, Grandma's table, the Raw and Oyster Bar and the Cocktail bar. While the food's invariably delicious, the haute-ness has been dialled down a notch or two compared to sister joint Dani Garcia. There's a choice of stone-baked pizzas, burgers (Garcia's bull burger is a signature dish that has been copied all over Spain), stuffed whole chickens and slow-cooked lamb legs to share and sushi, along with tapas, steak and fried fish dishes. To cap it all off, the cocktails are quite simply the best in Marbella.
Address: Hotel Puente Romano, 29602 Marbella, Malaga. Bibodanigarcia.com.
Best Newcomer
Cascada Cocina & Bar
Just outside town, in the hills above La Cañada shopping centre, Cascada Cocina & Bar is one of the freshest recent additions to the Marbella restaurant scene. Quite literally, in fact. The restaurant, which opened in early 2018, sits alongside a series of babbling pools and waterfalls surrounded by lush green gardens. Before we'd even ordered we were pretty much won over. It's a lovely spot.
Inside, the space is just as welcoming. The interiors are a blend of old, foot-worn terracotta, teal coloured tiles, slouchy sofa space by the bar (where there's a fire for chillier winter evenings) and Scandi-chic chairs that all comes together to understatedly stylish effect.
And the food? More than a match for the setting. The restaurant was opened by food-loving Dutch entrepreneurs Maryn Gerrits, Arjan van de Vrande and Jaap Schaafsma and there's a real commitment to relaxed, unfussy dining with a focus on letting the local ingredients do the talking. The last time we dropped in for lunch, the grilled naan bread, beef carpaccio and delicately fried tempura vegetables were all superb, while the gleaming glass wine cellar also gets full marks.
Address: Urb. Montua 39, 29602 Marbella, Malaga. Cascadamarbella.com.
Best for Special Occasions
Paco Jimenez
This small restaurant is dripping with authentic Andaluz atmosphere. Although the address is Plaza de los Naranjos – the historic main square slap-bang in the middle of Marbella's old town – the dining room is romantic, traditional and unassuming. If you want bling and glitz then this isn't the place for you. However, if it's an intimate meal you're after then it certainly hits the spot. The food is uncomplicated but delicious with sensible portions and a good wine menu. The restaurant is on the second floor of an old central patio-ed style Andalucian building. (There's a rather good art gallery below, actually.) Be warned, though – there's only a brace of tables for two on the balcony overlooking the square, so book early if you're planning a special meal a deux surrounded by the intoxicating smell of orange blossom.
Address: Plaza de los Naranjos, 10, 29601 Marbella, Malaga. Pacojimenezmarbella.com.
Best Traditional Tapas
Taberna la Niña del Pisto
This tapas bar serves up a wide range of deliciously simple, home-spun classics from the province of Cordoba. Expect all the traditional dishes that Spanish food fans have come to know and love – salmorejo (a thick, cold soup served with jamon and boiled egg), berenjenas con miel (lightly fried aubergine drizzled with honey), snails in a spicy sauce, local cured cheese and bull's tail stew. A must for anyone looking to adhere to a strict 'carbs in Marbs' policy.
Address: Calle de San Lazaro, 2, 29601 Marbella, Malaga.
Bar El Estrecho
This Marbella dining stalwart was founded in 1954 and is still family run to this day. It lives up to its name – 'estrecho' meaning narrow – and the space on offer can be at something of a premium on weekends, particularly. You can stand at the bar, or if you prefer a table for your assortment of mouth-watering tapas and a seat for you, too, then there's a very informal dining area. This is more towards the spit and sawdust end of the Marbella restaurant spectrum than the gourmet, but it makes for an authentic and fun pit-stop in the historic old town. There are no surprises on the food front but a good selection of the likes of croquettes, seafood (think fresh clams, prawns, and octopus) and pork dishes.
Address: Calle de San Lazaro, 12, 29601 Marbella, Malaga. Barelestrecho.es.
Best for an Early Bite
The Spanish eat late. There's no getting around it. If you haven't been able to quite slip into the rhythm of Spanish dining times then here's the best place to get some early dinner… 
Beckett's Bar & Restaurant
Earlier seatings aside, if you're also longing for something home-from-home then Beckitt's is almost certainly the best restaurant in Marbella. Situated on a corner with terrace tables it offers an early bird menu (before 8pm) at €25 per head. It's famed for its steaks and its rib-eye, Angus fillets of beef are consistently top quality. It gets lively at the weekends with live music so if you're wanting a quiet, romantic meal perhaps try one of our others. It's great for a boisterous family meal, though, and can accommodate large groups.
Address: Calle Camilo José Cela, 4, 29602 Marbella, Malaga. Beckettsmarbella.com.
Paella y Mas
Located in the centre of Marbella, this is your go-to place for a real, authentic paella or fideua. These delicious Spanish staples – which are satisfying, soulful and quite simply the best comfort food – are prepared by Chef Javier Ponte. The fideua, which is similar to paella but made with thin pasta noodles rather than rice, is always cooked to perfection – moist but slightly crispy at the bottom. There are a good range of starters to like salmon tartare. If paella or fideua doesn't appeal to everyone in your party then there's a good selection of choice Iberian pork cuts which will satisfy any meat lover. It's open for 12.30 for lunch and 19.30hrs for dinner.
Address: Calle Hermanos Salom, 3, 29601 Marbella, Malaga. Restaurantepaellasymas.com.
Best Small Restaurants
Skina
Despite its generally low-key vibe and unpretentious dining room Skina is an excellent restaurant. No bravado, no tricks, just the best produce cooked perfectly plate after plate. Barcelona born chef Jaume Puigdengolas keeps the menu enticing with new creations, so even regulars will never get bored. Booking is essential as the dining room is limited. The sommelier has selected local wines that are from small bodegas as well as the larger, better known winemakers. One of our favourites, Bodegas Bentomiz, is among their chosen wines.
Closed Sunday & Monday
Address: Calle Aduar 12, Casco Antiguo, Marbella. Restauranteskina.com.
Restaurante Messina
The modern and contemporary dining room is comfortable and doesn't interfere with the food. It might lack a bit of atmosphere if it's quiet but more often than not it's full with happy diners. We loved that the sommelier, who is truly passionate about Spanish wine, would recommend local wines when appropriate too. The food is excellent and easily Michelin Star-worthy. The kid with creamy Payoyo cheese is melt-in-the-mouth delicious.
Address: Av. Severo Ochoa, 12, 29603, Marbella. Restaurantemessina.com.
Best Non-Spanish
Nobu Marbella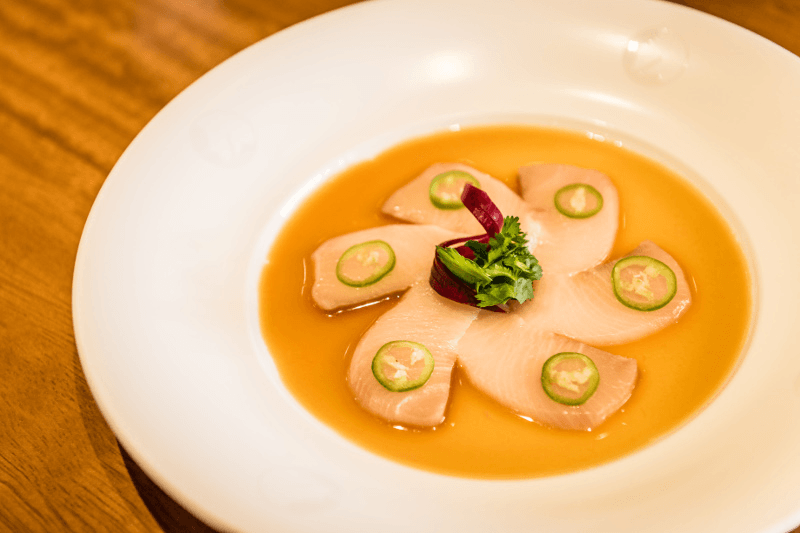 All breathe a sigh of relief – your favourite Japanese restaurant can be indulged on holiday, too. Nobu has finally come to Spain. The international restaurateur and chef needs little introduction: Nobuyuki Matsuhisa, the master of Japanese food.
Sitting in La Plaza alongside the equally glamorous likes of Bibo, with its buzzing atmosphere and plant-filled terraces Nobu Marbella has pretty much the perfect setting. The dining room is contemporary with clean lines, wooden cladding and simple table settings – no fuss, just elegant design.
The team are working hard to reach the standards of the infamous Nobu Park Lane (the first European Nobu, and one of our favourite restaurants). If you're new to the Nobu experience, start with a saké and go for their set menu, which is usually seasonal. This will give you the chance to try some of their household name dishes as well as others specific to Nobu Marbella. If we absolutely had to mention a negative it might be that the tables are booked in sittings so on busier nights you can't while the night away after the meal with leisurely drinks.
Address: Boulevard Alfonzo H, s/n, 05200 Marbella, Malaga. Noburestaurants.com/marbella.
Best for Laid-back Quality
Lobito de Mar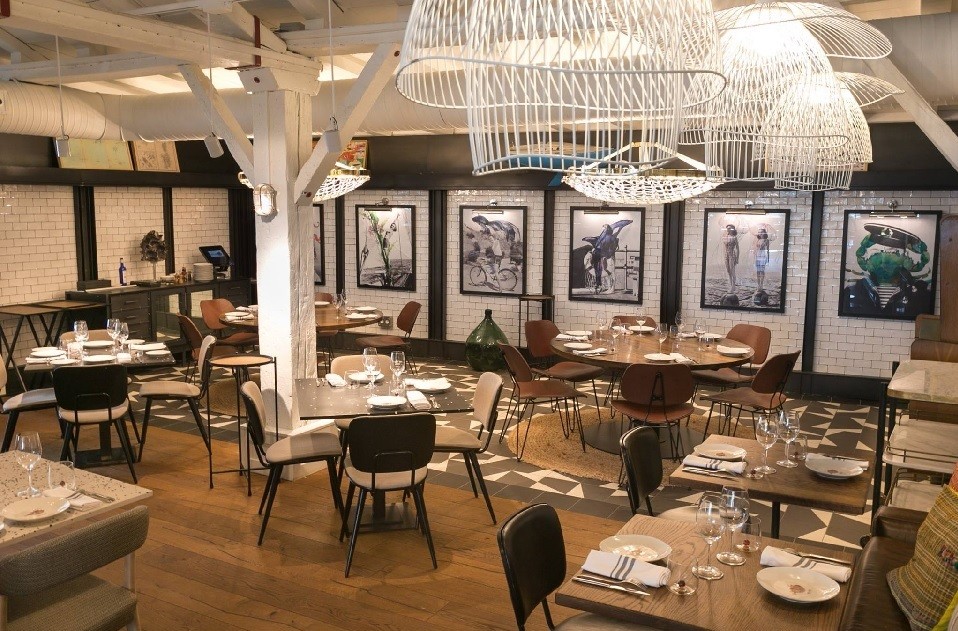 The pavilion-style building of Dani Garcia's most recent restaurant Lobito de Mar is chic and stylish. This is Dani's take on a chiringuito – without the beach. The would-be rough and ready seaside shack however is replaced by white and black interiors warmed up by natural tones and green leafy plants, this makes for a relaxed and informal eating environment.
There are two menus: affordable tapas and light bites as well as a full menu. Both feature plenty of fish and seafood cooked according to simple, traditional methods from 'espeto' (skewered on a BBQ) to paellas. A favourite on our last visit was the dry noodle fideua paella, cooked to absolute perfection.
And you couldn't mention Lobito without at least a passing mention to the wine cellar, a dizzyingly extensive collection chosen by Carlos García Mayoralas which caters to all palettes and plates. Also, the sangria menu – no, we hadn't seen a sangria menu before either – has five different fusions of the traditional sangria to try, which certainly makes for a conversation stopper (or starter).
Address: Av. Bulevar Príncipe Alfonso de Hohenlohe, 178, 29602 Marbella, Malaga. Grupodanigarcia.com.
Puerto Banus
Best for Post-Dining Atmosphere
Oak Garden & Grill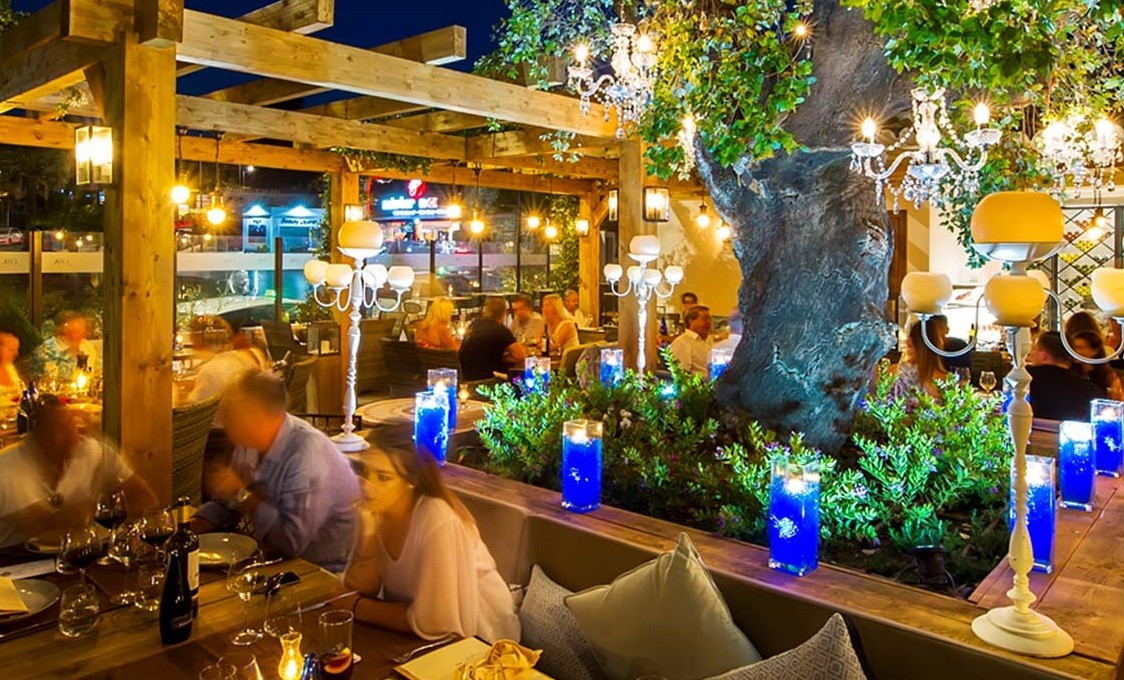 In Nueva Andalucia, away from the Puerto Banus port – but not so far away you can't saunter from one to the other on foot – with its perfectly lit dining room and lively decking area outside, Oak Garden & Grill has a great atmosphere. A part of the locally well-known La Sala group, this new-ish venture falls squarely into the reasonable price bracket, while also being great for families or groups.
As the name suggests, meat and seafood dishes are the order of the day here, coming perfectly grilled and often served up to cook at the table to your desired taste. You're here to eat their signature grilled meat so don't fight it: order the ribeye or Galician fillet, and be done with it.
Next door to Oak is La Sala, which is a great place to end your evening with cocktails, some live music and people watching.
Address: Calle Belmonte, 29600 Nueva Andalucia, Marbella, Malaga. Oakgardenandgrill.com.
Best for Wine Lovers
D-Wine Restaurant
 
This concept restaurant to the west of Puerto Banus has an accompanying wine shop and a bodega of 5500 wines. Although quite a large restaurant, it doesn't feel echo-y or cavernous and you don't rattle around in the place when there are only a few other diners. The dining room is comfortable and relaxed with unassuming décor, while there's also a terrace which is heated during the winter evenings. Service is attentive, and the menu is a real crowd-pleaser with something for everyone. The Galician scallops on our visit were excellent and the quarter of lamb was a great sharing dish cooked perfectly in their Josper. Make the most of their Sommelier as they can create pairing menus, thematic tastings and horizontal or vertical tastings for you.
They also offer intermediate and advanced wine courses – please contact our concierge to arrange. There's parking outside the restaurant, but on some nights this can be busy and with such a fantastic bodega it would be a shame to not partake in some tasting.
Address: Centro Comercial Azalea, Calle Ana de Austria, 2, 29670 Marbella, Malaga. D-winecollection.com.
Best Frontline Golf Course Location
Magna Café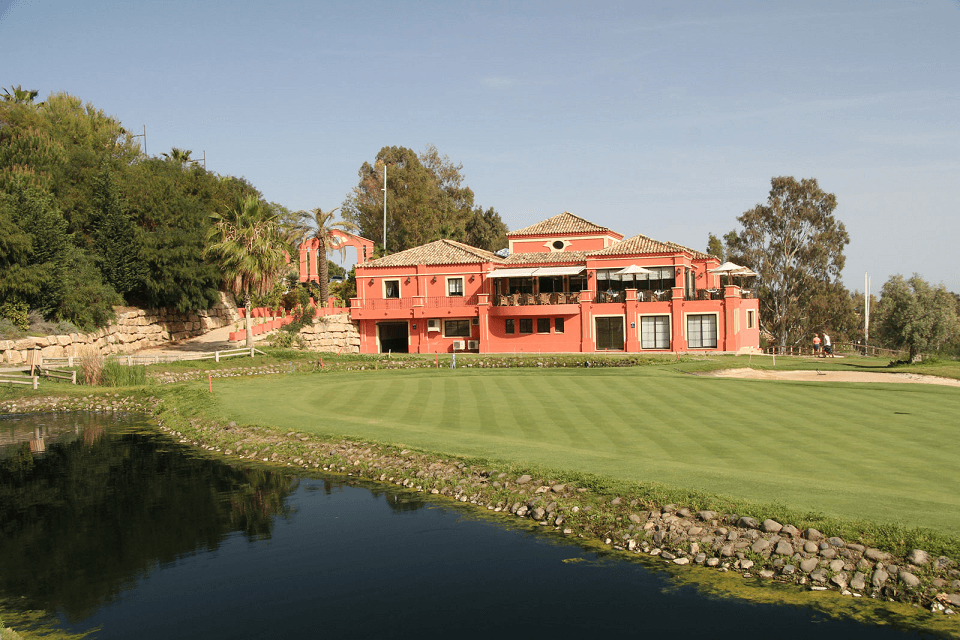 Opened in 2005, Magna Café offers a traditional restaurant and dining experience on the Magna Marbella Golf Course in Nueva Andalucia. Décor-wise it's perhaps a little lost but the views out onto the golf course are more than enough to distract you.
This relatively stately restaurant is a long-established stalwart on the Marbella food scene so you must forgive it for the odd dish that you thought never saw this side of 1990. We love their lobster soup and roast lamb leg. It's a good all-round crowd-pleaser and can accommodate groups with ease.
Address: Avenida Calderón de la Barca, 29660 Marbella, Malaga. Magnacafe.com.
Best for Kids
It's worth pointing out at this point that the Spanish love children and in the vast majority of establishments won't even blink at the sight (and sound) of a large, unruly brood crossing the threshold. However, a restaurant being supremely relaxed about it is one thing; offering high-chairs, children's menus and changing facilities is something completely different.
The Funky Forest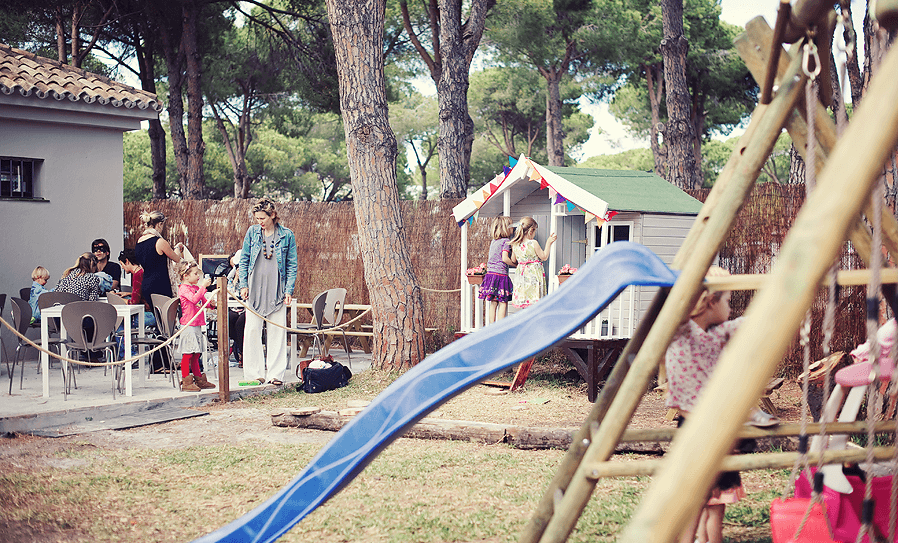 This has made the LVC cut of best Marbella restaurants because the concept is one of the most family-friendly in Andalucia- namely, 'A place to play, create, stimulate, share and enjoy.' The Funky Forest is based outside the centre of Estepona (just up the road from Marbella) and offers everything a parent would ever want in a restaurant. It offers cooking, music, recycling, language, theatre and dance classes for children. As well as being situated in a pine forest it has a great faux grass area for safe, playful tumbles with a swing and even a bouncy castle. The food is child-led so it's more of a lunch spot for the adults to take a breather while the kids have fun playing with the resident rabbits and all the other children.
Address: Avenida de Bel-Air, 29688, Malaga. Funkyforest.es.
This is by no means an exhaustive list of great places to eat – there are so many other mouth-watering options for you to discover in and around the town. For ideas and assistance with reserving the best tables, just ask our Concierge. Aproveche!
Appetite whetted? Try them all out from the comfort of one of our nearby luxury Marbella villas.
For more of the best dining on the Costa del Sol, check out our pick of top places to eat in Malaga.
https://theluxuryvillacollection.com/wp-content/uploads/2015/09/paco-jimenez-restaurant-marbella.jpg
684
960
Lindsay
http://luxuryvillas.wpengine.com/wp-content/uploads/2013/04/Main_Logo-340-300x127.png
Lindsay
2015-09-22 19:59:16
2018-08-22 12:50:20
Sixteen of the Best Restaurants in Marbella