Partnering with The Luxury Villa Collection
Marketing your Spanish rental with the Luxury Villa Collection
The Luxury Villa Collection is where discerning travellers come to indulge their love of Spain; they want to stay in a beautiful Spanish villa rental that is equipped and finished like their very own home-from-home, ready to enjoy a cherished family break, romantic getaway or time with friends in the best way possible.
In short, The Luxury Villa Collection invites guests to experience Spain in style.
We couldn't do this without the collaboration of our amazing villa owners and property managers, so naturally we care as much about you as we do about your guests.
This is why we offer an unparalleled service to help you get the very best from renting out your luxury Spanish villa. We want you to enjoy a healthy return on investment, hassle-free bookings and many happy, repeat guests.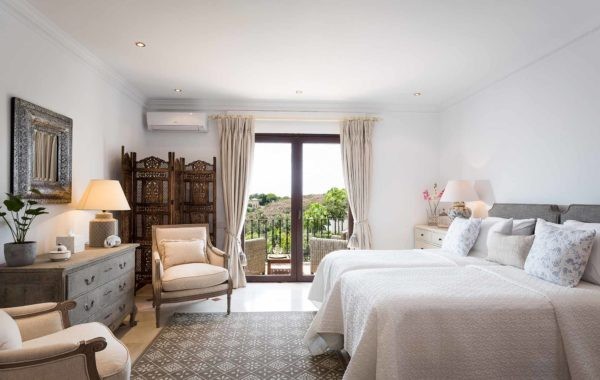 Local experts
The expertise you've been looking for
At The Luxury Villa Collection we only offer Spanish properties that have a special-kinda-something and consistent high standards, so if you own or manage a luxurious Spanish villa, cortijo or hacienda, big or small, then we would love to hear from you – even if your villa is 'not quite there yet'.
Read below to find out how we can help you gain more bookings from discerning and respectful clients, letting you enjoy the added income from your property.
If you think your Spanish villa is a good fit for our Collection, or you are looking to invest in upgrades and improvements to get it 'guest-ready', then we invite you to send us some details and we'll be happy to carry out a complimentary review.
Partnering with The Luxury Villa Collection
A complete solution for renting out your Spanish Villa
As Spanish Specialists, We know your market
At The Luxury Villa Collection you'll only find high-quality, luxury properties for short term rentals in Spain; by maintaining a tight focus on our niche, we offer it to the best of our ability.
Our attention to detail means we're leading the way in helping owners to market their Spanish villas. For each villa we take on, we invest some £3000 in our package of niche marketing, professional copywriting, photography and video marketing.
We are real people, not a web-scraper in sight
Our owners appreciate that we are not a faceless agency or listing site that may never even visit your villa; we care just as much about you, the owner, as we do about our guests. That's why you'll receive our best personal attention and advice to help you attract the right guests, at the right prices, all based on 20 years' experience working with high-profile Spanish travel companies.
We're also quite different to many websites offering Spanish villas for rent; we're known for offering only hand-picked luxury villas, so we have to work hard to ensure our portfolio meets our guests' approval. Crucially, we don't list villas from the internet that we have not personally seen, and we maintain a very close contact with all of our villa owners and property managers to ensure a smooth stay for your clients.
For you, that means hassle-free rentals and happy and loyal guests, who'll love and respect your property and want to come back time and time again.
Your personal rentals Consultant
Between us, we have years of quality management and marketing experience in the Spanish travel industry. We provide unlimited support for owners who feel they could benefit from some additional feedback and expertise when new to villa rentals or The Luxury Villa Collection.
We personally visit all of the villas we work with so we can get to know the villa, but also meet you the owner. We love being able to talk in person about what you want from your holiday rental business, or indeed to alleviate any concerns you may have.
This is perfect for owners who renting a villa for the first time, but just as valuable to experienced renters looking to take their villa up to the next level. Once your villa makes it into our portfolio, we're happy to review it with you at any time to see what we can do together, to improve and refresh the property, service and marketing to attract even more bookings.
Professional Villa photography
We're experts at high-end property photography with decades of experience photographing some of the finest properties in Spain. When your villa is accepted into our portfolio we'll carry out a professional photo for use in our marketing, at no cost to you.
We want your guests to experience the same 'wow' feeling that we did when we first saw the property, even before they have visited, so we think this photo shoot is one of the most important investments we can make in our commitment to you.
High Quality video shoot
We're the only villa rental agency to shoot a professional, high quality video, including spectacular aerial footage to show off the surrounding scenery to the fullest. Again, for villas that make it into our Collection, this video is free of charge for use in our marketing.
Video lets your potential clients get a deeper insight into your property and know they're making the right decision when they decide to book, so we see this investment as a no-brainer.
Promoting your Villa
As well as being one of the highest-ranked agencies in Google for luxury Spanish villas, we invest in high-quality Social Media to ensure plenty of targeted visitors – we don't need to rely on 3rd party agents as we take 95% of bookings directly with the client or their PA.
We are also very active in promoting your holiday villa within international markets. Our clients come not only from the UK and Europe, but also from the USA and Canada, Scandinavia, South America and Australia.
We enjoy very favourable terms with a small number of highly effective marketing publications, as well as partnering with niche luxury travel planners and PA's to promote your property to a wider, highly affluent audience.
We will never add your villa to faceless multi-listing sites such as Airbnb or Booking.com, that we have no control over, and we have strict copyright policies to stop the details falling into the wrong hands; when a client finds your villa online with us, they'll be confident and reassured to see our reputable and legal agency behind it.
Finally, The Luxury Villa Collection has been featured in publications such as The Telegraph Travel Supplement, Fodor's, National Geographic and Conde Nast, which bring valuable targeted visitors to our site. We also promote our villas with some of the world's leading luxury travel bloggers, and we continuously look for new collaborations with travel writers and journalists to promote your property wherever possible.
Taking the burden from busy owners
Busy or overseas-based owners will be happy to hear that we provide a complete Bookings Management service covering as much or as little as you need.
Our service ranges from working closely with your villa manager to ensure guest-readiness, to spending many hours on marketing and promoting your property, handling dozens of enquiries to secure the right kinds of bookings, processing online payments and doing all of the pre-arrival admin, right through to making sure your guests have a fabulous stay with the support of our Guest Experience team.
Our ultimate goal is for guests to have such a smooth service, from the first email to their return home, that they naturally want to come back again and again.
Bookings manager
If you prefer even less hassle, we can also coordinate your bookings from any other channels you might have, such as your own online listings or smaller agents.
We can manage your calendar and provide a leading concierge service for all of your guests when booking via our office, helping you remove the hassle of endless admin and leaving you more time to enjoy the benefits of renting your villa.
The client's booking contract is always directly with you, so if you wish, you are perfectly able to contact your guests before they arrive or after their stay to welcome them home. We'll always keep you closely informed of anything that might crop up while they're staying at your property.
The Luxury Villa Collection is a trading name of Speciality Stays LTD which is a fully registered UK company. We pass bookings to you as a marketing agent, and the rental contract is directly between you and the client. However, because we also offer a complete suite of Guest Experiences, your guest will not be abandoned by us as soon as the booking is made. They'll be provided with everything they need before, during and after their stay, so you can have as much or as little involvement as you wish.
Just like in the UK or USA, most regions in Spain have a licensing system for holiday rentals. We can help you stay up to date with the latest industry news, or even help you get your villa registered if you're not sure where to begin.
Working with The Luxury Villa Collection will help you comply with your local requirements as follows:
Registration and compliance
If you have not yet applied for your tourist accommodation license, we can assist you with making the application through our local "Gestor" partners.
When we visit your villa, we can advise you on what we think may be needed to comply with the legislation; from air-conditioning and heating requirements, to first-aid kits, bed linen and guest books. We can also assist with sourcing any of these items and recommend some fabulous interior designers who can get your villa looking tip-top.
Servicing your guests
All clients of The Luxury Villa Collection are supported by our Guest Experience Team and local Concierge, so we can assist with their pre-arrival itinerary planning, as well as having a concierge on-call during their stay at no cost to you.
We will also provide a 'Guest Information Book' for your villa which will answer 99% of all those questions about which you used to receive annoying phone calls. Never before have your rentals been so easy!
On a practical level, we can also provide you with guidelines to give to your Property Manager on standards of cleaning, maintenance and changeovers, helping you provide the required level of service to your guests.
Booking administration
We can assist you with writing any 'House Rules' that you may wish to apply, and we provide very clear 'Terms and Conditions' to clients on your behalf, meaning you are not obliged to use the default terms outlined in the Spanish law (such as the 10 day cancellation/refund rule).
We provide all the client documentation required by law (booking contracts, payment receipts, passports/ID number and the all-important Arrival Forms required by the local Police ), which you can access at any time.
Compare it to the best hotel you've stayed in
When a client books with The Luxury Villa Collection they anticipate staying in a beautiful property with a high level of service to match, so they appreciate the value we provide in helping to make that happen.
This means that when we list a new villa, we must be confident that we can give our clients the 5-star treatment. So everything from the bathroom fittings and bed linen, to the cutlery and cushions must be of excellent quality and durable to withstand a lot of traffic during a busy season.
A well-run Villa
Who do you call when the swimming pool pump breaks down? Or the lights won't come on? Or a client needs an unscheduled linen change or extra clean? The service given to our clients is just as important as the villa itself, so we must be confident that your property will be well managed when we add it to our Collection.
Identifying the wow-factor
Added luxuries such as a heated pool, hot tub, outdoor kitchen, home cinema, or games room/kids' play area can greatly enhance the unique selling proposition of your villa and will help to attract guests. But often, we're just as keen to find an amazing location, fabulous views and that 'special kind of something' to help our guests relax and enjoy Spain in style.
When we visit your villa we'll get a feel for what makes it special, why it would appeal to our clients, in other words, what the WOW factor is. This is a crucial first step in deciding where your property would fit into our collection. From then on, we can tailor the marketing message and photography to appeal directly to the target audience.