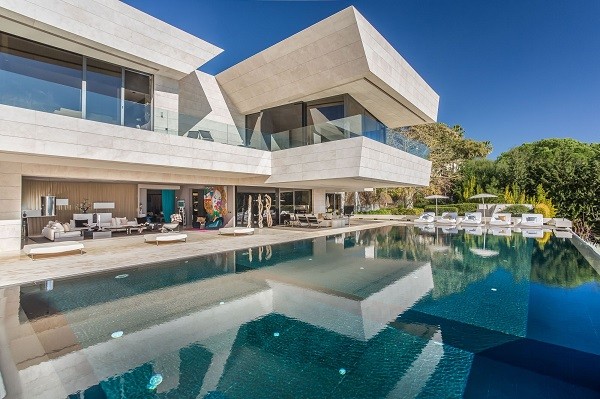 Whether you're looking for an ultra-modern designer villa in Marbella for a special occasion with friends or a more traditional, stone-clad affair in the green north for a family holiday, here's our pick of the very finest – and most luxurious – large villas in Spain.
Villa Zensei – Marbella, Southern Spain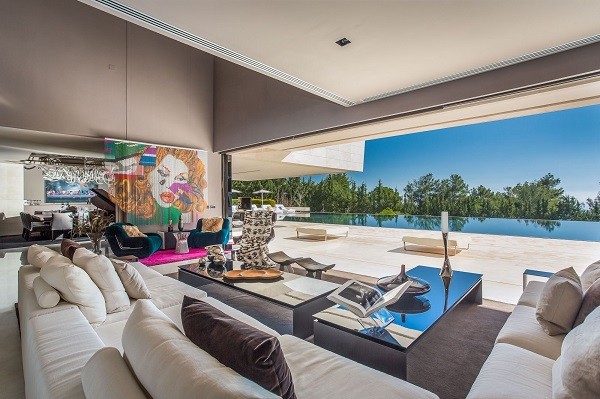 Ringed by high walls, impressive floating architecture and floor to ceiling glass, there's more than a hint of the Bond villain's lair about Villa Zensei. (Minus the sharks in the pool, of course.)
Inside 8-bedroomed Villa Zensei there are simply too many special things to mention, such as your own private spa and tennis court to rival Marbella's top hotels. But it's the sleek designer furniture, custom-made sculptures and incredible modern art collection that never fail to have our jaws hitting the (gleaming marble) floors when we visit.
Find out more about Villa Zensei.
Finca del Rey – Castilla La Mancha, Central Spain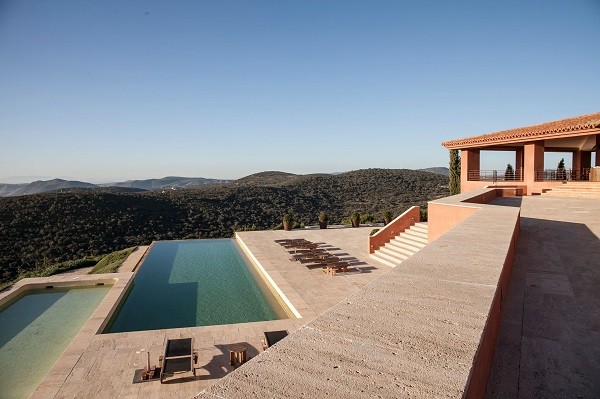 This large villa in central Spain sleeps +29 people across its 14 enormous ensuite rooms. But size is far from the only thing this sprawling gated country estate has got going for it.
The list of facilities reads like a rollcall of ultra-luxury villa must-haves. Private spa? Check. Range of sports and outdoor pursuits to choose from? Check. Full complement of staff and catering laid on? Check and check. Oh, and did we mention it also comes with its own private runway and helipad?
Beyond the 7,400 acres of grounds, there are views fit for a king, with the mile after mile of the wooded hills of central Spain stretching away in every direction. Simply stunning.
Find out more about Finca del Rey.
Villa Karima, Sotogrande, Southern Spain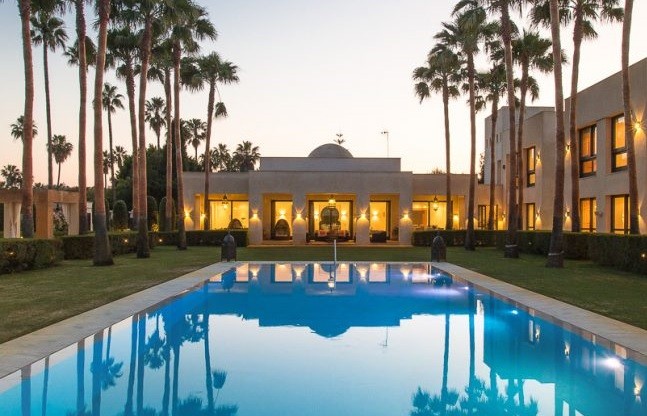 Spread out across seven different 'pods' separated by a huge pool and a virtual forest of swaying palms, Villa Karima looks for all the world like a small hamlet as much as a large villa. First impressions can be deceptive, though, as while this ultra-luxury property in Sotogrande is undoubtedly on the range-y side, it's not remotely impersonal.
The beauty of the place is that, in contrast to its size and, frankly, pretty staggering list of facilities, it's full of intimate corners and Moroccan interiors notes that provide the necessary design touches. It all comes together to create a truly remarkable space.
Find out more about Villa Karima.
Villa Firenze, Marbella, Southern Spain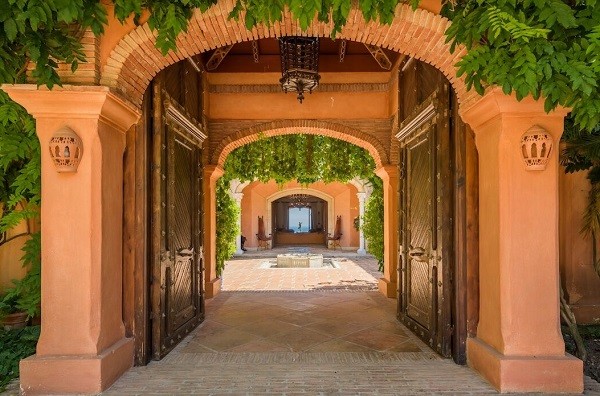 If you had to sum up Villa Firenze in one word, it'd undoubtedly be 'Grand' – and with a big twiddly, capital 'G', too. Drawing inspiration from Italianate palazzos, it's a stunning ensemble of vast rooms dotted with columns, art, antiques and elaborate, decorative notes throughout – with the odd grand piano and full-size snooker table thrown in for good measure.
Leaving aside the dramatic visuals, though, it's got plenty of other ultra-luxe credentials up its sleeve. It comes with its own full spa, tennis courts, putting green, home cinema and huge heated pool, with staff on hand to help out as and when required. Set up above the Marbella coastline, in the ultra-exclusive Sierra Blanca estate, the sea views are on the special side, as well.
Find out more about Villa Firenze.
Villa Bahia – Santander, Northern Spain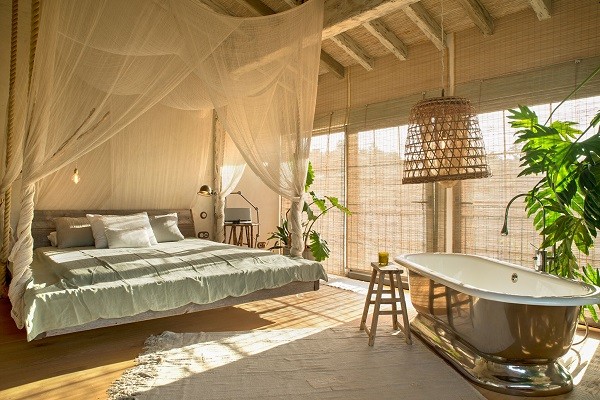 Up in the north of Spain, from the stunning grounds surrounded by green, rolling pastures and virgin coastline of Cantabria to every last little luxury detail thought of inside, this large villa with additional guest house has an awful lot going for it.
But if we had to pick out one thing that made it truly special, it has to be the interiors. Edison-style filament bulbs hang from the high ceilings, a riot of rattan and palm fronds blend botanical and colonial trends, freestanding bathtubs gleam in the rooms, a retro wooden filing cabinet acts as a kitchen island; outside, reclaimed metal beds serve as unusual takes on the traditional pool-side lounger.
All very stylish indeed, in other words.
Find out more about Villa Bahia.
Madroñal Collection Villa 2 – Benahavis, Southern Spain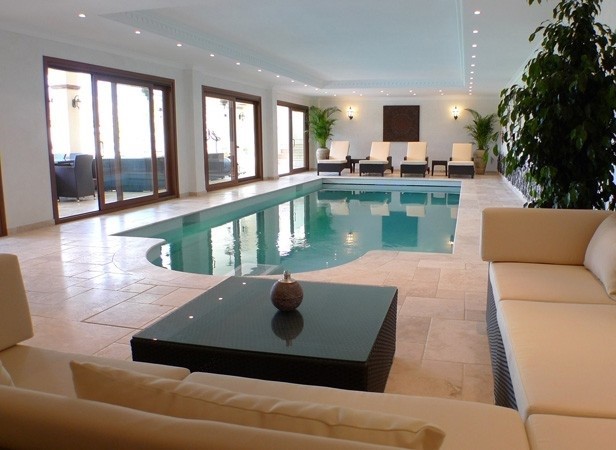 With its five range-y ensuite rooms plus a standalone two-bedroom apartment, this villa in the exclusive gated enclave of El Madroñal can comfortably accommodate a group of up to 26.
Water – and its relaxing powers – are very much a central theme here: as well as the outdoor swimming pool, there's the small matter of a private spa with a super-sized Jacuzzi, sauna and heated indoor pool. Shoulder season heaven, basically.
Find out more about El Madroñal Villa 2.
Los Flamingos Villa 1 – Benahavis, Southern Spain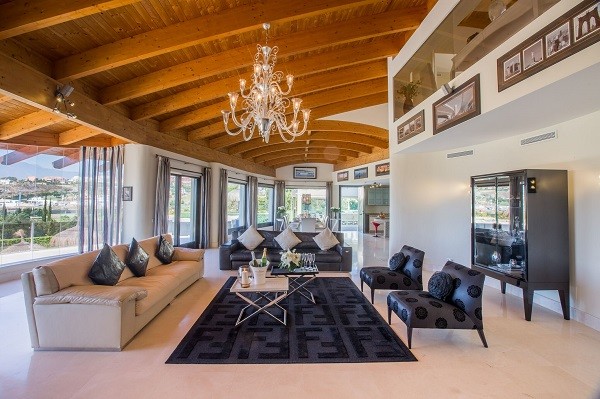 With its 10 cavernous rooms sleeping 20 +, acres of space inside and out, a pool of near-Olympic proportions and technology-stuffed kitchens – but with staff and chefs available so you hardly have to lift a finger if you don't want to – Los Flamingos Villa 1 is one of the best ultra-luxurious villas in southern Spain for large groups.
The golf courses of the Villa Padierna resort complex are right next door, too, making it ideal if you're a group of golfers planning to hit the fairways of the Costa del Sol.
Find out more about Los Flamingos 1.
Like our pick of the best ultra-luxe large villas in Spain? For more luxury villa holiday inspiration, check out our edit of villas with amazing pools.
https://theluxuryvillacollection.com/wp-content/uploads/2018/01/finca-del-rey-surroundings1.jpg
401
600
Phillipa
http://luxuryvillas.wpengine.com/wp-content/uploads/2013/04/Main_Logo-340-300x127.png
Phillipa
2018-01-28 09:38:11
2018-03-11 12:15:08
Large & Luxe: Six Incredible Villas in Spain for Big Groups