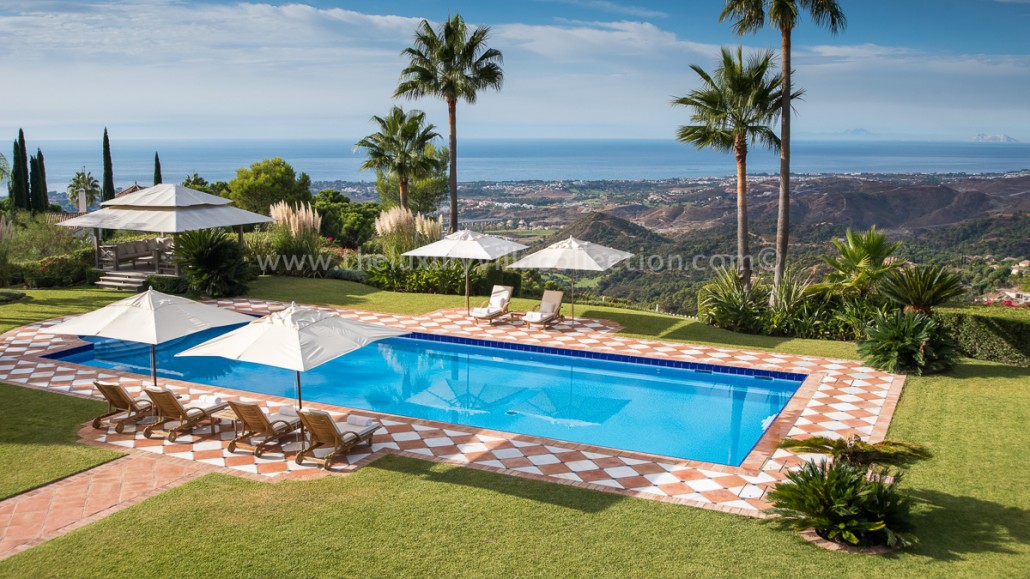 Stop what you're doing for a moment. Close your eyes and imagine yourself stretched out on a daybed soaking up the sun under the bluest of blue skies, a glass of chilled Champagne in your hand.
Now, we're willing to bet two things: firstly, that those winter blues were momentarily banished; and secondly that what you had in your mind's eye looked rather like one of these amazing swimming pools.
Best Infinity Pools
Infinity pools are not a new concept. Well, not to the French, anyway – the first was built in the Palace of Versailles. History aside, these are most definitely the crí¨me de la crí¨me of swimming pools. The best examples are used to create an optical illusion, where the water of the pool blends into the sea or the sky to all round stunning effect.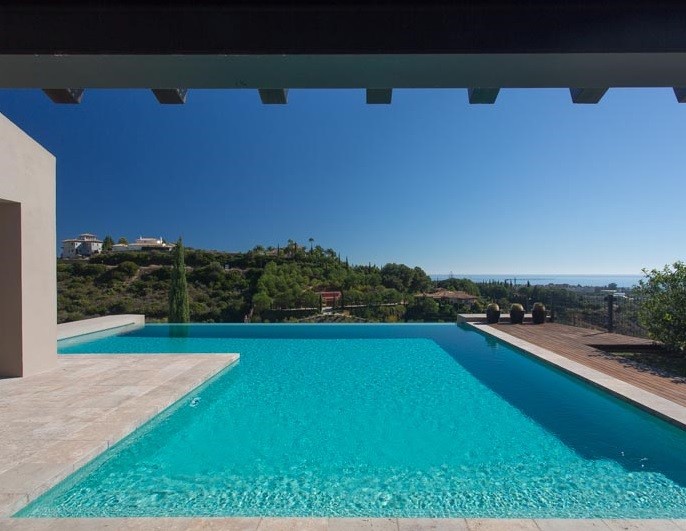 There's nothing like beautiful surroundings to help you relax – and this modern pool whispers 'unwind'. There are two types of pools: inward, enclosed ones and open, outward-facing ones. This angular L-shaped pool is very much the latter. Welcoming steps draw you down, not only into the water, but also towards a spectacular view of Los Flamingos golf course. An infinity pool where the view seemingly never ends is perfect for such an ultra-modern style of house. Not only does this pool have a view, but it also adds to it.
Find out more about Villa Picasso.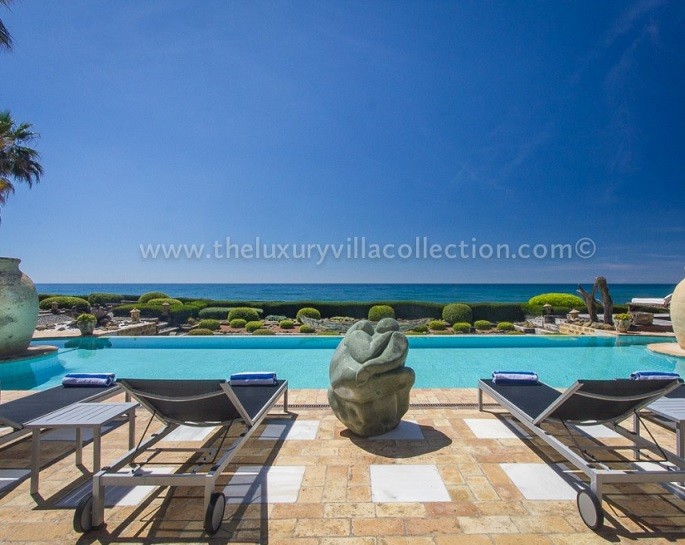 Some people say if you have the beach on holiday, you don't need to bother with a pool. We beg to differ. Having both is surely the best option of all? This pool has made it onto our list because of the sheer, beautiful simplicity and audacity of its location – less than 10 metres away from the Mediterranean. The two huge urns at each end of the rectangular infinity pool both bring exquisite symmetry and serve a practical purpose as the spiralled entrance steps. Elegant, stylish and tasteful.
Find out more about Villa Las Artes.
Pools with Total Privacy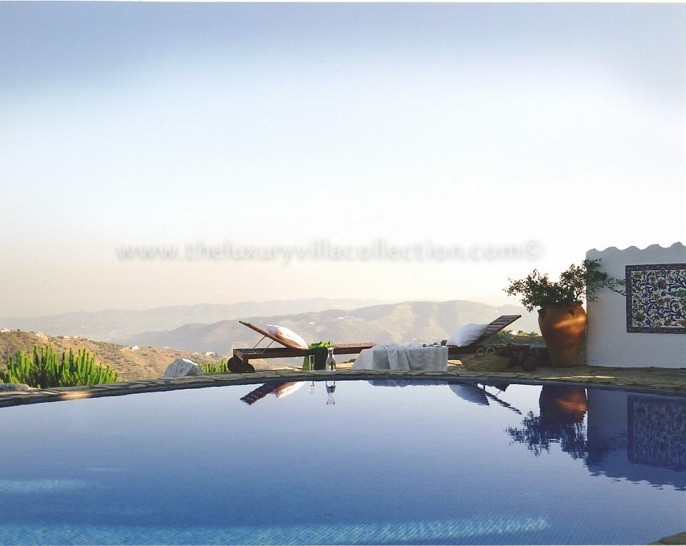 There's only one way someone would be able to see you taking a dip in this pool – and that's if they were hovering directly above you in a helicopter. This tasteful villa, secreted away high in the mountains down a long private road, is a hidden idyll. The kidney-shaped lagoon-style pool sits below the house so the poolside fun is separated from the peaceful sanctuary of the living quarters. Of course, there's an outdoor kitchen poolside, so everything you need is right to hand.
Find out more about Cortijo el Mirador.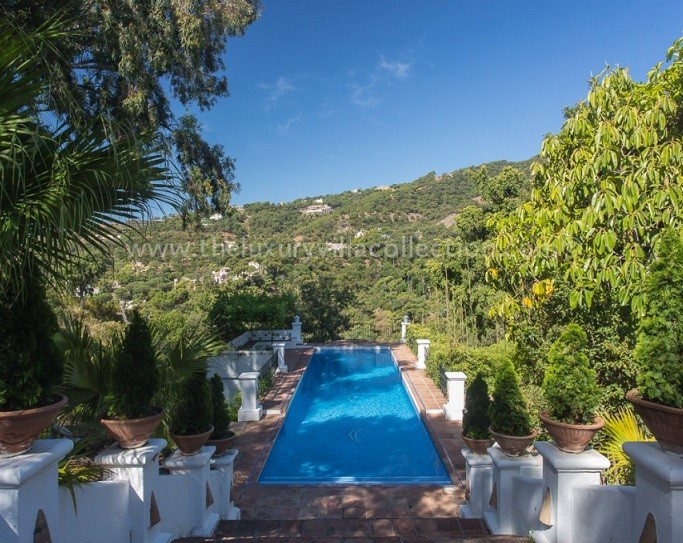 For us, this pool is reminiscent of Hollywood's Golden Age. We can easily imagine Katherine Hepburn gliding down that staircase, dropping her robe and diving elegantly in to the water. It's a private hideaway pool, and the feeling of being enclosed by its lush gardens only adds to the sense of glamorous seclusion.
Find out more about Hacienda de Madroñal.
Jacuzzi Pools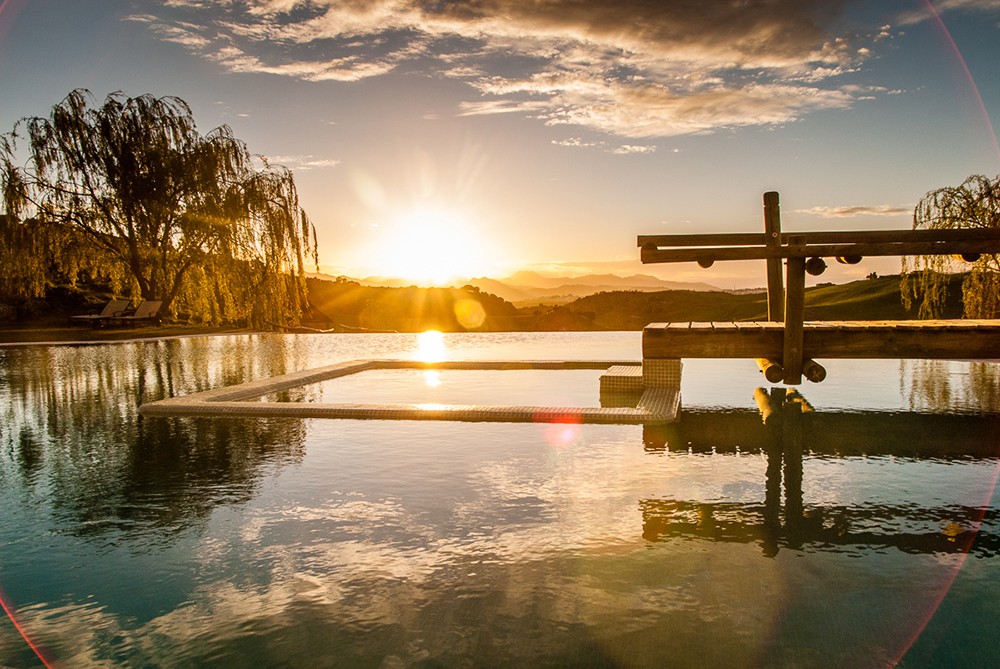 We have a particular soft spot for unique pools, and so this huge pool/Jacuzzi hybrid had to be included in our list of Spain's best villas with pools. When the sun goes down the best place to be is in a heated Jacuzzi. Nestled in the centre of the huge pool, overlooking mountains, this Jacuzzi can be reached by wooden bridge making it easy for the drinks to be topped up as you recline and relax surrounded by warm water – heaven.
Find out more about The Retreat.
Lap Pools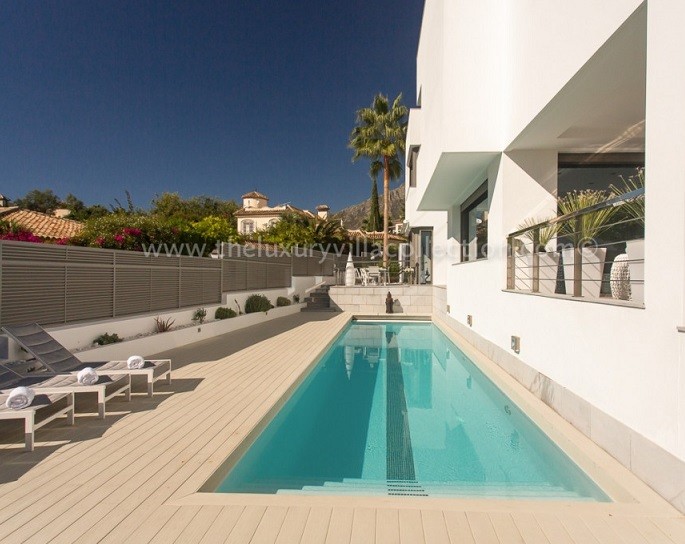 For our money, a beautiful pool has to be part of the overall design of the villa. Luxury villas with pools should have an overarching calm synergy, where one compliments the other: the comfortable indoor living areas should spread outside to the pool, outdoor kitchen, dining areas and chill-out zones to form a restful and relaxing whole. And this pool may not be huge, but it does just that.
Find out more about Villa Solise.
Huge Pools
When it comes to pools size really does matter – particularly if you're travelling with a large party. This contemporary yet classical villa has a seriously roomy 17m pool, which can be heated on request. It also has a beautiful Japanese style pagoda, ideal for the heat of summer – when, frankly, any sort of exercise is too much – or for supping a cocktail or two.
Find out more about Villa Vivaldi, La Zagaleta.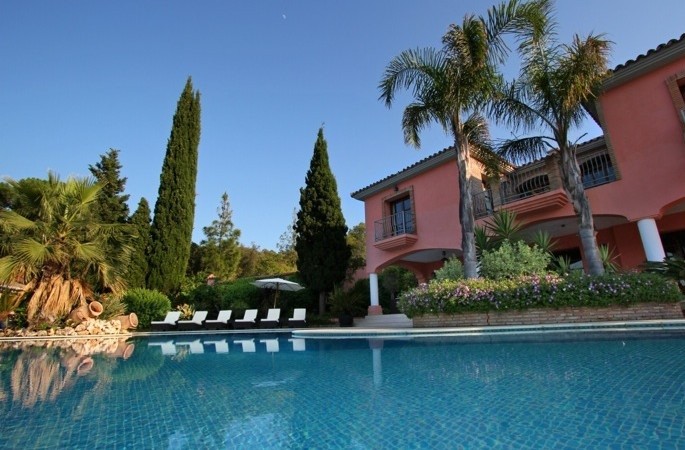 Lagoon pools, with their inviting, curved edges are always particularly welcoming. This seductive affair made the LVC edit of amazing swimming pools as it has barstools, a separate Jacuzzi and even an island. We like the idea of having an island to swim around – it adds a bit of variety to languorous pool-time drifting.
Find out more about this villa in El Madroñal.
Indoor Pools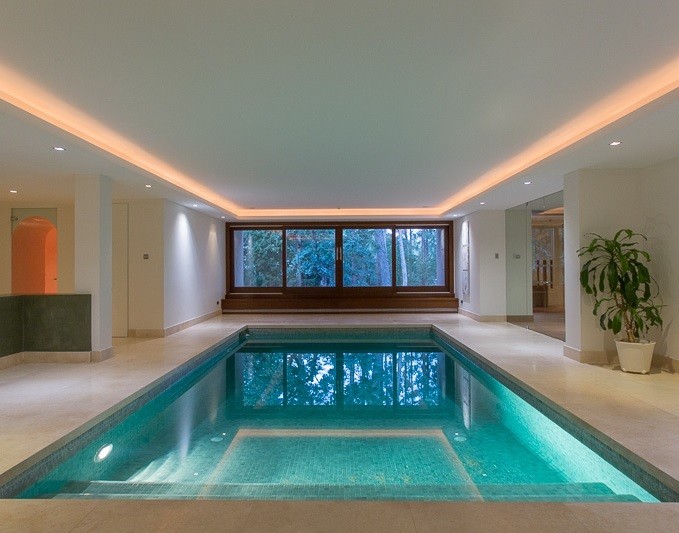 When travelling during the shoulder seasons or in the winter an indoor heated pool is a real treat. Being able to use a pool all year round is the epitome of both luxury and health and wellbeing. This villa has an indoor plunge pool as part of its spa as well as a heated indoor pool. If the sun is shining and an outdoor pool is the order of the day then this villa has not one but two outdoor pools to choose from. And these aren't just normal pools, either: one is an angular infinity pool, the other is a lagoon pool with a waterfall. Four amazing swimming pools in one villa? It could only be Marbella.
https://theluxuryvillacollection.com/wp-content/uploads/2016/04/La-Zagaleta-Villa-Vivaldi-pool-sea-views.jpg
675
1200
Lindsay
http://luxuryvillas.wpengine.com/wp-content/uploads/2013/04/Main_Logo-340-300x127.png
Lindsay
2016-01-12 22:20:55
2017-09-06 13:09:18
Nine of the Best Amazing Swimming Pools