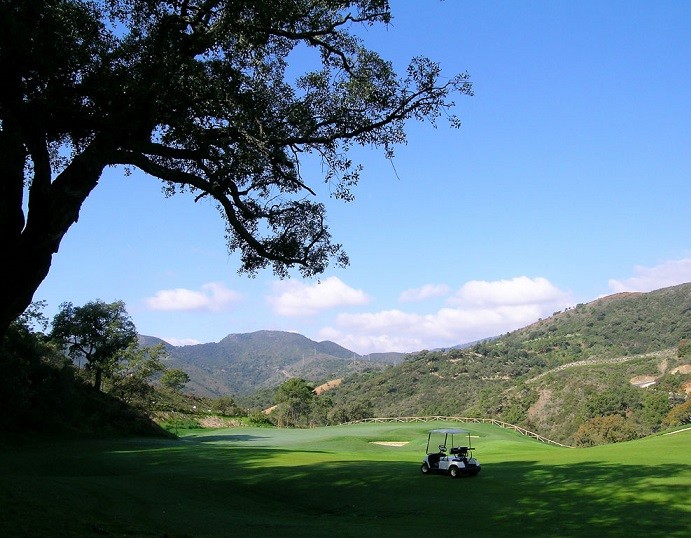 With more than 50 courses in just a shade over 100km, not for nothing is the coastline west of Malaga known as the 'Costa del Golf'.
A golf holiday here offers something for all abilities, too, from gentle municipal hacks to tournament courses for seasoned scratch handicappers.
So without any further ado, here's the LVC pick of a few of the best Costa del Sol golf courses…
Marbella Golf & Country Club, Benahavis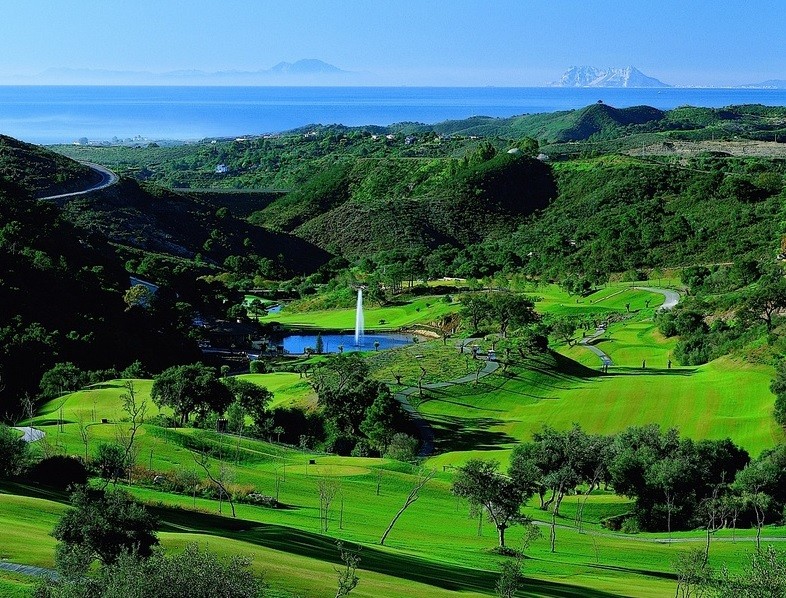 We begin appropriately enough, at the beginning, with the grande dame of Costa del Sol golf courses: Marbella Golf & Country Club. It may not be the oldest course in the region (that honour goes to the Malaga Parador which dates back to the 20s), but founded in 1954 and part of the resort of the same name, it very definitely leads the way in the old-fashioned glamour stakes.
And the course? Designed by Dave Thomas, set back a little from the coast to the north of Benahavis, its gently undulating fairways wind their way between well-placed water features upwards towards the mountains.
Stunning setting aside, the course is both in consistently great nick and challenging, with a mix of elevated tees keeping even low-handicap players guessing for distance and club selection. A major selling point of Marbella Club is the gap between tee times (a generous 12 minutes minimum) which means that the tension when you shank one into the rough is slightly reduced. A class act.
The 19th hole: Tie in tee times to coincide with an evening table booked at Juan Galvez's The Grill, the hotel's fabulous (and heavily meat-centric) restaurant.
Address: Carretera Benahavis, Km 3.7, 29679, Malaga; Tel: +34 952 88 06 08; Marbellaclubgolf.com.
La Quinta Golf & Country Club, Nueva Andalucia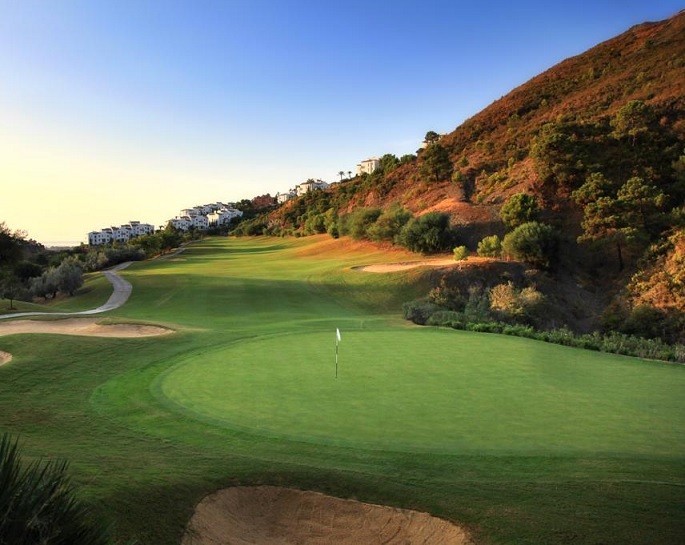 La Quinta ticks a lot of boxes. A mature and well-kept course that was designed by Spanish pros Antonio Garrido and Manuel Piñero, it perhaps plays a little easier than some of the others on this list. That's not to say it's not a high quality course – nor that it doesn't have its challenges in the form of some tricky fairways and cavernous bunkers – merely that it's suitable for mid-handicappers.
The course is made of three nine-hole loops – San Pedro, Ronda and Guadaiza – which can be mixed and matched as you see fit. As a result, along with a scenic driving range, it makes for a good warm-up round at the start of your golf holiday. 
The 19th hole: Soothe stiff backs with a post-round soak, steam and massage in the hammam-inspired La Quinta Spa.
Address: Avenida Tomas Pascual, s/n, 29660 Marbella, Malaga; Tel: +34 952 76 23 90; Laquintagolf.com.
Finca Cortesin, Casares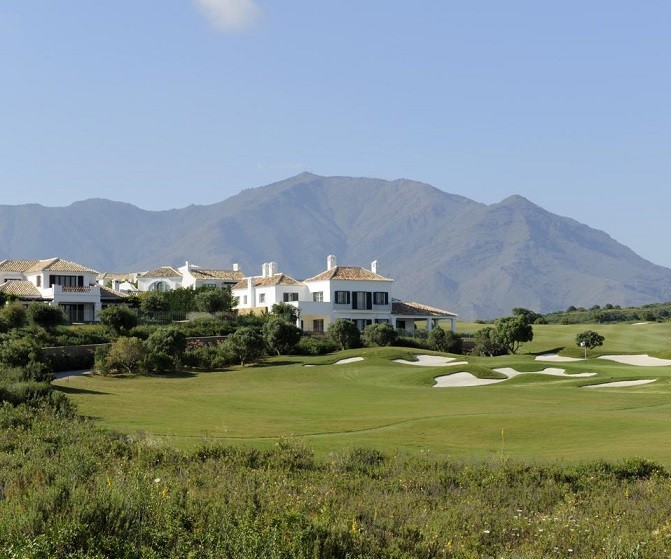 A fairly new addition towards the western end of the Costa del Sol in Casares, Finca Cortesin is a sophisticated luxury resort that mixes indulgence with style and taste throughout.
Two things stand out about the golfing here, though: first of all, despite only having been built in 2006, it's a mature course with fairways lined with lots of old cork and olive trees and some spectacular scenery; secondly, at nearly 7,000m it's an absolutely monster. Weak drivers need not apply.
The 19th hole: play an early morning's round and spend the afternoon stretched out by the pool, before heading down to their beach club for sundowners.
Address: Carretera de Casares, s/n, 29690 Casares, Malaga; Tel: +34 952 93 78 00; Fincacortesin.com.
La Zagaleta, Benahavis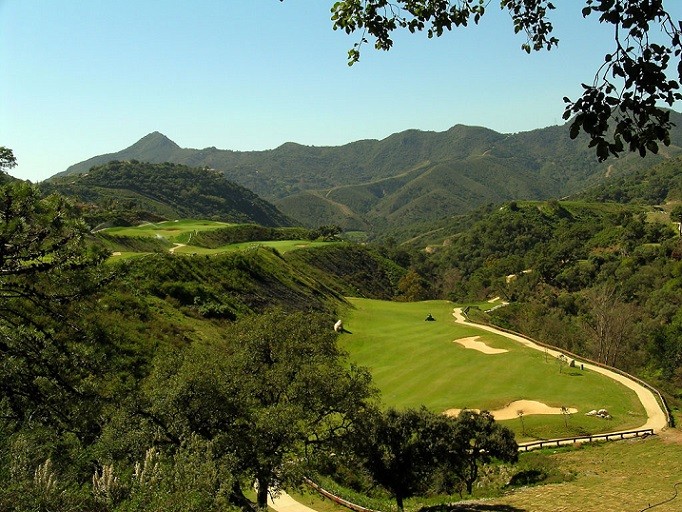 Winding its way up into hills and woodland above Marbella, La Zagaleta country club has two courses, La Zagaleta and Los Barrancos. Both are amongst the very prettiest of this very pretty bunch, with many holes snaking their way through tree-lined valleys criss-crossed with occasional streams. This is the real joy of playing here: not only does nature start as soon as the fairway stops on many holes, but at almost no point do fairways run alongside one another. They feel like golf courses that are integrated into the surrounding natural landscapes rather than imposed on it.
There's just one potential hitch: it's a members' only affair. So unless you're fortunate enough to have friend who's in the club you won't be getting in.
The 19th hole: forget about that disappointing scorecard by heading for the clubhouse's bowling alley, exclusive for residents of La Zagaleta with prior arrangement (check out our villas in La Zagaleta).
Address: Carretera Ronda Km 38.5, Benahavis, Malaga, 29679; Tel: +34 952 85 54 50; Lazagaleta.com.
Real Club Valderrama, Sotogrande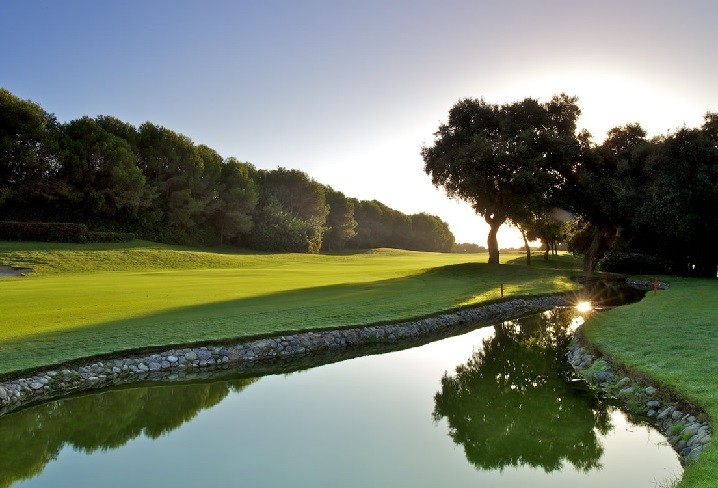 Valderrama Golf Course has in the past picked up the accolade of the best golf course in mainland Europe. The list of competitions it's held over the years is a long one taking in the Andalucia Masters, the Volvo Masters and the first Ryder Cup to be played on European soil. Suffice to say that, whichever way you come at it, it's one of the best places to play golf in Spain for the serious golfer.
And the emphasis here is very much on Serious with a capital 'S'. The greens are lightning fast, the fairways at times breathtakingly tight, and the rough unforgiving. But the thing that sets Valderrama apart is the fact that there's not a single dull hole – whether they're winding their way through the cork woods, both visually and in terms of the challenge they throw up, each offers something slightly different, right up to the famous 17th with its death or glory tee-off.
The 19th hole: start by booking an afternoon tee time. Then, at the end of your round, step off the 18th green, walk to the clubhouse, order yourself a glass of fine champagne and watch as the shadows lengthen over the fairways. Drink it all in. You're surrounded by a piece of golfing heritage.
Address: Avenida de los Cortijos, s/n, 11310 Sotogrande, Cadiz; +34 956 79 12 00; Valderrama.com.
For accommodation that's equally refined, choose Villa El Chorrito Sotogrande neighbouring Valderrama golf club.
Los Flamingos, Benahavis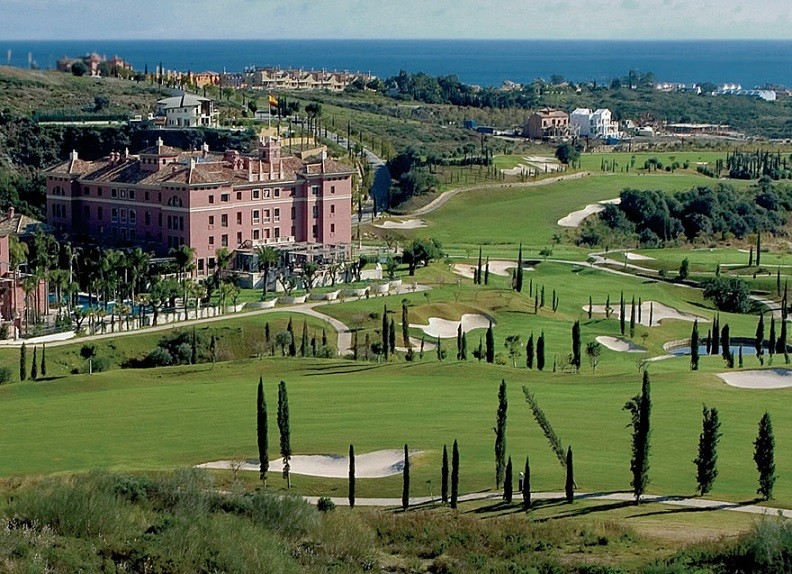 Los Flamingos is Malaga golf ground zero. Right in the heart of the action, and part of the exclusive Villa Padierna resort complex, there are three courses sitting side by side: Alferini, Tramores and Los Flamingos.
Of the three, Alferini is the trickiest – long with punitive rough and countless challenging approach shots. Tramores is a short, friendly warm-up course (an extended pitch and putt, if you like) that's ideal for grooving your swing. Los Flamingos, though, is probably the most inviting for the average golfer. Designed by Antonio Garcia Garrido, it's a mix of gently rolling parkland and hillier holes. After a tight front nine, the back nine opens up a bit making for a very pleasant day of golf in the Andalucian sunshine.
The 19th hole: while it's nowhere near as relaxing as a cold beer or two back in the clubhouse, the Michael Campbell Golf Academy is a great place to hit the driving range, take a lesson (private and group tuition is available) and iron out any kinks in your swing.
Address: Villa Padierna Golf Club, Urbanizacion Los Flamingos Golf, Carretera de Cadiz, Km. 166. 29679 Marbella, Malaga; Tel. +34 952 889 157; Villapadiernagolfclub.com.
Choose one of our Los Flamingos Golf villas for a convenient stay that's also within easy reach of the coast's restaurants and bars.
Los Naranjos, Marbella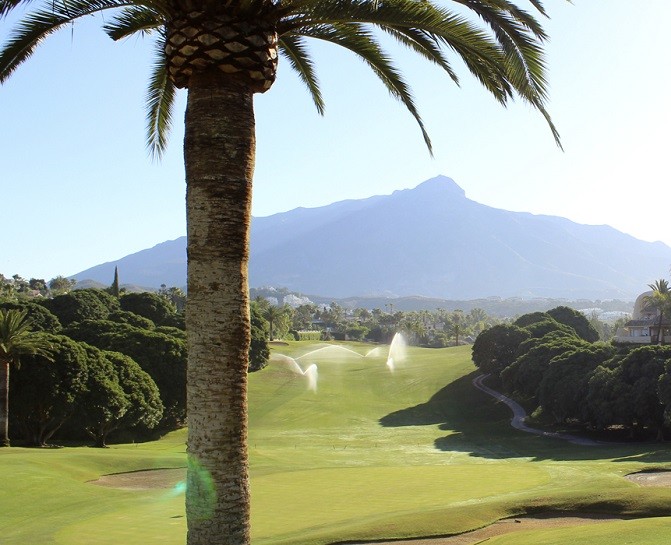 This Robert Trent Jones Sr-designed course celebrated its 40th anniversary in 2017. Like the other courses he turned his expert hand to on the Costa del Sol, Valderrama, Sotogrande and Las Brisas, it's as pleasant to play as it is to look at. Aesthetically, the 9th is a particular highlight: having successfully navigated a lovely right to left dogleg, you can lean on your putter and admire beautiful views of La Concha.
In terms of difficulty, it's something of a course of two halves, with the back nine a more leisurely walk in the park(land) after the challenging terrain – plus tricksy water features and bunkers – of the front nine. It sits firmly in the mid-range end of the spectrum, though, and for higher handicappers is nowhere near such a daunting day out as some of the championship courses on this list.
The 19th hole: the club is Swedish-owned and there's been great excitement about the appointment of a Scandinavian chef to head up the recently refurbished restaurant in the clubhouse. Locals have been booking the morning tee times to align their rounds with a spot of lunch.
Address: Plaza de Cibeles, s/n, 29660 Marbella, Malaga; Tel. +34 952 81 24 28; Losnaranjos.com.
La Cala Golf, Mijas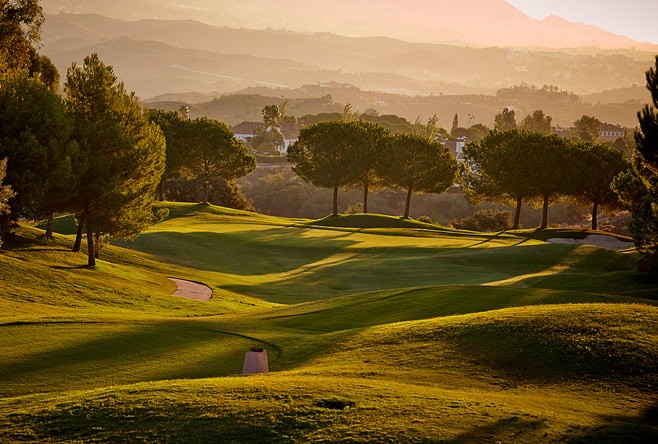 Why settle for one course when you can have three? Variety, after all, is the spice of life. Beyond the fact that La Cala Golf takes in 54 holes, each course offers a very different set of challenges to keep your golfing holiday from getting samey.
Campo Asia is the oldest of the three and, with its tight approaches punishing any lapses in accuracy, is not to be entered into lightly for all but the lowest handicappers. Campo America is a long course offering stunning views to the Sierra de Ojen and down to the sea – and slightly more forgiving fairways if you've allowed yourself to get distracted by them. A gentler, more leisurely round can be had at Campo Europa. While it's on the long side, the fairways are broader and flatter and the greens are bigger than handkerchiefs.
Away from the three main courses themselves, there's even a six-hole par three to warm up – perfect if you've just stepped off the plane and need to get your game in order.
Address: Urb. La Cala Golf s/n, Mijas Costa, 29649 Malaga; Tel. +34 952 669 016; Lacala.com.
The 19th hole: The clubhouse is one of the most attractive parts of La Cala. The Laurel Restaurant is a great start to an evening out, with a nice line in drinks and snacks as you watch those coming in struggle with the difficult 18th. You're part of a luxury resort here, though, so you can also nip off for a quick 'Back Into Balance' massage if your back's starting to creak after all the golf.
Real Club de Golf Sotogrande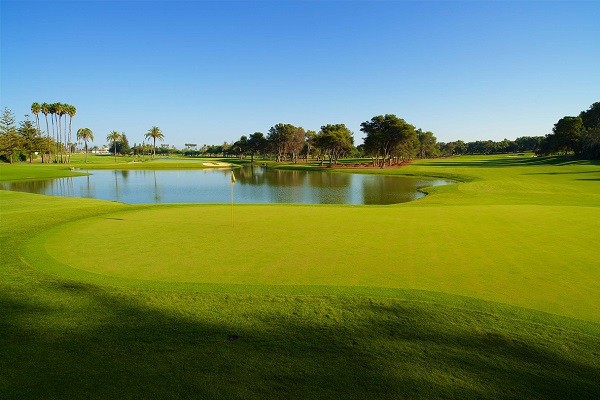 This grand old course, inaugurated in 1964, was the first on the Costa del Sol to be designed by Robert Trent Junior. Totally reformed in 2016, it now offers one of the finest rounds of golf in southern Spain.
It's very easy on the eye, too, with lush, rolling fairways winding their way through cork, eucalyptus and pine woods with regular glimpses of the glittering Mediterranean. Standout holes include two on the front nine – 4, a long par three, and 12, a fiendishly tricky par 4 – but the back nine is also dotted with challenging holes typified by water features and bunker-encircled greens.
Visitors aren't allowed on the course on weekends, or at one or two peak times of year like Easter week and high summer (mid-July to the end of August) so it's one for spring or autumn. The history, prestige and impeccable maintenance comes with a hefty green fee making it, all in all, one for the serious golfer rather than the low-handicapper out for a relaxed few holes.
Address: Paseo del Parque, 11310, Sotogrande, Cadiz; Tel. +34 956 78 50 14; Golfsotogrande.com.
The 19th hole: The seafront is just a short saunter from the clubhouse. Here the Trocadero beach club is a great place for a bite to eat and a cooling swim after a long round.
Real Club de Golf Las Brisas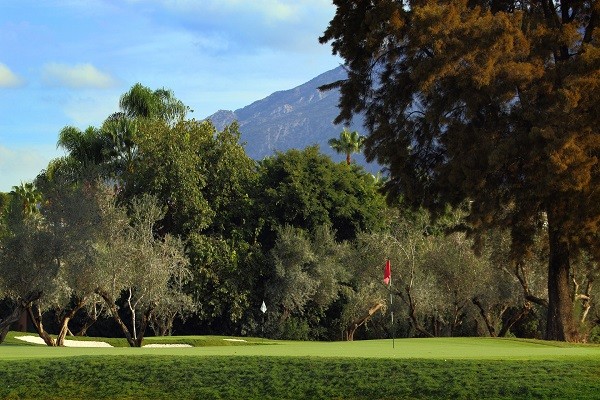 After a tricky few years of remodelling, it's fair to say that Las Brisas is back where it belongs – right up there amongst Spanish golf royalty. The only snag is: if you're not friends with a member, you're not getting on.
You kick things off with a long par 4 where both your drive and approach have to be inch-perfect if you don't want to see your ball disappear into a lake. And it barely lets up for a minute from there. The 5th is a monster, while with water lining the left-hand side of the fairway all the way down to the green, the 12th punishes even a hint of waywardness. The 7th and 16th are a pair of pretty-as-picture par threes that lull you into a false sense of security and as a result can see you shedding shots in the green-side bunkers.
Address: Calle Londres, 1, 29660 Marbella, Malaga; Tel: 952 81 30 21; Realclubdegolflasbrisas.com.
The 19th hole: The course may be private, but the restaurant's open to the public – and is excellent. It makes for a great place to meet non-golfing friends for lunch after a round.
Aloha Golf Club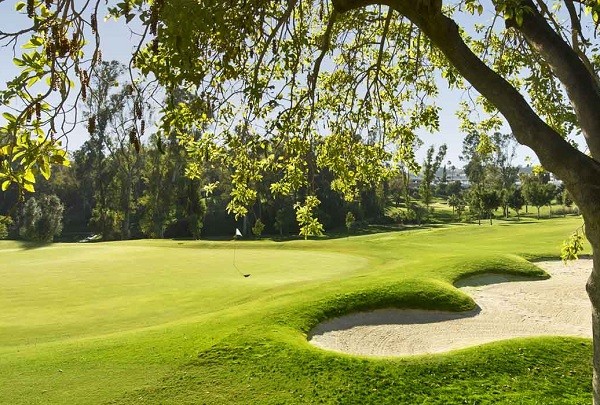 With its rolling parkland fairways running between water features, whispering eucalyptus and bright purple jacaranda trees or stretching away to stunning views of La Concha, Aloha's certainly something of a looker. It may be one of the more expensive golf courses in Marbella, but it's also one of the best having been selected to host the Andalucia Open (PGA European Tour) on three occasions in recent years, as well as 2016's Andalucia Women's Open.
It's a tough course, and at over 6,200m, a long one, too, with some of the par 3s – like the 12th – playing very long. There are doglegs aplenty where a decent fade or draw is a requirement to have a sniff of a chance at par, and quite a few blind shots. The greens, invariably ringed by large bunkers and two-tiered on a few occasions, play like lightning. Leave your putting game at home here and your scorecard will certainly feel it.
Address: Urbanizacion los Olivos I, 6B, 29660 Marbella, Malaga; Tel: 952 90 70 85; Clubdegolfaloha.com.
The 19th hole: During the summer months, golf in southern Spain can be something of an endurance feat. Which is why Aloha's large swimming pool, complete with loungers and parasols, can look like a shimmering oasis in the desert at the end of a round.
Costa del Sol Golf Holiday Need-to-Knows
When's the best time of year to play? With over +300 days of sunshine per year, it's never exactly a bad time for a Costa del Sol golf holiday. Autumn and Spring, though, are perhaps the most popular seasons as the temperatures are pleasant, without ever hitting the scorching summer highs. 
How much are green fees on the Costa del Sol? It very much depends. At the upper end, the green fees at Valderrama won't leave you with much change from €400, whereas a round of golf at Los Flamingos or Los Naranjos might set you back somewhere in the region of €70-80 in low season.
How do I find the best Costa del Sol golf deals? Whether it's making sure you get the most favourable tee times or booking you the best caddy, the LVC concierge team are on hand. Ask and you shall receive.
Like our pick of the best golf courses on the Costa del Sol, and now looking for a suitably indulgent place to stay? Check out our collection of luxury golf villas.
After something a little less energetic from your holiday? Stretch out on one of our pick of the best Marbella beaches instead.
https://theluxuryvillacollection.com/wp-content/uploads/2015/12/la-zagaleta-mountains1.jpg
538
691
Lindsay
http://luxuryvillas.wpengine.com/wp-content/uploads/2013/04/Main_Logo-340-300x127.png
Lindsay
2015-12-20 21:10:47
2018-05-08 17:16:48
Eleven of the Best Costa del Sol Golf Courses