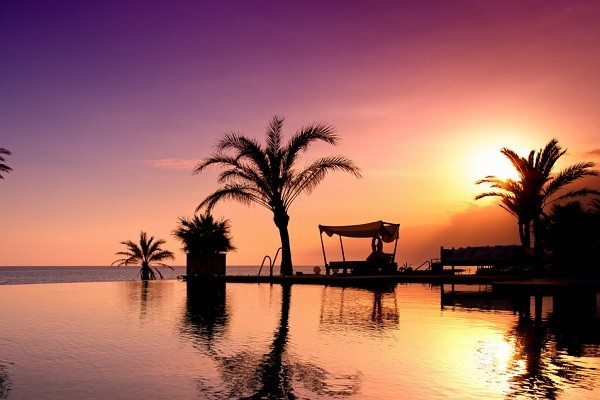 Beach clubs are how people 'do' the beach these days.
Gone are the days when you just rocked up at a strip of sand you liked the look of (which hopefully had some sort of restaurant attached for refreshment), hired a sunbed and a parasol and then gathered the soggy, dirty towels up at the end of the day. No, no, NO. Now it's full service, extensive wine, champagne and cocktail menus, top-class international food, live entertainment and swimming pools. Oh, thank goodness.
Move over Miami, step aside Ibiza, there's a new home to hedonistic pool parties and beach clubs: Marbella. And from the deep-down decadent and crazy to more relaxed and elegant affairs, here's our pick of the very best…
Nikki Beach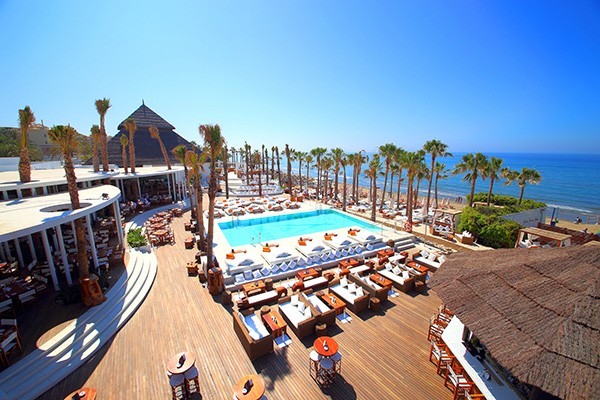 The beach club that basically started it all, Nikki Beach is still the venue that sets the standards. The restaurant delivers quality dish after dish across a 'global favourites' menu with a few local Spanish flourishes. The sushi is fresh, the seafood platter is one of the best in Marbella (with or without the outrageous theatre that accompanies it to your table or poolside bed) and their key offerings are rotisserie-style chicken, lamb or suckling pig.
Food aside, the partying reputation of this hugely successful chain of beach clubs needs little or no introduction. It's difficult to convey just how fabulous the parties are. The entertainment is BIG – think Cirque du Soleil and you wouldn't be far from some of the events. The whole place has an air of extravagance about it. There are ample beds poolside, easy access to the beach, covered dining and a seriously well stocked bar. The tagline is 'Tell only your best friends'. The secret is well and truly out, but it never disappoints.
Don't miss their Amazing Sundays, Full Moon Parties, White Parties, and… well, any of their events, actually.
Opening party date: 24th May 2018.
Closing party date: The closing season Red party is on 30th September 2018.
Address: Playa Hotel Don Carlos, Carretera de Cadiz, Km 192, 29600 Marbella, Malaga; 952 83 62 39; Nikkibeach.com.
Puerto Banus & to the West
Ocean Club Marbella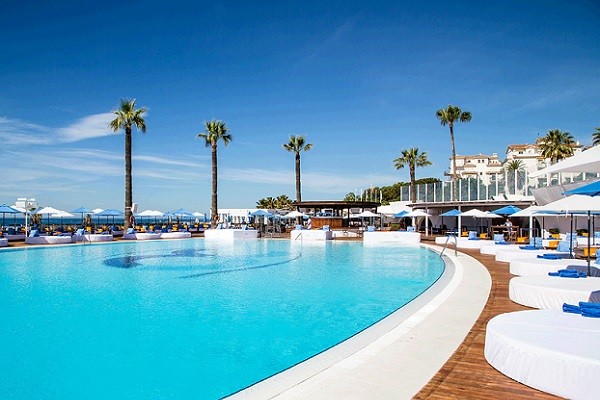 Ocean Club in Puerto Banus is a dazzling vision of white and light blue. It's beside the beach but not on it – so if you're a sand-hater, it's the one for you – while the decked terrace is adorned with circular beds that mirror the shape of the pool.
The party atmosphere ramps up and up throughout the day into the early hours of the morning. The atmosphere is relaxed during the afternoon until the sun sets when the no-holds-barred pool parties, complete with theatrical performances, begin and the music blasts out over the Med. On the themed nights nothing is too over the top to thrill the crowds who queue to enter – these parties are legendary. On specific nights the pool is transformed into a stage where entertainers (including plenty of famous names) whip the crowd into an outdoor, amphitheatre-like frenzy.
The cocktail list has a great selection of mojitos as well as the usual suspects. As for the lunchtime restaurant, it serves the likes of sushi, pizzas, pasta, salads, kebabs, club sandwiches, burgers and other food for party-goers. The choice of alfresco or indoor eating is a welcome extra for those needing a bit of respite from the midday sun.
Opening party date: Their White & Silver opening party is on 27th April 2018.
Closing party date: Black & Gold closing party is on 29th September 2018.
Address: Avenida Lola Flores, S/N, 29660 Marbella, Malaga; 952 90 81 37; Oceanclub.es.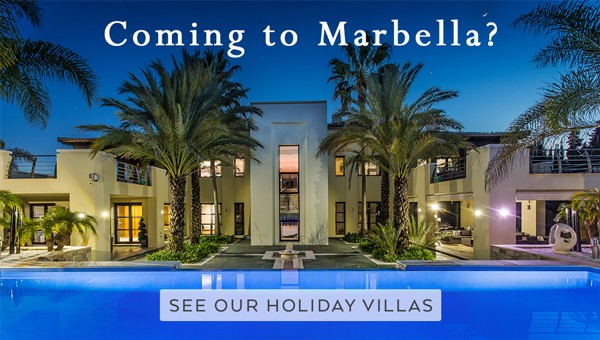 La Sala by the Sea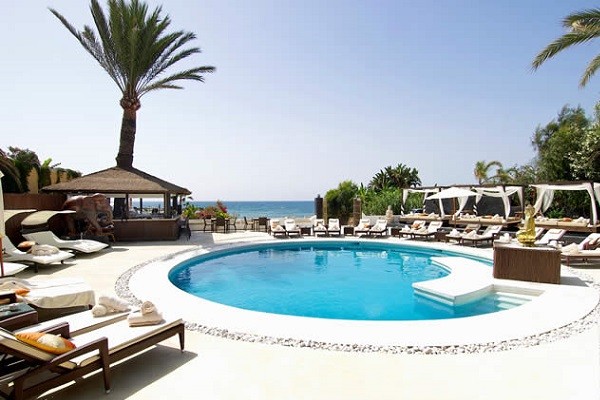 La Sala by the Sea certainly scores well on the convenience front: it has its own designated parking and valet service in the centre of Puerto Banus, so you can park up and be out of your car stretched out on a bed, drink in hand, in the blink of an eye.
This relatively small beach club has its own circular-shaped pool (not as large as many others'), a restaurant, treatment rooms and its fair share of party action during the summer. The restaurant serves lunch and dinner with an emphasis on seafood with the odd Asian twist. The drinks menu is average, serving the usual suspects – it's neither surprising nor disappointing either. If you want to hire a beach bed around the club, towels and fresh fruit come in the hire price. However if you'd like to sunbathe on the beds on the beach they charge extra for the towels.
Opening party date: 26th April 2018 for the summer season.
Address: Av Jose Banus, 29660 Marbella, Malaga; 952 81 38 82; Lasalabythesea.com.
Sisu Boutique Hotel Puerto Banus
OK, OK, we may be being a bit naughty here, as Sisu doesn't qualify as a beach club for the simple reason that it's nowhere near the beach. However, it has a pool, a 20-person Jacuzzi and a vibe that's very much in keeping with it, namely: tan, dip and party.
Besides, it is quite simply the place to party in Puerto Banus. It's on-trend, it's open 24 hours a day throughout the summer and its pool parties are mythical. Events vary from Black Diamond to Laurent Perrier, and the music is soulful house with live accompaniment. There are VIP areas, a restaurant, designer seating and beds – all of which makes it one of the best places on the coast to celeb-spot and pose.
Opening party date: they kick the 2018 season off with a Pool Party on 30th April.
Closing party dates: around 29th and 30th September 2018.
Address: Carretera N-340, Km 173, 29660 Marbella, Malaga; Sisuboutique.com.
Further West – San Pedro to Estepona
Club del Mar
Club del Mar is part of the five-star Villa Padierna Palace Hotel complex. They don't offer entertainment for the evenings as it's only open from 11am to 6pm. It's a wonderfully relaxing place in which to hang out during the day, though, whether you're stretched out on the beach enjoying the full waiter service or eating high quality food in the light and airy beach house. (Top LVC tip: check out their caviar menu – it's to-die-for.)
Opening dates: all year round
Address: Av. Bulevar Principe Alfonso de Hohenlohe, 29602 Marbella, Malaga; 952 82 09 00 ext. 22189; Villapadiernapalacehotel.com.
Purobeach Marbella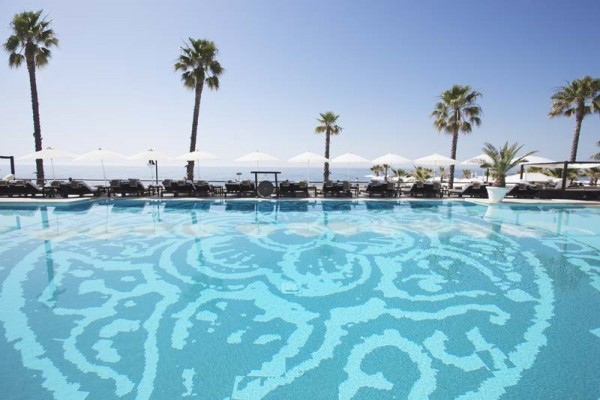 Puro's Marbella arm is part of a cabana-styled commercial complex called Laguna Village. Fear not, it's a perfectly formed group of independent boutiques, eateries and services like valet and water sport rental – all of which makes for a unique plus to a night out by the sea.
Entertainment-wise the famous Puro house music with live DJs is a given, but to shake things up a bit they also put on occasional Flamenco nights.
As is becoming the norm, each hammock hired comes with towels and a welcome tray of fresh fruit and mineral water. Purobeach goes that little bit further, though, and also includes after-sun, cold towels and smoothie shot – just to make your day even more comfortable. Be sure to book in for a massage in their Nomad Lounges by the pool or on the beach. We highly recommend their orange aromatherapy massage – divine!
Opening dates: Puro is open all year round during the day (aside from Mondays and Tuesdays during November until March) and from June to September all night too (check out their site for exact hours).
Address: Carretera Cadiz, Km 159, 29680 Estepona, Malaga; 952 80 00 15; Purobeach.com.
East of Marbella
Opium Beach Club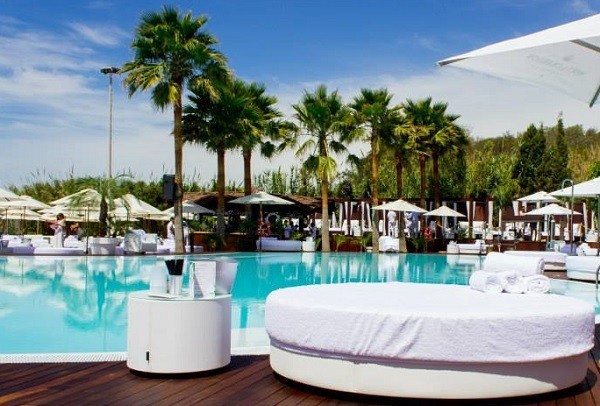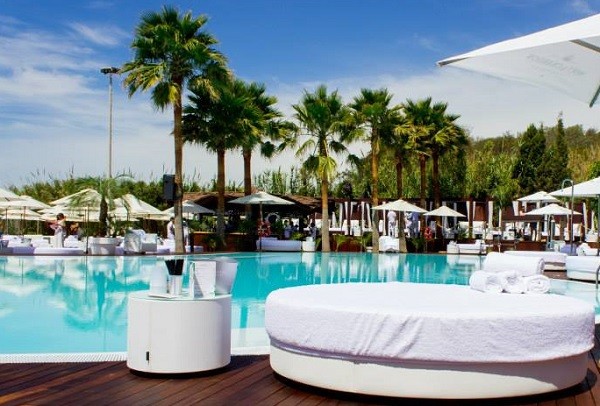 Over to the east, Opium Beach Club may not be the largest of our selection, but it has its own particular following. The pool is average in size but more than ample for cooling down with a drink and chilling out to the live music. It generally attracts a younger crowd and it's home to one of the more raucous scenes around. The cocktails don't blow us away, but it's a fun vibe with a touch of madness thrown in to keep it fresh.
Grand Opening Party: 19th May 2018
Closing Party Date: Sunday 30th September 2018
Address: Carretera Nacional Km 340 – 184; 29603 Marbella; Malaga; 699 009 808; Opiumbeachclub.com.
Orange Beach Club by Hotel Don Carlos
This incredibly stylish Marbella beach club is part of the five-star Don Carlos resort. Open to non-hotel guests, it's impeccably designed with beautiful furniture and excellent service. The strip of beach in front is very much part of the club and you can expect the same level of service there, along with a choice of sun loungers and fabulous Balinese beds.
After dark there's live music throughout the summer in the form of female vocalists, jazz bands and swing groups. The entertainment (which usually starts around 8pm) is very much at the refined end of the spectrum. If you fancy a spot of spa pampering – in the form of a high-class treatment or two at the Don Carlos spa – followed by sun-downers at the Orange Beach Club, it's hard to top.
Opening dates: from Easter to 2nd October
Address: Avenida Zurita s/n, 29604 Marbella, Malaga; 952 76 88 00; Doncarlosresort.expohotels.com.
Beach Club Estrella del Mar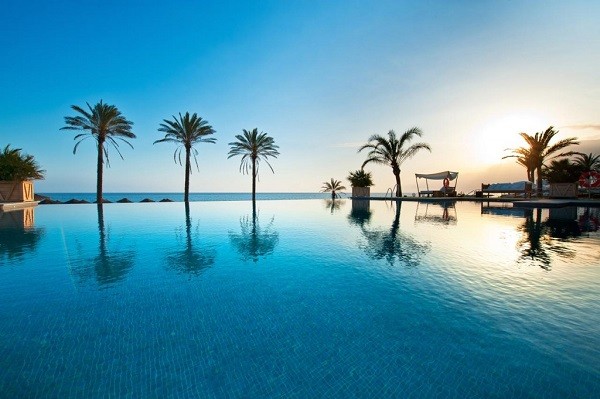 The beach club at Hotel Vincci Estrella del Mar is more of a daytime casual affair than party central – somewhere to lie back on a Bali bed and relax, rather than dance till dawn. Because of the close proximity of the hotel there are great spa facilities, including an indoor pool, Jacuzzi, gym and treatment rooms. The club itself is on the beach, with wonderful lawned areas and a fantastic infinity pool around which they hold live music events and fashion shows.
Opening dates: all year round – it's a good place to have a leisurely lunch in the winter sun.
Address: A/, km 190.5 Urbanizacion Estrella del Mar, desvio Urbanizacion Golden Beach, 29604 Marbella, Malaga; 951 05 39 90; Beachclubestrelladelmar.com.
La Cabane Beach Club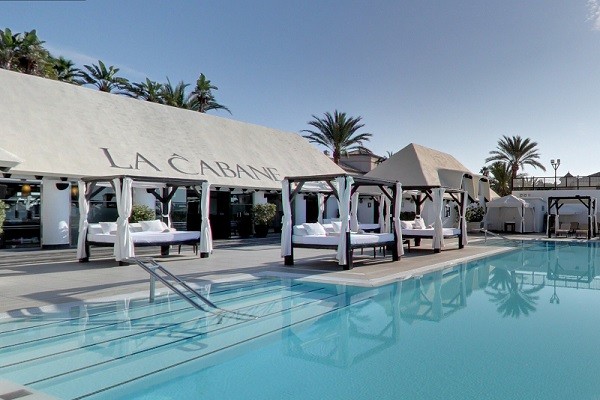 Part of Hotel Los Monteros, this impeccable Marbella beach club is a pristine wash of blue and white. Clean-lined sunbeds and shades line a very welcoming pool indeed – this is a daytime-only club so there are no crazy parties or dancers, just a relaxed place to lounge by the sea. The welcome package you receive when you hire a lounger includes fruit skewers, towels and personalised waiter service. On weekends the restaurant lays on a seafood buffet which, OK, might sound a bit cheap and nasty, but in actual fact the food is fantastic with the freshest of fresh produce being served up.
Opening times: April, May and October: From Fridays to Sunday, from 11am to 6pm; June, July, August and September: Open daily from 11am to 7pm.
Address: Calle Jabali, 29603 Marbella, Malaga; 952 76 27 20; Monteros.com.
(And you can stay just a stone's throw away at family-friendly Villa Malibu, or the exquisitely high-end Villa Las Artes.)
And a little further afield…
Finca Cortesin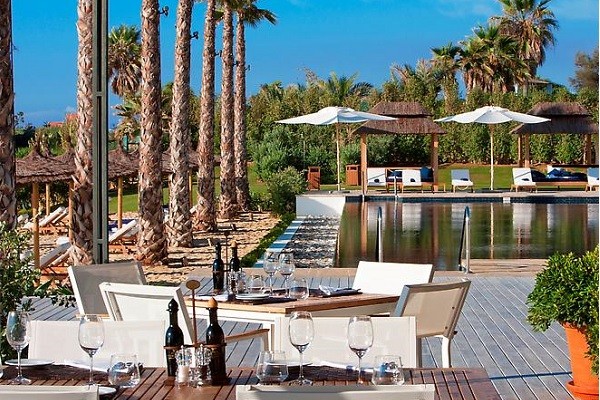 Yes, we know Finca Cortesin isn't in Marbella but so classy is its beach club that we just couldn't leave it out. It's an elegant and sophisticated affair where you relax immediately upon arrival, want for nothing and feel thoroughly loved throughout your stay and leave feeling utterly serene. The tasteful seating and sunbeds are either clustered around the infinity pool or facing out to sea on this attractive, and less developed stretch of coast. The restaurant serves up casual seafood and rice dishes, but to Finca Cortesin's five-star standard.
Opening times: It's open Wednesday till Sunday during April, May, June and September. During July and August it's open 7 days a week.
Address: Bahia de Casares, Malaga; Fincacortesin.com.
Planning a party-filled summer break on the Costa del Sol with friends? Check out our collection of luxury Marbella villas to rent.
Want to book a bed or get VIP entrance at one of the best Marbella beach clubs? Our concierge will happily arrange it for you.
https://theluxuryvillacollection.com/wp-content/uploads/2016/01/golden-sundown-estrella-del-mar.jpg
400
600
Lindsay
http://luxuryvillas.wpengine.com/wp-content/uploads/2013/04/Main_Logo-340-300x127.png
Lindsay
2016-01-25 13:47:37
2018-09-10 18:59:54
A Pick of the Best Marbella Beach Clubs