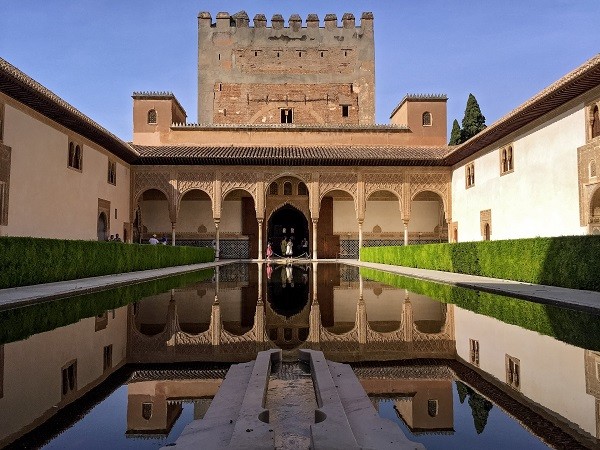 Planning a trip to Spain's southernmost region and wondering what to see and do? From Huelva in the west to Almeria in the east, via the Golden Triangle of Seville, Cordoba and Granada in between, we've picked out just a few things that you absolutely can't miss.
Granada
The Alhambra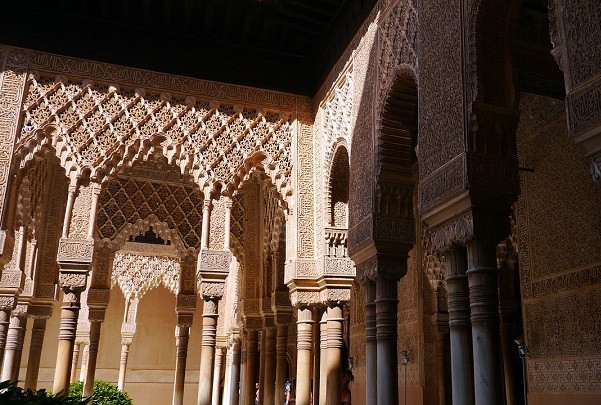 You don't become the most visited sight in Spain for no reason. And Granada's Alhambra Palace and its adjoining summer palace and gardens, the Generalife, are magnificent from inside and out. The history is fascinating, the architecture is astounding and the situation stunning.
The Albayzin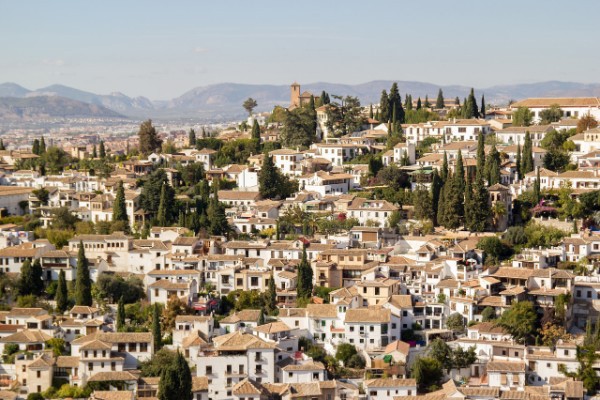 It can be hard to put into words what makes this UNESCO-protected neighbourhood quite so special. Its warren of narrow streets and quiet, shady plazas are home to houses seemingly built one on top of another like an Escher sketch, keyhole doors, trickling fountains and cascading bougainvillea… it's mystical and magnificent in equal measure.
Skiing in the Sierra Nevada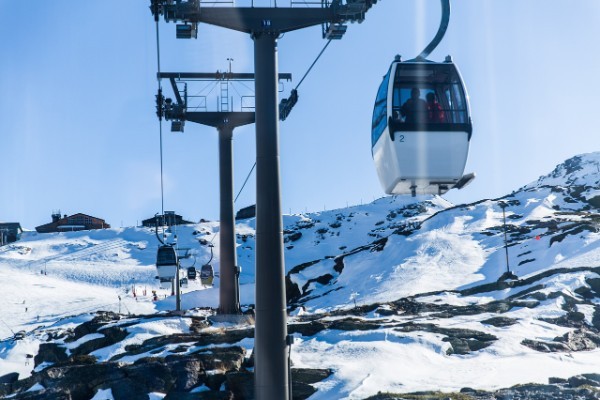 Skiing in southern Spain might seem like quite a novelty, but it's possible from December to late April. The Sierra Nevada ski resort is only 20 minutes from Granada city centre. Once there, take the gondola up to Borreguiles, and enjoy the sun from the 124 pistes.
Seville
Plaza de España, Seville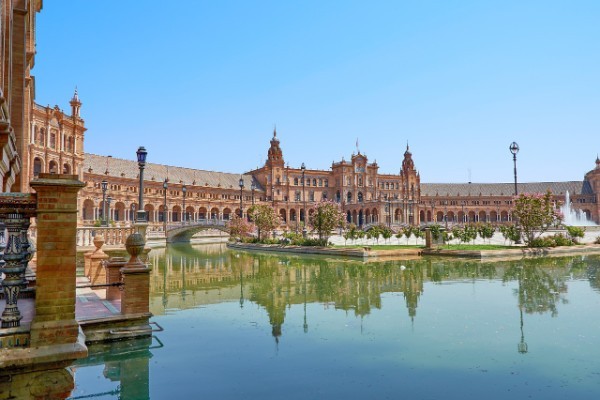 Anibal Gonzalez's Art Deco meets Neo-Mudejar masterpiece was the architectural highlight of Seville's 1929 Iberian-American Expo. More recently, it's also played a starring role as the location in many a Hollywood movie, popping up most famously in Lawrence of Arabia and Star Wars: Episode III.
Barrio de Santa Cruz, Seville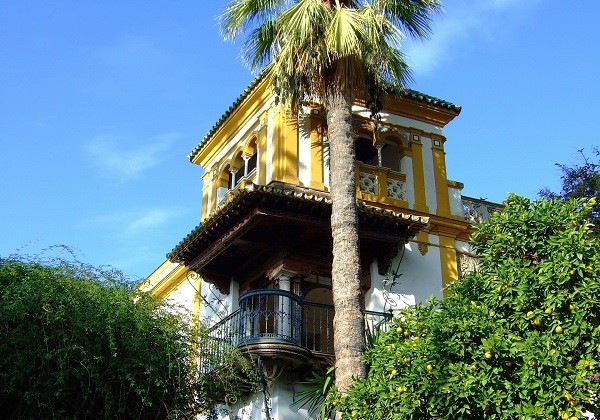 Seville's oldest neighbourhood is quite simply one of the most beautiful urban areas to be found anywhere in the world. Expect vibrant coloured houses, picture-perfect squares, narrow cobbled streets and an astonishing Moorish palace, the Alcazar, sitting at the heart of it.
Cadiz
The Watchtowers of Cadiz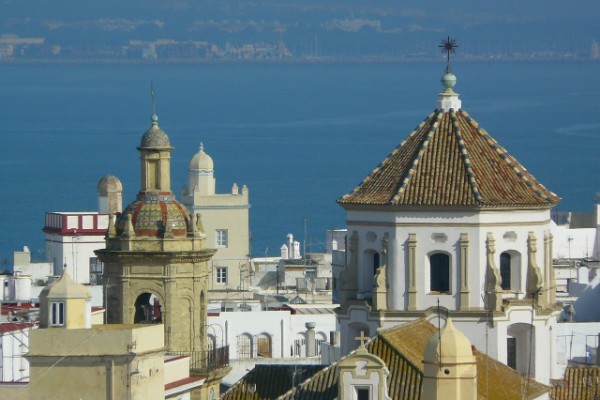 The skyline of the ancient port city of Cadiz is dotted with watchtowers. Used by merchants and traders to watch as their boats came in after long and risky Atlantic crossings, there are 126 in total that come in five different shapes. The city is also a real foodie hotspot – just ask Rick Stein – so dining out after a day of trying to spot them all is a delight.
La Caleta Beach, Cadiz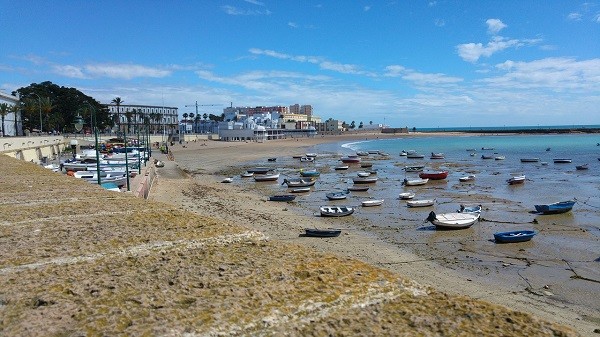 Move over Barcelona and step aside Valencia, there's a city beach to give you a run for your money. On the Atlantic, but shielded from the wind and with crystal clear water, it's La Caleta beach. Eat your way around this city by night and relax on its pristine sands during the day. Oh, and the sunsets are absolutely mindblowing here, too.
Vejer de la Frontera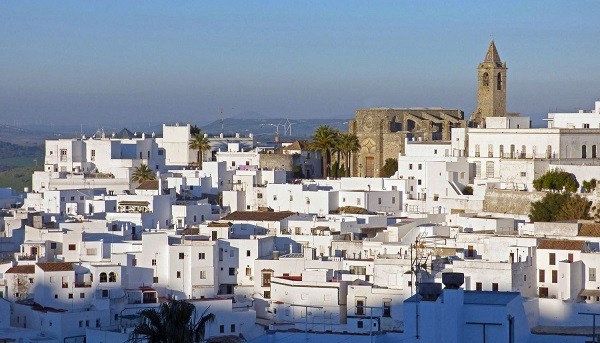 A splash of dazzling white against a brilliant blue sky, Vejer de la Frontera in Cadiz province is one of the most picturesque towns in the whole of Spain. The light is spectacular, the dining scene is excellent, the nearby beaches are wonderfully unspoilt and the views are… astounding. (See our full pick of white villages.)
Kite Surfing in Tarifa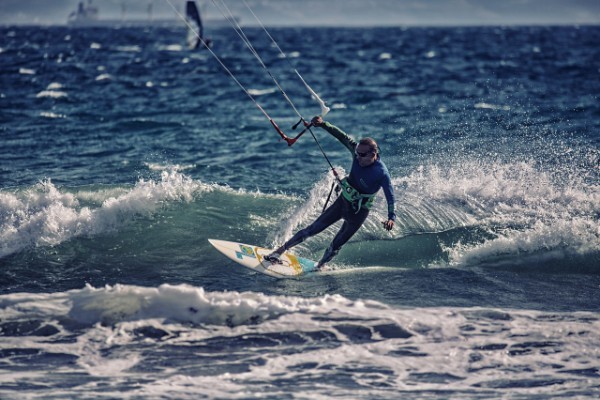 With the wind rolling in from the Atlantic, Tarifa is a kite-surfing mecca. After a day out on the waves, the lovely old town is laidback with a wonderfully romantic feel – slightly lonely, detached and wind-beaten – while it's a great place to get some top-class seafood.
Beaches of the Costa de la Luz
When it comes to beaches, the Costa de la Luz's are pretty hard to beat. Golden sand, clear sea, hip beach bars and, for much of the year, very little in the way of other people to have to share them with, they're the best to be found anywhere in Spain.
Sherry Bodegas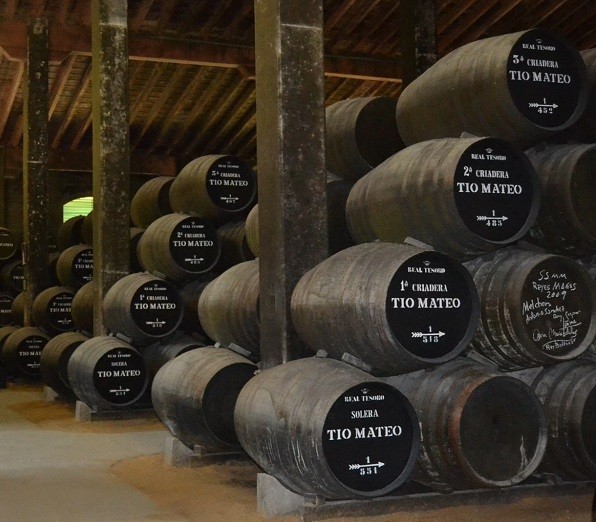 There's far more to Sherry than merely drinking the stuff. Visiting the bodegas of El Puerto de Santa Maria, Sanlucar de Barrameda or Jerez de la Frontera is a must-do for any wine-lover.
Setenil de Las Bodegas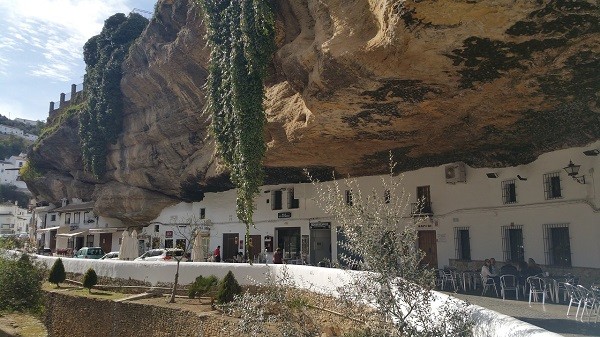 There's no two ways about it, Setenil is one peculiar place. Its defining feature is a street of typically whitewashed Andaluz-style houses that, built in the narrow cave underneath a rocky outcrop, looks for all the world as if the earth is trying to swallow it up.
Malaga
Malaga Art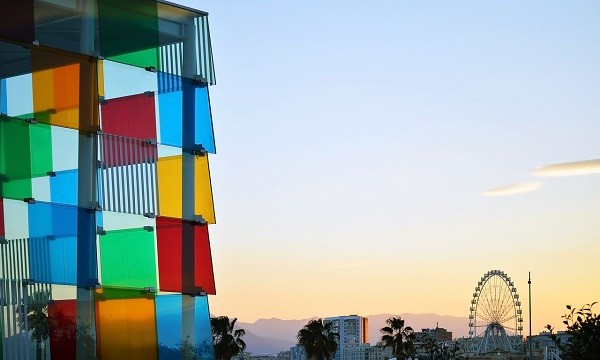 Malaga has more than 30 museums, with heavyweight art galleries such as the Thyssen and Pompidou rubbing shoulders with quirky little places like the Museum of Glass. Throw in some superb dining and a vibrant nightlife, and it's the stuff that dream city breaks are made of. (See our pick of the best art in Malaga.)
Ronda Gorge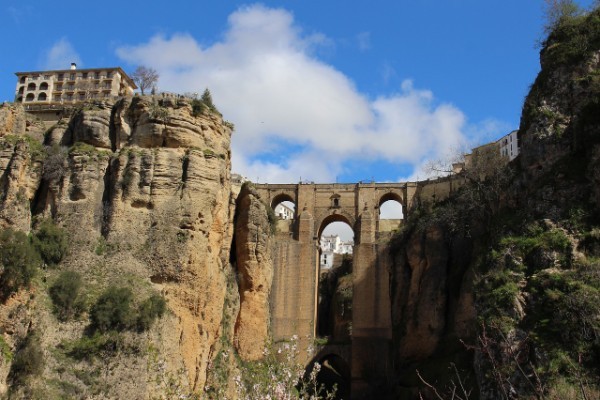 Whether you come at it from above or below, Ronda's gorge is one of Andalucia's most iconic sights. It's spanned by the 18th-century Puente Nuevo, which took more than three decades to build and has a small prison cell at its heart.
Ronda Bull Ring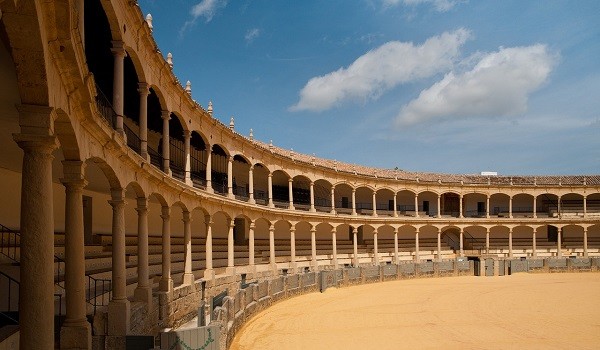 Love it or loathe it, bullfighting is an important part of Andalucia's past, present and, for the time being at least, its immediate future. Questions of ethics aside, Ronda's sweeping, double-colonnaded bullring is one of the most impressive buildings in the region. (See our guide to what to do in Ronda.)
Golf on the Costa del Sol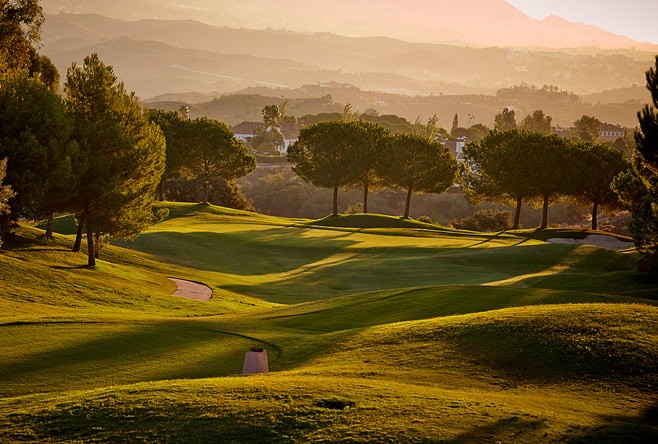 With over 70 courses, not for nothing is Malaga's sun-soaked coast often referred to as the 'Costa del Golf'. Quantity is more than matched by quality, too, with the likes of La Zagaleta, La Quinta, Finca Cortesin, Sotogrande's Real Club de Golf and Valderrama all sitting somewhere between world-class and competition standard. (See our pick of the Costa del Sol's best golf courses.)
Caminito del Rey, Ardales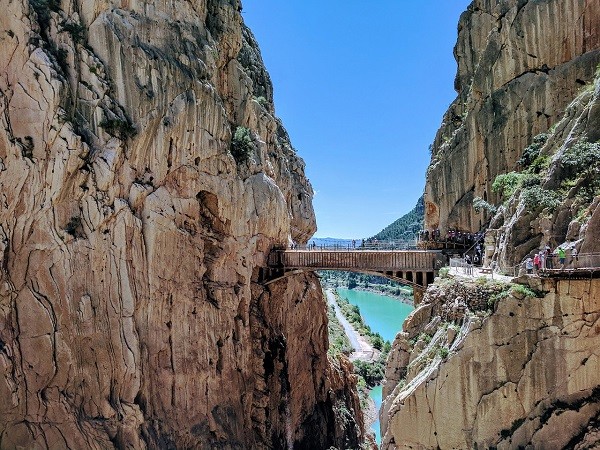 For many years, in an advanced state of disrepair and clinging to the sides of a high gorge, this walkway was known as the 'Most Dangerous Path in the World'. Since it was repaired and opened to the public back in 2015, the danger factor may have gone but the beauty of the surrounding scenery certainly hasn't.
Caves of Nerja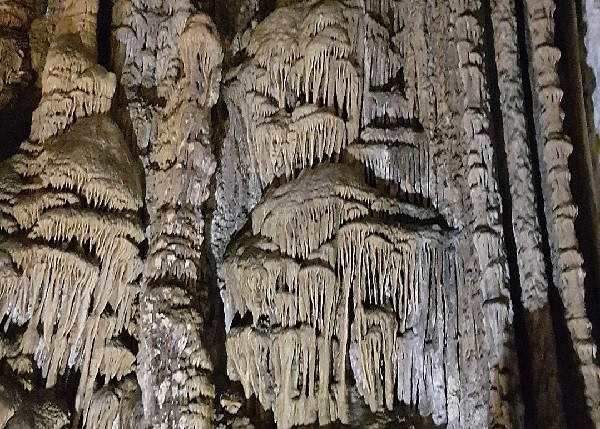 These vast caverns on the eastern Costa del Sol are well worth a visit for their fascinating stalactites and stalagmites and intriguing prehistoric findings. In the summer, they make for a dramatic backdrop for the ballet, classical and flamenco concerts that are held here.
Almeria
Alcazaba, Almeria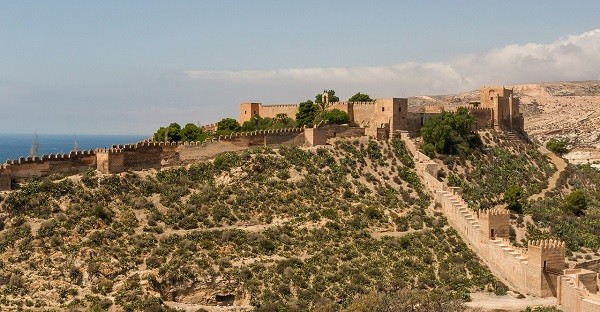 From perfectly preserved citadels in the towns and cities to lonely piles of crumbling rocks in the middle of nowhere, southern Spain isn't short of a Moorish castle or two. Almeria's 11th-century Alcazaba, though, is the biggest of the bunch and, rising above the city in a series of impressive battlements and towers, one of the very best.
Mini-Hollywood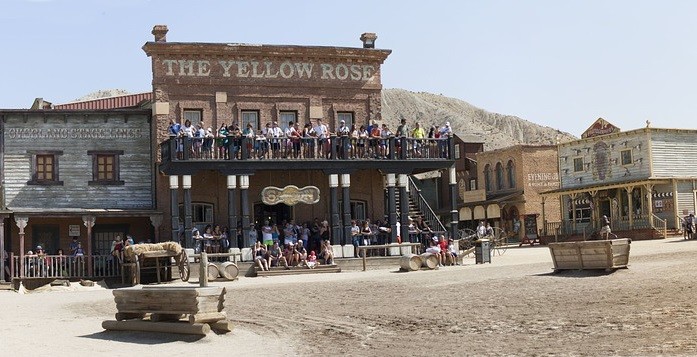 Almeria's 'Mini-Hollywood' has been the location of countless films, chief amongst which were the Spaghetti Westerns of Sergio Leone. It now makes for the perfect setting for small (and not so small) members of the family to play out their Clint Eastwood-style gun-slinging fantasies.
Tabernas Desert
From the snowy peaks of the Sierra Nevada to Europe's only desert, Andalucia is nothing if not geographically varied. A nature reserve spread out across nearly 300 square kilometers of harsh, arid land, Tabernas is one of the region's most striking corners.
Huelva
Doñana National Park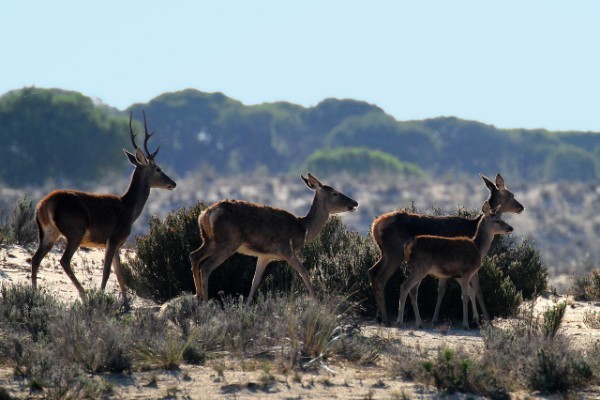 Covering a whopping 530-odd kilometers, this UNESCO World Heritage Site – and the largest nature reserve in Europe – is one of Spain's great wildernesses. Mostly made up of marshland, it's a top destination for birdwatchers, particularly, who come for the +300 species that can be spotted here.
Cordoba
Patios of Cordoba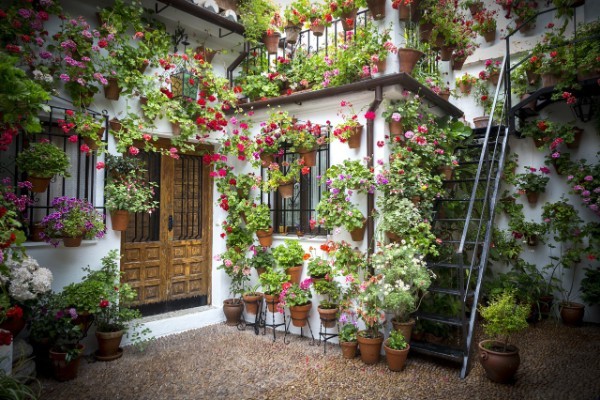 Nothing better represents Andalucia than a plant-filled central patio. Every year in May, Cordoba has a Patios Festival where the doors are thrown open to some of its most beautiful examples.
Cordoba – By Night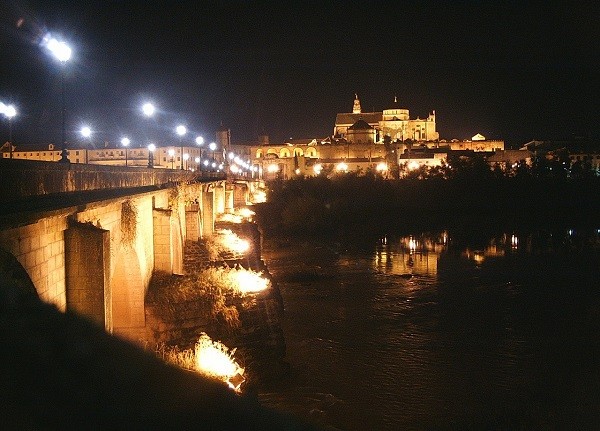 There are few more romantic sights anywhere in southern Spain than Cordoba lit up at night. Standing on the far side of the river your eyes pass along the wonderful Roman bridge, and over the sparkling water of the River Guadalquivir before settling, finally, on the burnished majesty of the Mezquita. Stunning.
Jaen
Olive Landscapes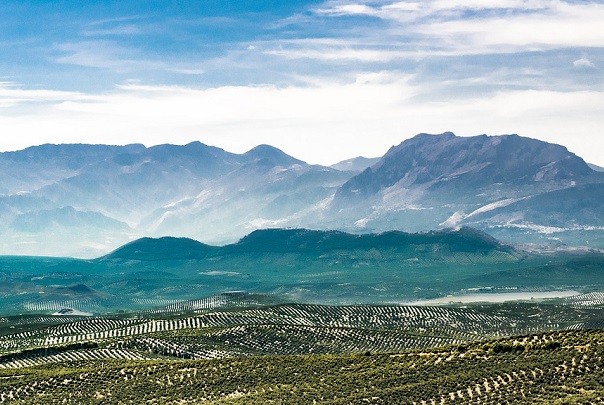 The least visited of Andalucia's provinces, Jaen is the land of olives. Driving through its mile after rolling mile of dusty groves, hazy in the heat of the summer sun, is one of those quintessentially Andalucian experiences.
Across the Region
Flamenco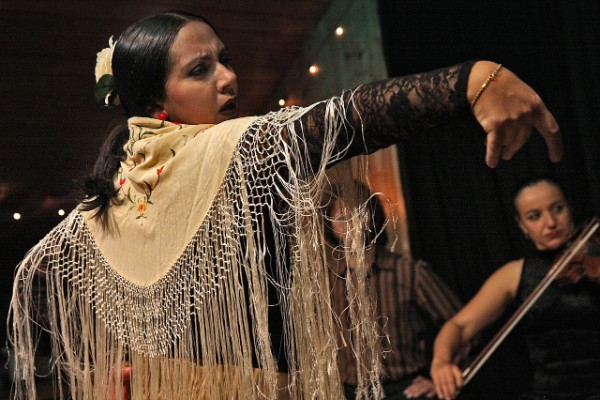 Andalucia's greatest art form is not to be missed. But to see the real deal can be a challenge. Leaving aside the big cities' tourist traps, you can pay to see one of the greats in a theatre and, without a doubt, you'll see technically excellent flamenco music and dance. Authentic flamenco is more, though… it's local, soulful, passionate and of the moment. (See our guide to where to find great flamenco.)
Eat Like a Local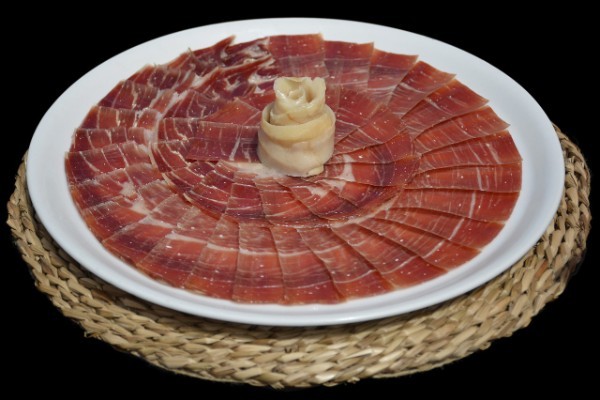 Eating and drinking are not so much a pastime as a way of life in Andalucia. Stopping off in a tapas bar for, say, a slice of two of Jamón Ibérico and a glass of Sherry is as important for getting under the skin of the place as visiting any historic monument.
Inspired by our pick of the best things to see and do in Andalucia? Check out our guide to when to visit the region.
https://theluxuryvillacollection.com/wp-content/uploads/2018/02/osborne-bull.jpg
400
600
Phillipa
http://luxuryvillas.wpengine.com/wp-content/uploads/2013/04/Main_Logo-340-300x127.png
Phillipa
2018-02-26 18:28:24
2018-07-05 09:19:45
Amazing Things to See & Do in Andalucia