From poets to presidents, visitors to southern Spain have been making a beeline for Ronda since before Roman times.
The wandering Romantic writers of the 19th century waxed lyrical about the virtues of 'La Ciudad Soñada', the enchanted city; in the 20th century, Orson Welles and Ernest Hemingway came, saw and drank the bar dry.
The town is set on a rocky outcrop surrounded by lush, fertile plains that give way to sun-dappled cork forests and craggy mountains. Exposed and windswept in winter, broiling under a never-ending azure sky in summer, it has a wonderfully romantic, if slightly lonely, feel.
On a practical level, in spite of its rather isolated feeling location it's actually easily reachable from Marbella or Malaga for a day trip. Here's our guide to things to do in Ronda in a day to help you enjoy it…
Exploring on Foot
Ronda isn't a large town, by any means, so the best way to get around is on foot. Take your time and try to explore without too much of a fixed agenda – even if time is ticking on a day trip. One of the most special things about Ronda is the myriad of little historic touches you can stumble across over the course of a day's wandering – with an elaborate ironwork balcony or heavy studded wooden door here, and a tinkling fountain or a shady bougainvillea-filled square there, it all adds up to a marvellously photogenic sort of place.
Things to See & Do
Puente Nuevo
The most iconic monument in Ronda, the bridge that joins the spectacular gorge was reconstructed in 1759 to replace the previous bridge that fell down in 1749. The bridge took 42 years to complete and many workers died during the construction. In the centre of the bridge there's a room which used to be the town's prison and now holds a small exhibition on the bridge.
There are two ways to enjoy Ronda's gorge: from above and from below. Try and see Puente Nuevo from as many different vantage points as possible, from the bottom of the gorge 120 metres down, from a restaurant (see below for a few great picks) and on the drive into Ronda.
Top tip: Take in the sunsets at the Mirador de Ronda or while walking through the Alameda del Tajo park – it faces west, so the views of the sun melting into the horizon are truly stunning.
La Casa del Rey Moro & La Mina
One of our favourite Ronda sights – as it's just so romantic – is the Casa del Rey Moro. While the name suggests it was the house of a Moorish King, the house which stands (only just) today was built in the 18th century with Moorish-style gardens being added by the renowned French landscape gardener Jean Claude Forestier in 1912.
Its real draw is a 'water mine' carved out of the bare rock in the 1300s as a way of getting water to the town when under siege by invading Christian armies. After winding your way down through 300 steps and a couple of interesting caverns, you finally emerge at the foot of the gorge on the banks of the babbling river. It's a beautiful spot.
Opening times: Open every day from 10am-8pm.
Address: Calle Cuesta de Santo Domingo, 9, 29400 Ronda; Telephone: +34 952 18 71 19.
Plaza de Toros
Whether you approve of its purpose or not, Ronda's bullring is well worth a visit. Bullfighting is synonymous with Andalucia. It's inarguable. And to really get under the skin of the culture of the region, at least a moment should be spent studying it. There are few better places to do so than in Ronda.
Built in the 18th century and founded by the Royal Cavalry of Ronda it's the home of modern bullfighting. The iconic – and very lovely – bullring has a museum full of interesting and insightful exhibits on the history of bullfighting.
Carrying on with the bullfighting theme, just outside Ronda is the Reserva Tauro Ronda farm where you can learn more about how the bulls are bred and raised. If you would like to have a personal visit with the Torero who owns the farm please do contact our Concierge who can arrange this with our private guides.
Top tip: If this is your first time experiencing bullfighting we would also recommend picking up 'Death in the Afternoon' by Ernest Hemingway as a holiday read.
Opening times: Open every day from 10am-8pm.
Address: Calle Virgen de la Paz, 15, 29400 Ronda; Telephone: +34 952 87 41 32; Rmcr.org.
Palaces & Gardens
Palacio de Mondragón
Once again, this palace is a mishmash of the Moorish and the Christian. While only part of the original Moorish architecture remains as the palace was remodelled in 1491, you can still expect arches, exposed decorative carvings and tiles, courtyards and a water garden at the rear of the palace that's a miniature replica of one in the Alhambra.
Opening times: Monday to Friday from 10am till 7pm (6pm winter); Saturdays, Sundays and Holidays 10am till 3pm.
Entrance fee: 3.50€ individual; 2.75€ for a group of 10 or more, OAP or student under 26; children under 14 enter free.
Address: Plaza Mondragón, s/n, 29400 Ronda; Telephone: +34 952 87 08 18.
Arab Baths
There are a few places to see intact Moorish baths in Andalucia but Ronda is, in our opinion, possibly the best. Because the whole complex is so well preserved you can visit them from above and within as well as get a real sense of the working parts of a Moorish bath in the 11th century.
The word 'baths' is somewhat of a misnomer as the Moors used steam for cleansing and purifying, before entering the mosque which was almost invariably next door. There were however two small cold pools for cooling the blood – and catching up on the latest gossip as much as anything else – before heading back into the hot rooms.
Opening times: autumn and winter: Monday to Friday 10am till 6pm; Saturdays, Sundays and public holidays 10am till 3pm. Spring and summer: Monday to Friday 10am till 7pm; Saturdays, Sundays and public holidays 10am till 3pm.
Entrance fee: 3€ per individual; 1.50€ if part of a group of 10 or more, and children; free on Sunday.
Address: Calle Molino de Alarcon, s/n, 29400 Ronda.
Museo Lara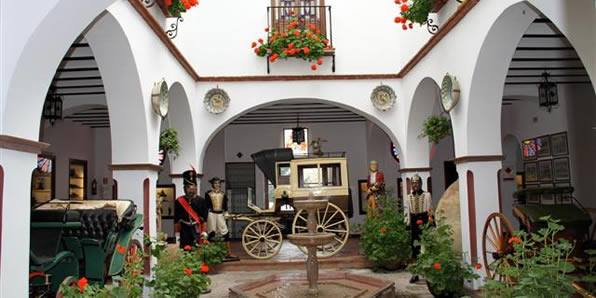 The Museo Lara contains an ambitiously broad collection ranging from the Spanish Inquisition to film and pottery via pretty much every other type of historical objet you could imagine. It's ideal for a fun family visit, too, with gory torture weapons, swords and weird and wonderful witchcraft pieces scattered amongst the varied assortment of other bits and bobs. The museum takes about an hour to visit and is also housed in a handsome traditional townhouse with central patio.
Opening times: 11am – 8pm (7pm winter).
Entrance fee: 4€ standard; 2€ for students, pensioners and groups of 10 or more.
Address: Calle Armiñán, 29400 Ronda; Telephone: +34 952 87 12 63; Museolara.org.
Churches
Iglesia de Santa Maria La Mayor
As is so often the case in Andalucia, the roots of this church run deep: the Christians built on a mosque; the Moors built on Visigoth foundations; and the Visigoths erected their church on the remains of a Roman temple which probably stretched back to around 45BC.
Little is left to show from that ancient past, as the building that stands today was largely built in the wake of an earthquake in the late 16th century. These days, though, with its mishmash of Gothic and Renaissance styles it's still a very pleasant place to nip into and escape the heat of the day.
Opening times: Mon-Sat 10am-8pm; Sundays closed.
Address: Plaza Duquesa de Parcent, 0, 29400 Ronda.
Iglesia del Espiritu Santo
Building work on this church began shortly after the town fell to the Catholic Kings in 1485. And if on first inspection it appears rather plain and austere-looking it's because, joined to the city walls, its architects had to bear in mind a possible military function.
Look a little closer, and there's plenty to enjoy inside and out, too: the main entrance is surrounded by a Mudejar-style alfiz, the typical panel that wrapped around the top of mosque doorways, while the ceilings are soaring vaulted affairs.
Tucked into the far southernmost corner of the old town, the location means you can also check out the impressive Almocabar gate, another dramatic relic from Ronda's Moorish past.
Opening times: Monday-Saturday 10am-2pm; Sundays closed.
Address: Calle Espíritu Santo, 15, 29400 Ronda.
Restaurants & Places to Eat
Restaurante Bodega San Francisco
Bodega San Francisco is a typical-in-every-way Andalucian tapas bar. As soon as you cross the threshold you couldn't be anywhere other than southern Spain. It's traditional in all the right ways – namely décor, service, food and drink. Order tapas from the bar or a plate of cold cuts and wash it down with a bottle from an extensive list of local Ronda wines. This is a local haunt, and while there's seating outside, it's inside where the charm and atmosphere lies (not to mention the air-conditioning!)
Address: Plaza Ruedo de Alameda, 27, Ronda; Telephone: +34 952 87 81 62; Bodegasanfrancisco.com.
Tragata
With its mismatched seating, industrial-style metal tables, quirky basket lights and bare bulbs hanging over the bar, Tragata has a pronouncedly modern look and feel compared to most other more traditional Ronda restaurants. The food follows suit, too, with Asian and Moroccan flavours rubbing shoulders on the menu with imaginative takes on classic Spanish dishes. It has an invitingly lively vibe inside, whether you choose to sit at the bar or high tables, and outside on long summer evenings it's very pleasant indeed.
Address: Calle Nueva, 4, 29400 Ronda; Telephone: +34 952 87 72 09; Tragata.com.
Abades Ronda Restaurante
Set on the gorge with a huge terrace, this restaurant has some of the best views in town. The service is pleasingly formal, while the food is excellent and elegantly presented (with mouth-watering tenderloin of acorn-fed Iberian pork being a particular favourite on LVC's last visit). An extensive wine list with a good choice of cavas caps off an inviting all-round offering.
Address: Paseo Blas Infante, 1, 29400 Ronda; Telephone: +34 952 87 13 67. Abadesronda.com.
Like our guide to things to do in Ronda and tempted by the idea of spending a day (or more) in the town? Check out our selection of nearby villas.
https://theluxuryvillacollection.com/wp-content/uploads/2017/07/Ronda-Gorge.jpg
667
1000
Phillipa
http://luxuryvillas.wpengine.com/wp-content/uploads/2013/04/Main_Logo-340-300x127.png
Phillipa
2017-07-21 18:18:00
2017-09-19 10:44:42
A Guide to Ronda in a Day