Madrid is an eclectic, cosmopolitan city where tradition meets modernity. From bars and cafés where abuelitas make croquetas by hand, to some of the finest gastronomic delicacies in the world; underground art exhibits to renowned European collections; incredible green spaces to awe-inspiring architecture… So, where to start? Madrid in a day is a challenge—there's so much to see. But we've compiled the best of the best to take you on one of our favourite routes through the city. Take a look at the most essential things to see, do, and eat in Madrid in a day.
In the morning…
Breakfast
9:00am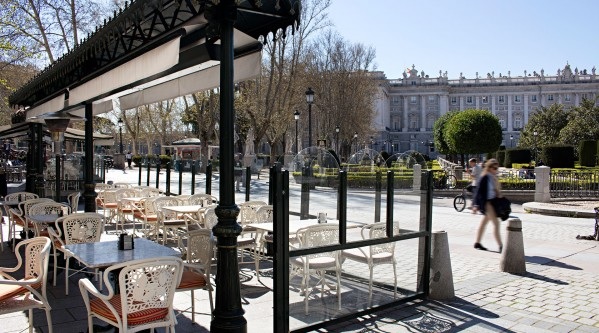 Start your day off in the warm glow of the Spanish sun with the Royal Palace smiling down on you. Have a traditional Spanish breakfast at Café de Oriente like a real madrileño with a café con leche, freshly squeezed orange juice, and toast with tomato purée and Iberian ham. On nice days sit out on the terrace for spectacular views of the palace.
Address: Plaza de Oriente, 2, 28013 Madrid; Telephone: +34 91 541 39 74; Cafedeoriente.es
Start strolling, take in the sights
10:00am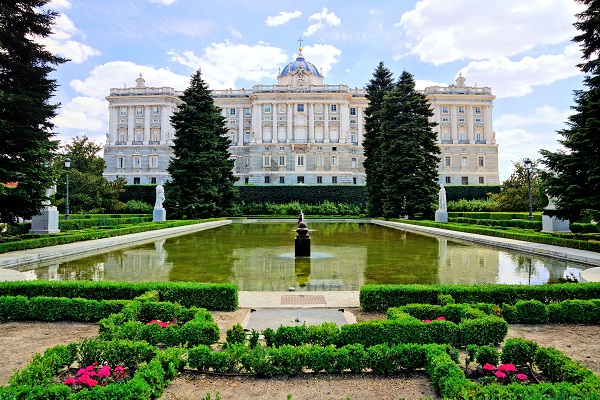 After a tasty breakfast, stroll through the Plaza de Oriente to arrive at the gates of the Royal Palace. Gaze up at the incredible Baroque architecture, or take a peek inside. Although the Spanish royal family no longer live here, the palace offers an insight into Spain's royal history.
Open every day October-March 10am-6pm (tickets on sale until 5pm); April-September 10am-8pm (tickets on sale until 7pm)
Address: Calle de Bailén, Madrid 28071, Spain; Telephone: +34 902 044 454; Patrimonionacional.es
11:00am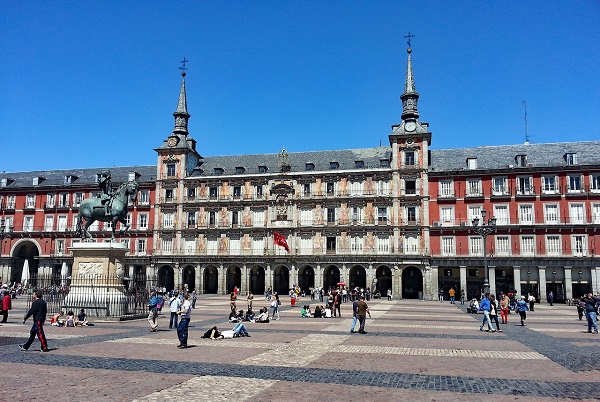 After you've marvelled up at where the royals live, wander through the streets to get a taste of old Madrid. Take Calle Mayor straight from the Palace to Plaza Mayor (walk there in about 10 minutes). Enter the large square through one of its beautiful arches. Sit for a cup of coffee or a glass of wine (it's never too early for a glass of wine in Madrid) on one of the terrace bars and take in the stunning architecture that surrounds you. Then stroll through the plaza's traditional shops, which offer authentic Spanish products like mantoncillos.
Address: Plaza Mayor, 28012 Madrid
At midday…
A bite to eat, and a little art
12:00pm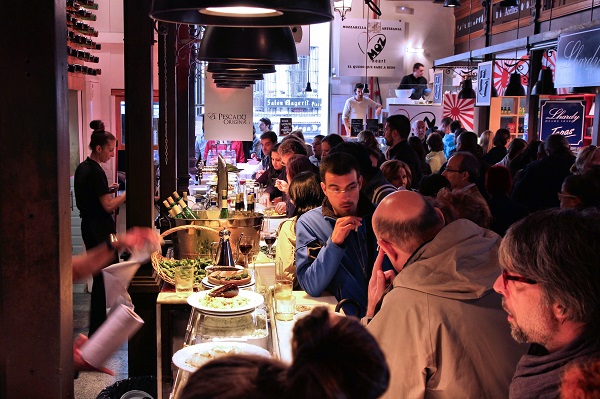 If you're looking for a little snack to hold you over until lunch (Spanish lunchtime is traditionally from about 2.00-3.00pm), wander over to Mercado de San Miguel for a little Madrid-style showmanship and some tasty treats. This pretty, iron-and-glass market originally built in 1916 offers fresh products and tasty tapas everywhere you look. Its central location—right next to Plaza Mayor—makes it a great place to stop for a quick bite between sightseeing.
Address: Plaza de San Miguel, s/n, 28005 Madrid; Telephone: +34 915 42 49 36; Mercadodesanmiguel.es
1:00pm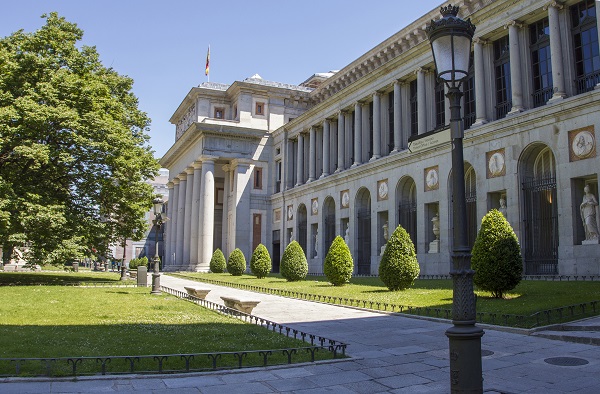 After refuelling at the market, take a walk through Madrid's old town toward the world-famous Prado—don't miss a stop in Puerta de Sol, the heart of the city, to watch the masses flood by on your way. No trip to Madrid would be complete without a visit to the Prado. You could easily spend an entire day exploring what is known as the best collection of European art in the world. But if you feel like popping in just to see the big names, don't miss Velázquez—especially Las Meninas—and Goya's Black Paintings.
Open Monday-Saturday 10am-8pm; Sundays and bank holidays 10am-7 pm
Address: Paseo del Prado, s/n, 28014 Madrid; Telephone: +34 913 30 28 00; Museodelprado.es
Lunch and siesta
2:30pm
Lunch is the biggest meal of the day in Spain. Book your table at Michelin-star restaurant Ramón Freixa Madrid for a taste of innovative cuisine with Mediterranean roots from Catalan chef Ramón Freixa. Grab a car or taxi from the Prado, and arrive in 10 minutes. Make sure to order by 2.45pm to be able to enjoy the tasting menus (otherwise order á la carte). You'll find yourself right in Madrid's "Golden Mile" in the ritzy district of Salamanca; so after enjoying the chef's deftly crafted plates mixing Spanish tradition and innovation, head out for a little shopping on Calle de Serrano.
Address: C/ Claudio Coello, 67, 28001 Madrid; Telephone: +34 91 781 82 62; Ramonfreixamadrid.com
4:30pm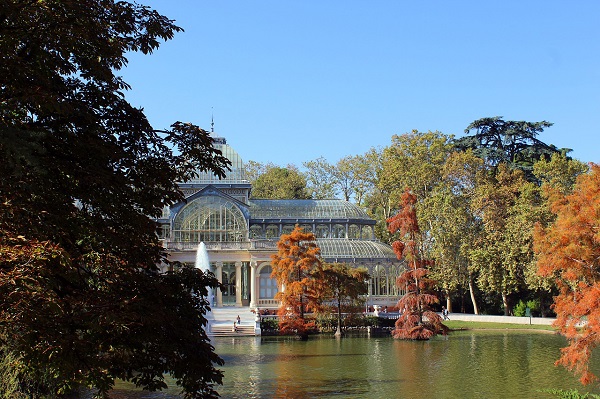 Not many Spaniards still take a siesta, but it is true that after an indulgent lunch, it's nice to take a little rest. Retiro Park, a beautifully manicured oasis in the middle of the thumping metropolis, is the perfect place to lounge after lunch. Stroll down Calle de Serrano from restaurant Ramón Freixa and stop to smell the roses in Madrid's most spectacular green space (about a 10-15 minute walk). Find the statue of the fallen angel, rest by the Crystal Palace (or see an exhibit there) or row a boat in the park's lake while gazing up at the Monument to Alfonso XII.
In the late afternoon…
A drink and a culture trip
6:00pm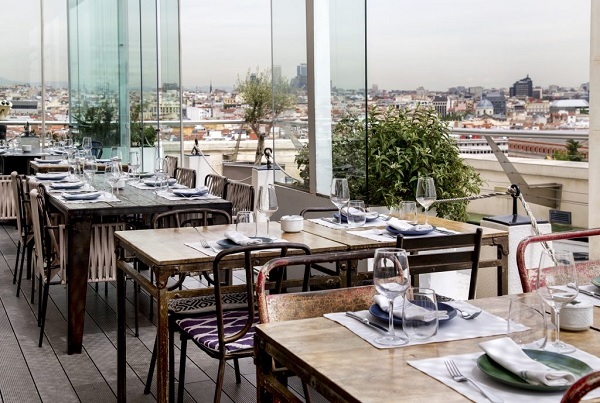 After a rest in the Retiro, stroll down Paseo del Prado toward Plaza de Cibeles to marvel up at the city hall, neoclassical sculptures and fountains in marble. Then continue on to Tartán Roof for the best views of the city and a glass of wine or a simple cocktail on a lovely rooftop terrace.
Address: Calle del Marqués de Casa Riera, 2, 28014 Madrid.  Azoteadelcirculo.com
7:00pm
Come down from up above and you'll be in the perfect place to wander through Madrid's hippest districts, Chueca and Alonso Martínez. Head through Chueca toward Calle de Fernando VI and the small streets in the area for boutique shopping in clothes, jewellery and design. If you're feeling like something sweet for Spanish-style merienda (late afternoon snack) pop into Mamá Framboise or La Duquesita for a treat.
Address: Mamá Framboise. Calle de Fernando VI, 23, 28004 Madrid. Telephone: +34 913 91 43 64; Mamaframboise.com
Address: La Duquesita, Calle de Fernando VI, 2, 28004 Madrid. Telephone: +34 913 08 02 31; Laduquesita.es
Nightcap
Dinner and a show
9:00pm
When it's time for dinner make sure you've booked well in advance to participate in the extravagant world of "Dabiz" Muñoz at DiverXO (especially for dinner). Dining here is more than just eating a meal at a restaurant—it's a comprehensive gastronomic experience. As one of the world's 50 best restaurants, DiverXO is a stop in Madrid well worth making.
Address: Calle Padre Damián, 23, 28036 Madrid; Telephone: +34 915 70 07 66; Diverxo.com
If you can't make it to DiverXO, or want a top chef experience with a little less planning, try StreetXO for a casual taste of what Muñoz has to offer. Make sure to arrive early (before opening) or late (after 9.30pm) if you don't want to wait in line to get in; they don't take reservations.
Address: Calle de Serrano, 52, 28001 Madrid; Telephone: +34 915 31 98 84; Streetxo.com
11:00pm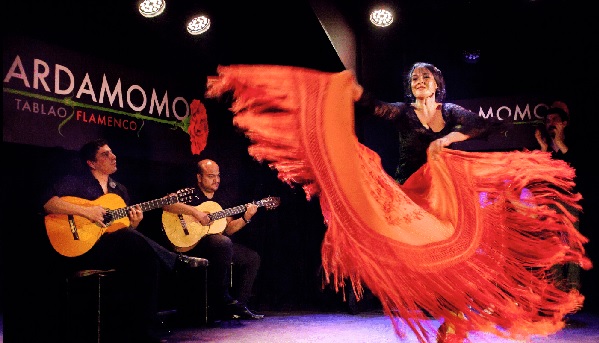 Madrid is a city that doesn't sleep. If you wanted, you could easily stay out until 7 o'clock in the morning. For a more relaxing experience, seeing a flamenco show is a great way to end your night. There are plenty of shows to catch in the capital, but sometimes the best way to go is to see Spain's most famous art form at a tablao. Cardamomo and the rest of the tablaos in Madrid mainly cater to tourists, but you're guaranteed a fantastic show any day of the week. You'll find multiple sessions at Cardamomo, with the last starting at 11.30pm.
Address: Calle Echegaray, 15, 28014 Madrid; Telephone: +34 691 022 117  or   +34 918 05 10 38; Cardamomo.com
Before you pack your bags, keep these top tips in mind:
Get ready to walk. You're in sunny Spain! If you're here in spring or autumn, it will be the most comfortable time for walking, so put on those trainers and get ready to discover hidden treasures around every corner.
Madrid is an incredibly safe city, but while in touristic areas (Puerta de Sol or Plaza Mayor, for example) or the metro, be sure to watch out for pickpockets and keep track of your valuables.
Keep in mind that gratuity is not customary in most situations in Spain, although at higher-end restaurants it wouldn't be out of line to show your appreciation with a 10-15% tip.
Still looking for other places to visit while in central Spain? Have a look at the best towns to see around Madrid and if you need accommodation and want something very special, then Hacienda Sofia is ideal.
https://theluxuryvillacollection.com/wp-content/uploads/2018/09/Royal-Palace-Madridsized-1.jpg
400
600
Phillipa
http://luxuryvillas.wpengine.com/wp-content/uploads/2013/04/Main_Logo-340-300x127.png
Phillipa
2018-09-14 13:16:18
2018-09-23 09:37:55
Essential Things to Do in Madrid in a Day