If there's one thing Marbella knows how to do, it's party: whether it's lavish Champagne spray parties, chilled out beach club sundowners, decadent dusk 'til dawn pool parties or sophisticated cocktails and live music, whatever you're looking for on a sultry summer's night out, it can deliver.
And it's not just summer, either. Marbella nightlife does vary quite significantly from season to season: it might seem warm enough to northern Europeans in November to party on the beach or poolside, but to the southern Spanish the seaside fun and frolics end at least a month or so earlier. Don't be deterred if you're here out of season, though, as the party people don't hibernate through the winter months, they just party differently.
Here's our pick of the best places to let your hair down on a night out in Marbella…
Best for Overall Experience
Olivia Valere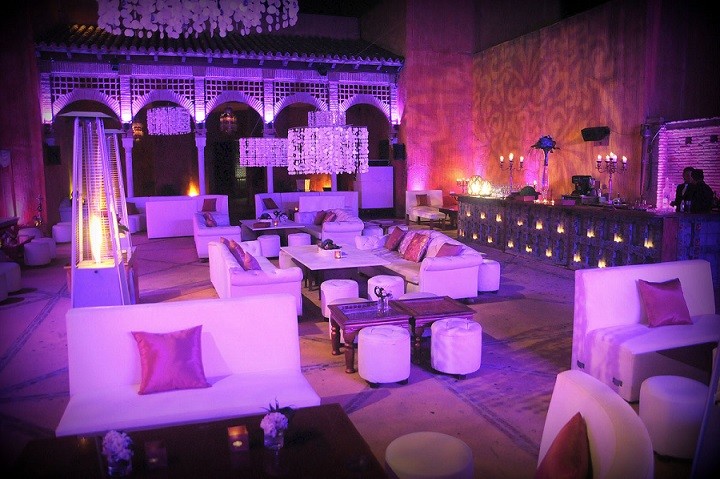 Marbella clubs don't come much more established than Olivia Valere. For 14 years it's been at the centre of the area's nightlife scene – if you're rich or famous and have visited Marbella, you will have spent a night or two at Olivia Valere. This huge pleasure palace was built along the most grandiose of lines, taking its inspiration from the architecture of the Mezquita and Alhambra Palace. Expect keyhole-shaped doorways, decorative arches and lots of intricate Moorish design swirls and flourishes throughout.
There are two areas to choose from, both of which offer something different – The Lounge Terrace and The Sushi Bar. Celebrity DJs are a regular occurrence throughout the summer, with the likes of Paris Hilton, Carl Cox and Craig David having stepped up to the decks. There's also a very convenient outdoor restaurant next door called Olivia Valere Babilonia. The interiors are plush with lots of white seating and no expense spared on the decoration, and the general air of opulence and extravagance lends itself nicely to a complete and utter blowout. It's open all year round – and there's often live entertainment throughout the summer – but only at the weekend during the winter.
Address: Carreterra de Istan – Km 0.72, 29600, Marbella; phone: 658 58 15 85; Oliviavalere.com.
Best New Venue
Cavalli Club Puerto Banus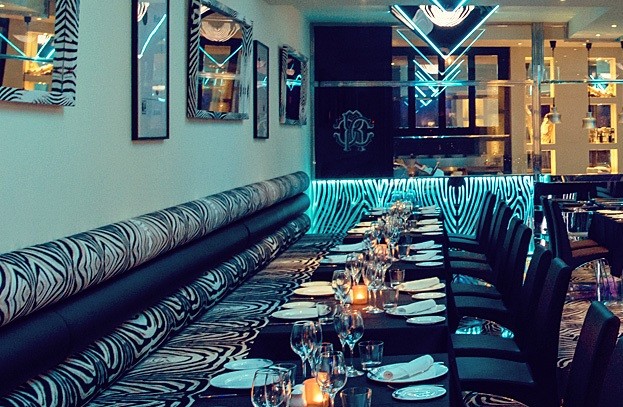 Puerto Banus has a new kid on the block by the name of Cavalli Club. It exploded onto the scene in 2015 with big name DJs (the likes of Snoop Dog and Bob Sinclair) and one wild party after another throughout the season. It's not a huge club so reserving a table (particularly if you're a group of more than six) is a good idea, and our Concierge can help. They rack up some great names and party themes throughout May until October. If the dance floor doesn't grab you, and you need somewhere to place your Jack Daniels, you can chill out on the mezzanine level in comfort overlooking the dance floor.
Open from midnight until 6am from May until October with an over-21s door policy.
Address: Carretera Cadiz, Km. 175, 29660 Puerto Banus, Malaga; phone: 689 74 45 28; Cavalli Club Facebook Page.
Best for Front Line
Pangea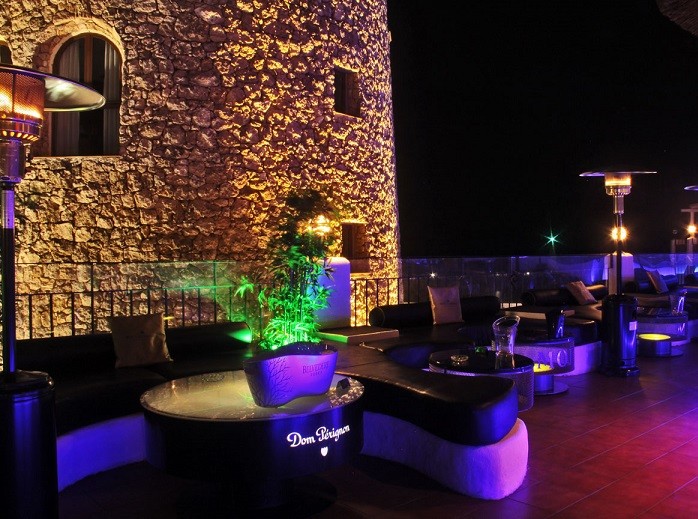 There's a lot of talk about 'frontline' and 'backline' nightlife in Puerto Banus. In a nutshell the frontline is a more sophisticated, high-end affair and the backline (literally the second road back from the port) is a little more raucous. At the end of the port – very much frontline – is Pangea. All white, black and neon, Pangea is a great place to spend an evening if you're in town. The gorgeous roof terrace can be seen from the portside street below, and house and RnB music is bashed out over the yachts. If it errs just a little on the side of OTT with its décor, hey it's a club after all, and you're in Puerto Banus where glamour's very much the name of the game. Despite always being filled to the rafters and having an indoor part, sadly, it isn't open during the winter.
Address: Puerto Banus Port; phone: 680 291 967; Pangea-club.com.
Beach Clubs in Marbella
The Marbella beach club scene needs to be checked out when visiting the area. Not only is it seriously cool, but it's also very practical – tanning, relaxing, pampering, swimming, eating, drinking, dancing and partying all in one venue. Perfect.
There are several beach clubs to choose from – with new openings springing up every summer – but here are a couple of our favourites. Be sure to check with our Concierge before a visit, though, as sometimes there's a themed party on – white, white and gold or red – to add a little bit of glamour to your beachside lounging, sundowner sipping or early morning partying.
Best for Striking a Pose
Nikki Beach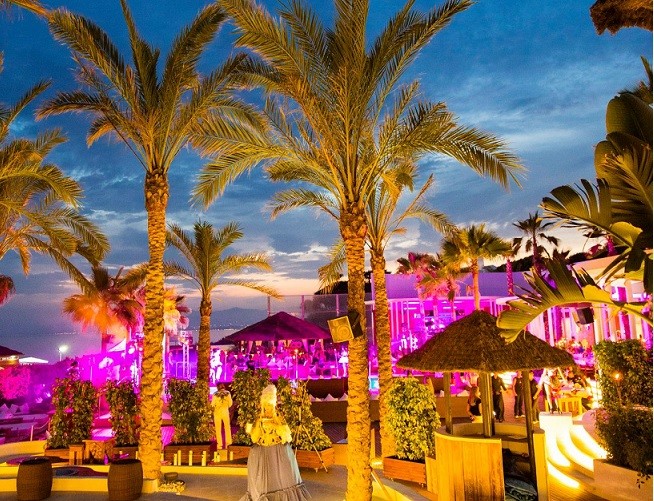 The legendary Nikki Beach has been a fixture on the Marbella nightlife scene for two decades. Beachside decked two-tiered terrace, inviting pool, draped comfy chill-out areas, large beach beds, stocked bar, Nikki dancers, resident DJs, themed parties, alfresco dining room and a perfect stretch of Marbella beach… What's not to like?
This open-air adults' playground is hard to beat, basically – just stretch out langorously, set up stall and be waited upon. Nikki Beach is kind of an attraction in itself, you can spend the whole day there or just rock up for the evening's entertainment. When the club gets started it spills out into all areas, with live music, soulful house and creatively clad Nikki Beach dancers whipping the place up into a hedonistic frenzy. It's the beach club to be seen at, and with 1000's of young and beautiful people filling the place over the course of an evening, it pays to dress to impress.
Address: Playa Hotel Don Carlos, Carretera de Cadiz, Km 192, 29600 Marbella, Malaga; phone: 952 83 62 39; Nikkibeach.com.
Best for Cocktails
Ocean Club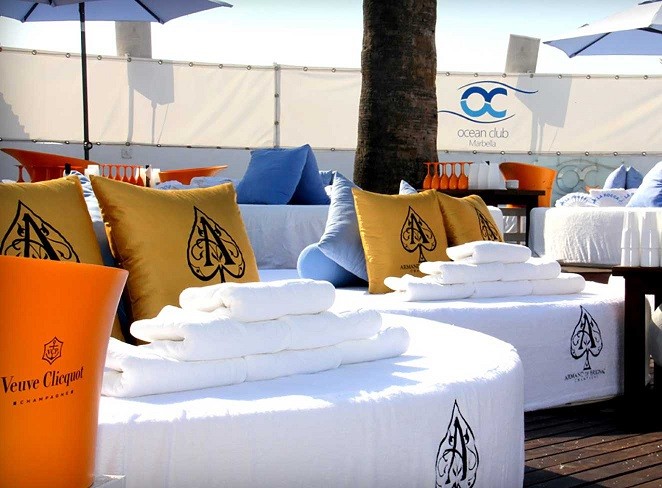 A short walk from the centre of Puerto Banus, if you feel like stretching your legs in the cool of the evening, Ocean Club sits on an extensive plot. The white and blue décor wraps around a sail-shaped pool lined with round beds that are some of the most comfortable around. They offer a seriously mouth-watering selection of cocktails (their Bloody Mary made with homemade chilli sauce is a particular LVC favourite) along with shishas and massages throughout the day. The restaurant serves up simple but delicious food made with fresh ingredients, and service that from start to finish is impeccable. All in all, it's a beautiful beach club with a sophisticated air.
Address: Avenida Lola Flores, S/N, 29660 Marbella, Malaga; phone: 952 90 81 37; Oceanclub.es.
Planning a celebratory trip to southern Spain with friends? Have a look at our selection of luxury Marbella villas.
Like our pick of the best nightlife in Marbella, but looking for something more chilled from your night out? Check out a few of our favourite restaurants.
https://theluxuryvillacollection.com/wp-content/uploads/2015/12/pangella-puerto-banus1.jpg
519
698
Lindsay
http://luxuryvillas.wpengine.com/wp-content/uploads/2013/04/Main_Logo-340-300x127.png
Lindsay
2015-12-14 21:13:05
2017-05-12 10:44:25
Best Marbella Nightlife