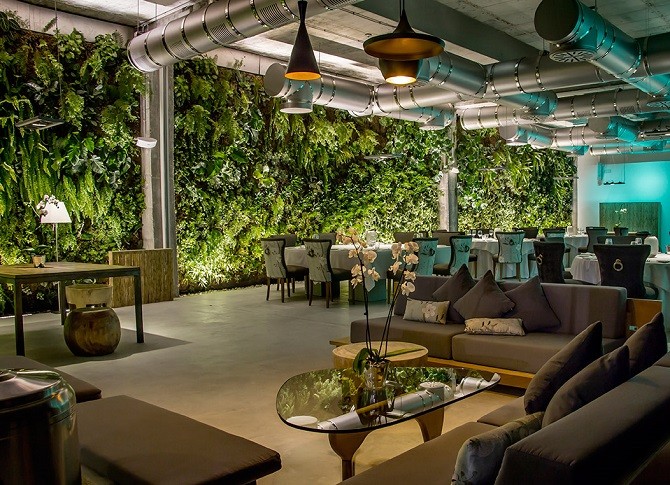 It's said that, once upon a time, Malaga boasted more bars per capita than anywhere else in Europe. Whether or not that's the case, it's certainly true that scruffy, spit 'n' sawdust neighbourhood joints out-numbered decent restaurants and tapas bars in the city until relatively recently.
How things have changed. From newly opened gastro markets in the Old Town centre to sophisticated beach-side terraces and full to bursting gourmet tapas bars down narrow alleyways, there are more great places to eat in Malaga than a city of its size has any reasonable right to.
If you want to get a taste of what it's like to live like a local in a city where the people are very serious about their food and drink, then hit Malaga, basically. And while it's been tricky to narrow them down, here are a few of the Luxury Villa Collection's pick of best Malaga restaurants.
Best for Gourmet 
Jose Carlos Garcia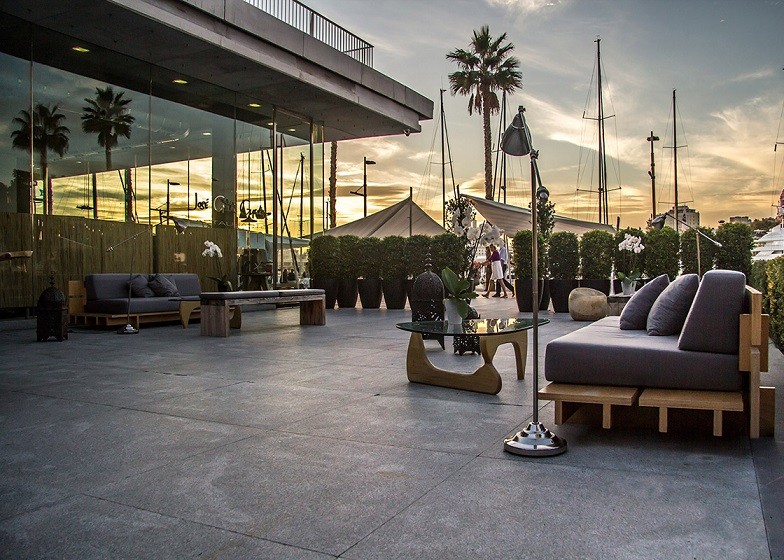 The only Michelin-starred restaurant in Malaga is at the port, just next to the lighthouse at Muelle Uno. It's the culinary base of Jose Carlos Garcia who is one of the most famous names in food in the city. The chef himself will be in the kitchen while you dine in this pleasant, spacious dining room which extends onto the terrace outside when the sun shines.
The dining room is one of our favourites in the city: its hard-edged industrial chic is offset by a comfy softness – think a sharp glass box with classic Eames chairs in grey, and thick pile rugs to soften the pressed concrete. (LOVE it.) Food-wise, it's the finest of fine dining with plate after delightfully crafted plate descending on your table over the course of a meal.
Address: Puerto de Malaga, Plaza de la Capilla, 1, 29016 Malaga. Telephone: 952 00 35 88. Restaurantejcg.com. 
Best for Art Lovers
Óleo Restaurante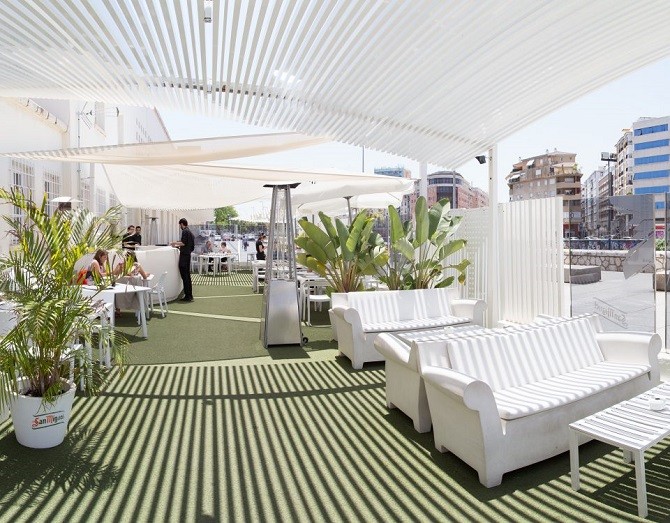 All that talented creativity going on at the Contemporary Art Centre (CAC) next door flows right on through to the menu at Óleo Restaurante where taste buds go into overtime. A sleek, but informal venue with a great riverside terrace – an oh-so-perfect spot for a sundowner G&T – this restaurant never fails to provide a great dining experience.
At the helm is Sergio del Rio whose culinary creations combine Mediterranean dishes with a touch of nouvelle cuisine, but not so much that you don't recognise what's on your plate. So, good-old patatas bravas get an extra shot of heat via a spicy foam, traditional red tuna is joined by half-dried tomatoes from nearby Alora and the up-and-coming Malaga kid goat becomes the main ingredient in the Vietnamese rolls. You get the idea.
Taking the oriental connection that bit further is Rui Junior whose sushi ranks as the best in town. Prepare to be spoilt for choice. This is casual dining and all plates are suitable for sharing. And the best of all? The bill at the end – mains range from €7 to €22.
Address: Edificio CAC Malaga, Calle Alemania s/n, 29001 Malaga. Telephone: 952 21 90 62. Oleorestaurante.es.
Best for a Post-shopping Lunch
Restaurante La Deriva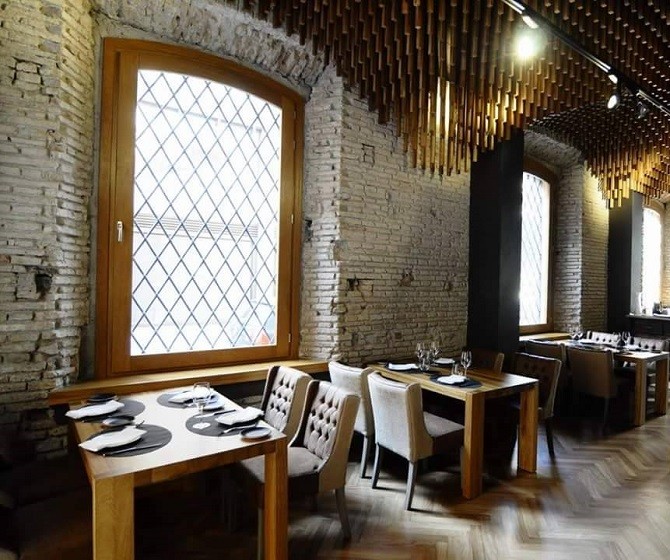 On a corner in Soho, just before you reach the river, is the stylish La Deriva. Ticking all the boxes for a relaxed vibe, good service and good food – and within easy strolling distance from Calle Larios – it's ideal for a refuelling stop after a morning's shopping with friends.
The food is excellent overall, but there are standout dishes like the mouth-wateringly tender grilled octopus, oysters and saffron risotto served with jamón and sundried tomatoes. Other things not to miss include a superior cheese board and a wide selection of Vermouths.
Address: Alameda Colon, 7, 29001 Malaga. Telephone: 951 28 69 21.
Best for Traditional Tapas 
Uvedoble Taberna
Sitting between the Alcazaba and the Cathedral, Uvedoble is well placed for lunch on a day jampacked with sightseeing. This small unassuming restaurant has bar, table and terrace seating. It's nothing really to write home about environment-wise, but you're not here to look at the décor, you're here to eat local Spanish food and wine.
Most dishes come in half or full plates and are ideal for sharing. The ceviche of swordfish with avocado from the Axarquia is melt in the mouth; sauteed artichokes with cuttlefish from Malaga are a favourite; the giant meatball in almond sauce is a crowd-pleaser, and Cannelloni stuffed with kid goes down well with a glass of Ribera del Duero. If you want to eat local Malagueno dishes prepared with flair with an emphasis on farm to fork produce, then you'll be hard pushed to do better than Uvedoble.
Address: Calle Cister, 15, 29015 Malaga. Telephone: 951 24 84 78. Uvedobletaberna.com.
Best for Kids 
As for family-focused, child-friendly eateries in Malaga there… really aren't any. However, the southern Spanish are very accommodating when it comes to children, so smaller plates for smaller people will be produced if requested. 
Vino Mio
The situation of this restaurant is great for parents with especially energetic broods: right on a square next to the Teatro Cervantes, they can run themselves ragged within eyeshot while you sit back with a chilled glass of wine.
On the food front, we're talking international, so the menu is varied and more likely to be familiar to smaller, non-Spanish mouths. The portions are incredibly generous, so it's important to remember to leave room for their delectable double chocolate Guinness cake. If you're a fan of flamenco, they hold a show at 8pm every evening. Check the website below for more information.
Address: Plaza de Jeronimo Cuervo, 2, 29012 Malaga. Telephone: 952 60 90 93. Restaurantevinomio.es.
Best for Sharing & Pairing
Alexso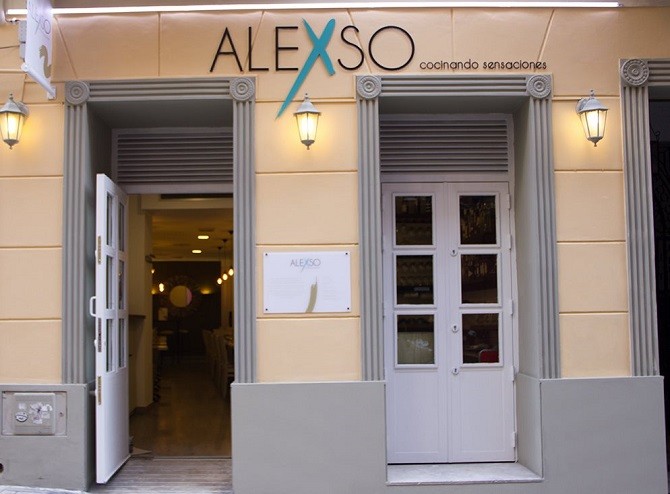 Slightly off the beaten track but still just a few steps from the centre, Alexso has quickly established a name for itself on the Malaga foodie scene.
The venue comes small on space but huge on taste, with Chef José Antonio Moyano taking local recipes, giving them a whole new look and then throwing in some surprises for good measure. So that invisible fried egg really does taste like the real thing. And who'd have thought of putting Malaga salchichón (cold sausage) into an éclair? But it works and works well.
Dishes make ideal sharing plates – an option we're always keen on because you get to work your way through lots of different items on the menu. Pairing is something else Alexso excels at, and the waiters are more than happy to step in and recommend the perfect wine for a dish.
The restaurant also has two set tasting menus: Alexso Route (allow an hour and a half for the seven dishes) and Cooking Up Sensations (just over two hours for ten dishes).
Children are made to feel very welcome at Alexso, with friendly waiters, colouring books and pens.
Address: Calle Mariblanca 10, 29012 Malaga. Telephone: 951 91 35 85. Restaurantealexso.es.
Best for an Informal Bite
La Luz de Candela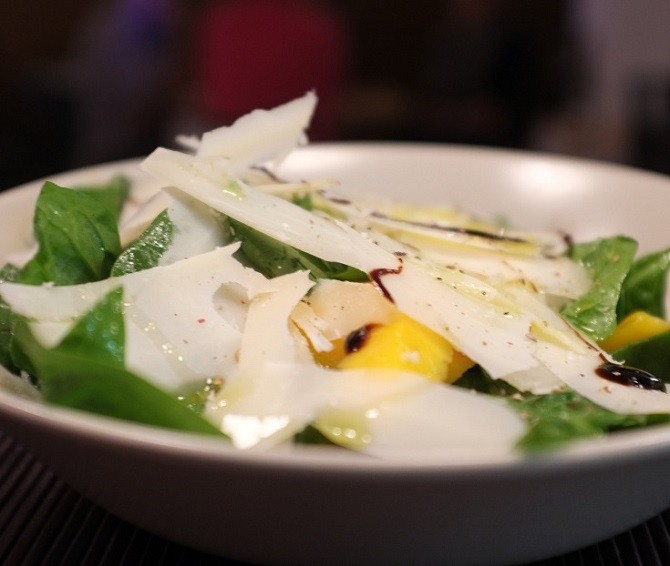 La Luz de Candela is very much a family affair: French chef Charlie heads things up in the kitchen, while his daughter Candela runs front of house with great energy and charm.
The food ethos of the restaurant is simple but appealing, revolving around slow cooked local, seasonal ingredients – Mediterranean cuisine as it should always be cooked and presented, basically. The dining room has a home from home feel with little more than 10 tables, and where possible dishes are served in half plates as well as full plates, making it ideal for a relaxed evening with friends.
It doesn't have much curb appeal – but there are no seats outside so, frankly, who cares? It's really all about the quality of food and relaxed atmosphere. On LVC's last visit we were particularly taken by the scallops and the desserts (yes, plural – we did try all the desserts on the menu).
Address: Calle Dos Aceras, 18-20, 29012 Malaga. Telephone: 648 85 32 53. La-luz-de-candela.com.
Best for Vegetarians & Vegans
Siete Semillas
Vegans, on the whole, don't fare too well when it comes to dining options in Spain, but in Malaga, Siete Semillas comes to the rescue. Not only do vegan dishes always feature on the menu, other dietary restrictions and food intolerances are simply no problem at all. How's that for a breath of fresh air?
The funky venue – we love the industrial loft-look with super high ceilings and upside-down spider plants – sits on Atarazanas Market's doorstep so you know you're in good company. But it gets even better because everything, and that's absolutely everything, is organic. And your non-vegan fellow diners get a look in too because the daily menu (€14) includes vegetable as well as meat options. The taboulehs and soups (hot and cold) are particularly good as are the organic juices and smoothies. And if it isn't time for lunch, grab a coffee and a slice of one of the homemade, organic cakes. Delicious and virtuous. Not a bad combo.
Address: Plaza Arriola 1, 29005 Malaga. Telephone: 645 93 57 96.
Vegetariano El Calafate
Always full to bursting, El Calafate is the best vegetarian restaurant in Malaga. They have a €9.50 set lunchtime menu which changes daily (it's slightly more expensive on the weekends). It offers the usual things you'd expect from any self-respecting veggie restaurant with thick soups, curries, stir-fries, Moroccan-inspired dishes and one or two vegan options. The candlelit dining room can accommodate a largish group (of up to around 14 people) but you have to book it in advance.
Address: Calle Andres Perez, 6, 29008 Malaga. Telephone: 952 22 93 44.
Best for Living like a Local 
Refectorium Catedral
Ordinarily we would never recommend eating in the same square – or even the same vicinity – of a city's cathedral. However, the Refectorium is a rare exception to the rule. There's great service (some of the best in the city) in this busy, modern, light and airy restaurant, while the food is a mix of time-honoured classics cooked to perfection and the sort of wonderfully simple, let-the-produce-speak-for-itself dishes that are what Spanish cooking is all about. Everyone raves about its Russian salad – and with good reason, too: this pretty bland and basic Spanish staple is transformed into a mouth-watering morsel.
Although the restaurant welcomes children, the well-heeled clientele are less welcoming to small children. It's an adult's establishment, in other words; a place to enjoy the food, service and atmosphere.
Address: C/ Postigo De Los Abades, 4, 29015 Malaga. Telephone: 952 60 23 89.
La Antxoeta
You could never call chef Pablo Ramon Caballero Larios' dining room a restful place; rather it's brilliantly bustling and busy. The restaurant can be found in Soho just before the port. It's Malaga city proper, and it harks back to an older, slightly less polished Malaga where there was always something a little hectic and chaotic going on.
The menu is short – but more than sufficient – and the wine list is likely to please most tastes. The chef himself is in the open kitchen, creating playful dishes which are a delight to look at as well as to eat. On our visit, we worked our way through the squid tartare with tigernut milk (horchata), saffron risotto with truffles and beetroot, pig's trotters with king prawns and chocolate and tiramisu. And if the squid and the tiramisu were the genuine standouts, suffice to say it was all really rather splendid.
Address: Calle Barroso 7, 29001 Malaga. Telephone: 659255532.
Open for lunch and dinner. Closed Sundays and Mondays.
Best for a Smart Pre-Night Out Dinner
Restaurante Montana
Housed within a small palace to the far north of the old town, Restaurante Montana is definitely something of a looker. Opening out from a plant-filled central courtyard, the grand 19th-century premises dovetail beautifully with stylish, modern interiors, and the lighting inside and out is just right.
It's far from a case of style over content, though, as it offers fine dining without the foodie fashion whims. We love to sit in the sunny courtyard and order a plate of melt-in-the-mouth Jamón Iberico as an after-shopping treat. In the evenings, its excellent international wine list, cocktails and comfortable seating area make it the perfect place to kick back after dinner and plan out the next steps of a night out.
It's convenient, too: highly unusually for a restaurant in Malaga city centre, it also has its own parking.
Address: Calle Compas de la Victoria, 5, 29012 Malaga. Telephone: 952 65 12 44. Restaurantemontana.com.
Best for a Big Group 
Bodega El Pimpi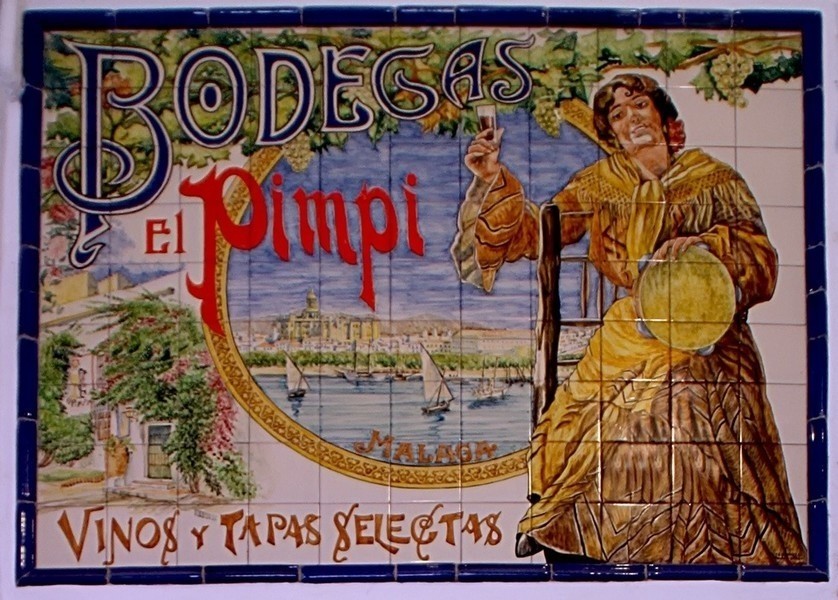 This place has seemingly been around since time began. What started as a traditional tapas bar where everyone from the ages of 19 to 90 went to have Jamon Serrano washed down with Malaga wine (made from sweet Moscatel grapes – don't knock it until you've tried it) is now a Malaga institution and must-visit.
The setting is outstanding and typically southern Spanish: inside, it's all tinkling fountains, tumbling plants, huge wine barrels from floor to ceiling and photos of famous people who had visited over the years. It's cavernous, too, with two floors and several different sized rooms that can be easily taken over by large groups.
Taking the décor and atmosphere out of the equation, the food is only so-so to be completely honest. But it's well worth a visit, even if it's just for a pre- or post-dinner drink inside or out on the terrace looking over the Roman amphitheatre.
Address: Calle Granada, 62, 29015 Malaga. Telephone: 952 22 54 03. Elpimpi.com.
Best for Views
Restaurante Especia Parador de Málaga Gibralfaro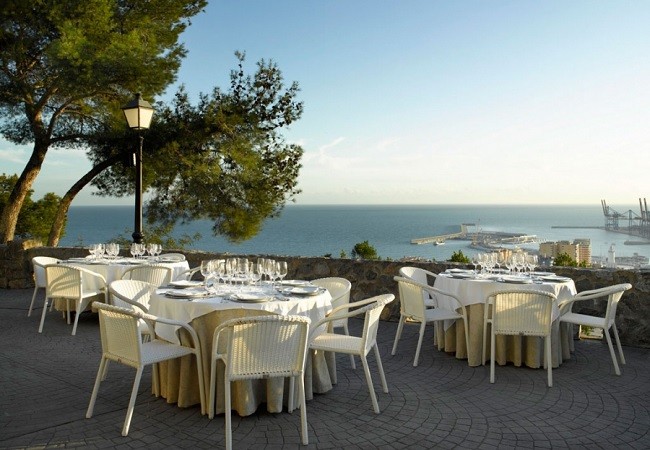 If you like a vista with your vino, it doesn't get much better than at the Parador up next to the Gibralfaro Castle. Treat your taste buds to some delicious local cuisine while you feast your eyes on the bright lights of Malaga and the Mediterranean below your feet. Views are pretty good from inside the restaurant, but nothing short of exceptional on the outside terrace and certainly the best at any table in Malaga.
With chef Bartolomé Rodrigo at the helm, the menu puts the accent on local produce harvested from the nearby Axarquía mountains, Guadalhorce Valley and of course, the Med (all part of your table view).
Dishes change with the seasons; on the menu this summer are refreshingly cool soups – try the almond and garlic with fig bread or the thick tomato porra malagueña with Iberian ham – and fresh salads as well as fish and meat dishes. There are also some Malaga classics such as fried fish and battered aubergines with honey. The dessert menu falls a little short, but you'll be too sweet on the views to notice. And if you want to make that vino with a vista that bit extra special, time your dinner to coincide with sunset.
Address: Castillo de Gibralfaro s/n, 29016 Malaga. Telephone: 952 221 902 Parador-de-malaga-gibralfaro/gastronomy
Best for Beachside
Gutiérrez Playa
Malaga excels at chiringuitos, beach bars that specialise in locally-caught fish and seafood, and it's difficult to go wrong for a lunchtime bite. One of the best sits on the western side of Malaga Bay near the Russian and Car Museums. Gutiérrez Playa has been around for a while and this experience, plus the fact that the family runs one of the busiest fishmongers in the nearby Huelin market, means they know what they're cooking. Staples on the menu include deep-fried fish – think anchovies, baby sole and whitebait – delicately flavoured salt-baked fish and that Malaga classic, chargrilled sardines on an espeto cane.
If you like your fish cooked gently over an olive wood fire, try the other espeto specials – langoustine, bream, squid or octopus. Book your table on the sand where you'll dine just yards from the Mediterranean and stunning views of the Bay.
Address: Paseo Marítimo Antonio Banderas 2, 29004 Malaga. Telephone: 952 118 908
If you have a bit of a group (or even just the two of you!) and fancy having a local expert show you around Malaga, then why not book a Malaga tapas tour with our partners Toma & Coe?
Like the sound of our pick of best restaurants in Malaga, but staying a little further up the coast? Check out our selection of top places to eat in Marbella.
https://theluxuryvillacollection.com/wp-content/uploads/2015/10/jose-carlos-garcia-interior1.jpg
485
670
Lindsay
http://luxuryvillas.wpengine.com/wp-content/uploads/2013/04/Main_Logo-340-300x127.png
Lindsay
2015-10-28 09:01:58
2018-08-07 10:40:48
The Definitive Guide to the Best Restaurants in Malaga