Wondering where to go on a night out in Malaga? Well, wonder no longer. From bouncing bars to ultra-glam clubs via chic rooftop hangouts, we've got the best of Malaga nightlife covered.
The Malaga party scene is more understated contemporary cool than uber-glamorous. However, while it may be slightly less hedonistic than Marbella's (Champagne spray parties are not on the menu) it's still very definitely a place to play come nightfall.
Malaga Rooftop Bars
Best for a Post-Shopping Drink 
Larios Terrace at Room Mate Larios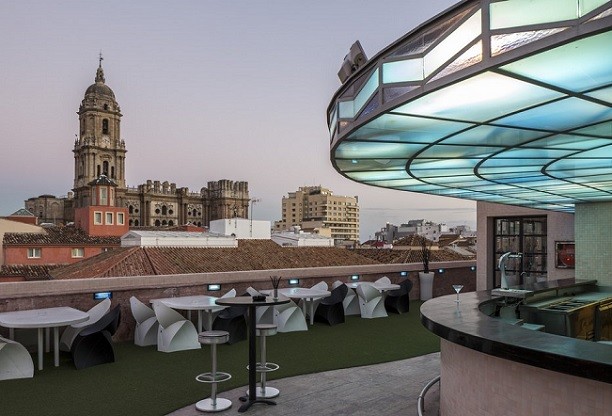 Every summer since, well, forever Larios Terrace has had the upper hand in the roof terrace drinking stakes. Great views of the cathedral from designer monochrome seating ensure that once you're there you're unlikely to leave until you've sunk at least a few sun-soaked vinos or sunset cocktails. Its location on the city's main shopping street means it's a popular place to start a night out. If you're visiting during Easter, it's worth noting that local boy Antonio Banderas can often be seen knocking about the place as it's the best vantage point from which to see the processions.
Opening times: In spring it's open on Tuesdays and Wednesdays from 6pm to 1am, and Thursdays, Fridays and Saturdays from 6pm to 2am. In summer it's open every day from 8pm to 2am.
Address: Calle Marques de Larios, 2, 29005 Malaga; Phone: +34 952 22 22 00; Larios.room-matehotels.com.
Best for Jaw-dropping Views
AC Hotel Malaga Palacio
Malaga isn't a modern skyscraper-type city, so up on the terrace on the 15th floor of the AC Hotel you feel on top of the world, and the uninterrupted panoramic views across the whole city are stunning. There's great service here with a very well stocked bar offering a choice of rare gins, wines, cocktails and whiskeys. The clientele tend to be of the smart, 40-plus international variety, but it's also very much a local haunt for Malagueños too.
Opening times: The glassed area is open all year, the pool area (oh, did we forget to mention the amazing rooftop pool?) when the weather is good. Open from noon until 1am. Thursday, Friday and Saturday open until 4am.
Address: Calle Cortina del Muelle, 1, 29015 Malaga; phone: +34 952 215 185; Marriott.com.
Best of the Rest
Alcazaba Premium Hostel – Rooftop Terrace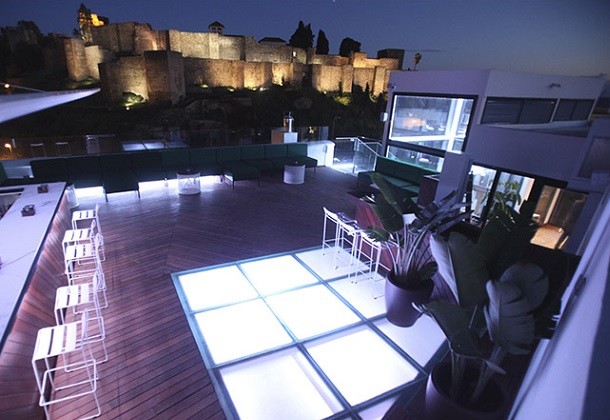 Yes, this is a hostel, but do NOT let this put you off. Because, if you venture up to the fourth and fifth floors (fear not, there is a lift), you'll find yourself in the coolest place to hang out for cheeky lunchtime tipples, sundowners, pre-club drinks or that last, end-of-night drink you definitely didn't need.
At the top of the building, the Roof Terrace bar is a mezzanine affair with a decked terrace, a smattering of bar stools and low box seating, and a vibe that's buzzy most nights of the week. It's the view which really wows, though: the terrace opens up on to the surrounding rooftops, the Roman Theatre below and the illuminated Alcazaba fortress on top of the hill opposite. There's not much more to say, really – it's just an incredible location.
Opening times: Sunday to Wednesday from 4pm to midnight and Thursday, Friday and Saturday from 4pm to 2.30am.
Address: Calle Alcazabilla, 12, 29015 Malaga; phone: +34 952 22 98 78; Alcazabapremiumhostel.com.
Malaga Clubs 
Best Crowd Pleaser
Liceo
Housed within a beautiful 19th-century mansion, Liceo is a great venue in a lively, dead-central location. Once used as the backdrop for the Chemical Brothers' music video Galvanize, it's now home to a flamenco club (which actually makes for a pretty atmospheric spectacle), as well as regular club nights from midnight until 6am. There are several rooms playing different music and two floors, the second being a mezzanine level around the central patio. The crowd on the club nights is largely under 35 and they target the student population during term time. However, before the club really gets going the flamenco is a good option.
Address: Calle Beatas, 21, 29008 Malaga; phone: +34 625 55 70 12; Liceoflamenco.com.
Best for Music-lovers
The Clarence Jazz Club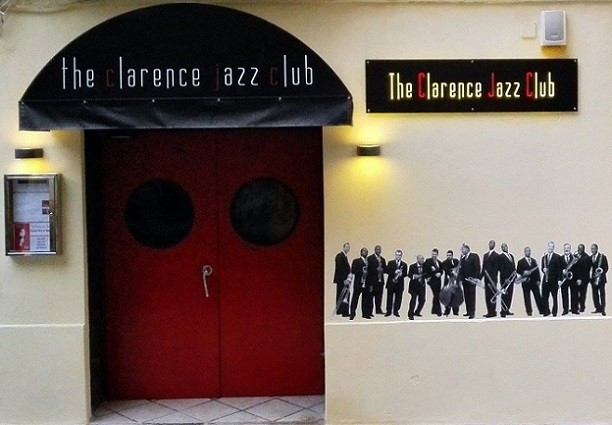 If you like jazz then this is the place you need to head for. Open all year round with critically acclaimed artists frequently appearing, this live jazz venue is always a pleasurable place to while away a few hours. It doesn't veer away from what you'd expect from a jazz club: think comfy tub chairs, exposed brickwork, standing room and a generally very chilled vibe indeed.
Opening times: Wednesdays and Thursdays 8-2pm; Fridays and Saturdays 4pm-4am.
Address: Calle Cañí³n, 5, 29015 Malaga; phone: +34 951 91 80 87; Clarencejazzclub.com.
Best for a Typical Spanish Experience 
If you're wanting to dance and party until 6am then head to Calle Beatas/Plaza Uncibay and Calle de Luis de Velazquez/Calle Lazcano where there's club after club. In true Spanish nightlife fashion these clubs seemingly spring from nowhere after midnight. A little less polished, perhaps, than the above but lots of late-night fun all the same… 
Sala Gold
Right in the centre of the old town is Sala Gold, perhaps the most sensational late-night Malaga nightlife joint. This is a club to dance in not to pose or chill out in – leave that to the rooftop terraces. With three rooms to choose from decked out with huge flat screen TVs, it's one of the larger clubs in the city centre. The music is largely popular Spanish, the décor is, as the name suggests, gold and the emphasis is all about unpretentious fun.
Opening times: from 10pm-6am.
Address: Calle de Luis de Velšzquez, 5, 29008 Malaga; phone: +34 670 09 87 49; Discotecasenmalaga.es.
Best for Mid-Week Partying
Theatro Club
This small club takes its inspiration from an old theatre – all high baroque cornicing, huge, glittering chandeliers and theatrically themed, burlesque-style live entertainment. All of which comes together to make this more than just your average club in Malaga. It's in the centre of the old town again – so you'll have no difficulty finding it – and it's open every night of the week until 6am. There's a VIP area that can be reserved by contacting the club, too, in case you like your own space and dedicated waiter. (If you're looking for someone to arrange your night out in Malaga, speak to our concierge.)
Address: Calle Lazcano, 5, 29008 Malaga; phone: +34 670 09 87 49; Discotecasenmalaga.es.
And finally…
If you're spending a night or two partying in Malaga and want to try a few more places, then here are some other smaller clubs that you can check out: Tokyo, Bubbles, White Lounge Club, Discoteca Anden, Granados 10 and 30 y Tantos. All run a series of nights offering live entertainment, different types of music and easily bar hop-able locations.
Like our pick of the best Malaga nightlife, but thinking of a more sedate sort of evening? Have a look at a few of our favourite restaurants.
Make sure you've got an ultra-glamorous pad to return to after your night out in Malaga – check out the Luxury Villa Collection's villas in the area.
https://theluxuryvillacollection.com/wp-content/uploads/2015/12/ac-palacio-rooftop-bar.jpg
423
610
Lindsay
http://luxuryvillas.wpengine.com/wp-content/uploads/2013/04/Main_Logo-340-300x127.png
Lindsay
2015-12-28 17:01:04
2016-12-14 12:42:27
Best Malaga Nightlife