It wasn't so long ago that eating out in Malaga consisted of little more than a plate of olives, a slice of Spanish tortilla and a skewer of grilled sardines. While a lot of bars did (and do) this very well, you would hardly describe it as gourmet or any different from the rest of Spain.
But roll in some major refurbs in the city centre and big-name arrivals on the art scene, and the Malaga foodie scene ups its game. And we're talking several notches here – the city now competes with Barcelona and Madrid when it comes to gourmet experiences.
From the historic central market and traditional corner shops to high-end wineries and restaurants, Malaga offers fine local produce to try and buy. And of course, take home with you to savour long after your holiday (and tide you over until your next one). Read our definitive gourmet guide to Malaga to discover where to go to find your foodie heaven.
Everything under the Malaga sun
Atarazanas Market
Feast your senses (and that's all five) with a visit to Atarazanas Market in the centre of Malaga. The dozens of stalls literally groan with local produce, harvested from the fertile valleys and hills in the province or caught the night before in the Mediterranean. Expect sensory overload as you wander through the aisles taking in one of the best foodie sights in southern Spain.
Seasonal is key to the best foodie experiences and the choice at Atarazanas Market moves in time with nature's calendar. Strawberries and asparagus come into their own in the spring, while the summer gives way to cherries and myriad varieties of tomatoes. Autumn welcomes a great selection of tropical fruit, grown in the Axarquía region of Malaga – custard apples, mangos and of course, grapes, that essential ingredient for Malaga wine. Winter's just as colourful as it's the season for Malaga carrots (don't let the bright purple put you off for one second) and citrus fruits – in this case, just the colours you'd expect!
Year-round appearances include cold cuts and cheeses (try the Payayo goat's cheese); olives galore – don't miss the olives from Álora, fat, juicy bites laced with thyme, fennel and garlic, and the only olives in Spain with a guarantee of origin label; dried fruits and nuts to satisfy even the most discerning nibblers; plus several stalls selling Spanish store cupboard staples such as saffron for that Sunday paella and sugar cane honey for dribbling on slices of fried aubergine.
Yes, our mouths are watering too but the good news is that you can try before you buy at many stalls. Some do a plate of local cheeses and cold cuts with a glass of Malaga wine. If you fancy trying the fish and seafood, head for one of the bars at the entrances for a tapa or ten.
Address: Calle Atarazanas. Open: Mon to Sat 9am to 3pm.
Gourmet shopping
Despite the huge changes in Malaga, the city still has a traditional feel and has kept several of small specialist shops. A trip to one of these grocer's shops not only opens the door to the best quality at often competitive prices, but takes you back to the days when your mother used to ask you to pop out to the corner shop.
La Mallorquina
Established in 1943, this gourmet gem is one of the best shops in Malaga for local produce. They stock a particularly good selection of wine (Spanish as well as Malaga), cheeses, condiments and jams. The in-house bakery next door is a new addition and handy for the bread to accompany your cheeseboard. Buy in store to take home or online La-mallorquina.es (in Spanish only) for home delivery.
Address: Plaza Feliz Saenz 1. Open: Mon to Fri 9.15am to 2.15pm and 5.15 to 8.45pm. Weekends 9.15am to 2.30pm.
Ultramarinos Juan de Dios Barba
It's the window that catches your eye here. Nowhere else in Malaga displays large rolls of air-dried cod (an essential ingredient in many typical local dishes such as ensalada malagueña) and baskets of dried herrings with quite the same panache. They're had years of practice too because this gourmet corner has been selling cod to locals since 1932. Make this your go-to shop for Malaga raisins and dried figs.
Address: Calle Martínez 10. Open: Monday to Friday 9.30am to 2.30pm and 5 to 9pm. Saturday 9.30am to 2pm.
Ultramarinos Zoilo
Tiny on size – blink and you could miss it – but big on taste, this foodie haven has been around since 1956. They sell all types of Malaga produce but specialise in jamón serrano and Iberian cold cuts. Wash them down with a bottle of Malaga wine – Zoido do a good line in wines from Ronda.
Address: Calle Granada 65. Open: Mon to Sat 9am to 2.30pm and 5pm to 9.30pm.
Gourmet Experience
If you're looking for gourmet shopping on a much bigger scale and fancy incorporating the rest of Spain to your foodie trip, head for the Gourmet Experience on the top floor of El Corte Inglés department store. The choice of Spanish food and wine plus a wide range of international fare on sale is second to none in Malaga. Quality with a capital Q does come at a premium price and you don't get the local touch here, but your taste buds will be just as grateful.
Address: Avenida de Andalucía 4-6. Open: Mon to Sat 10am to midnight. Sunday noon to midnight.
Gourmet Tastes
While you can try before you buy at Atarazanas Market and local grocer's shops, you won't get more than a sliver of cheese or small slice of chorizo making it difficult to get a good overview or a real idea of what you like. Bring in a tasting, however, and we're talking a whole new culinary experience. Here's where to go:
El Almacén del Indiano
Based on a traditional grocer's shop, this 'Indian warehouse' offers the perfect combination of tastings and the chance to try typical Spanish dishes. They specialise in jamón serrano – just watching them cut the ham makes the visit worthwhile – and organise tasting sessions for cold cuts, cheeses and wine. Book via their website Almacendelindiano.com or ask for a spontaneous tasting while you're there.
Address: Calle Cisneros 7. Open: Mon to Fri 11am to 3pm and 6 to 9pm. Sat 11am to 4pm.
Los Patios de Beatas
When it comes to wine, it doesn't get better than at Los Patios de Beatas Catasenmalaga.com, whose wine list runs to over 500 entries. And counting. Owner Julián Sanjuán knows his bottles inside out and offers customised wine tastings. He also runs olive oil tastings and pairing sessions where the delicious house tapas perfectly complement the wine. And while you're treating your taste buds, feast your eyes on the historic interior complete with 17th century wine vats and stunning stain-glass cupola.
Address: Calle Beatas 43. Open: Monday to Saturday 1pm to 4pm and 8pm to midnight. Sun 1pm to 4pm.
Maroleum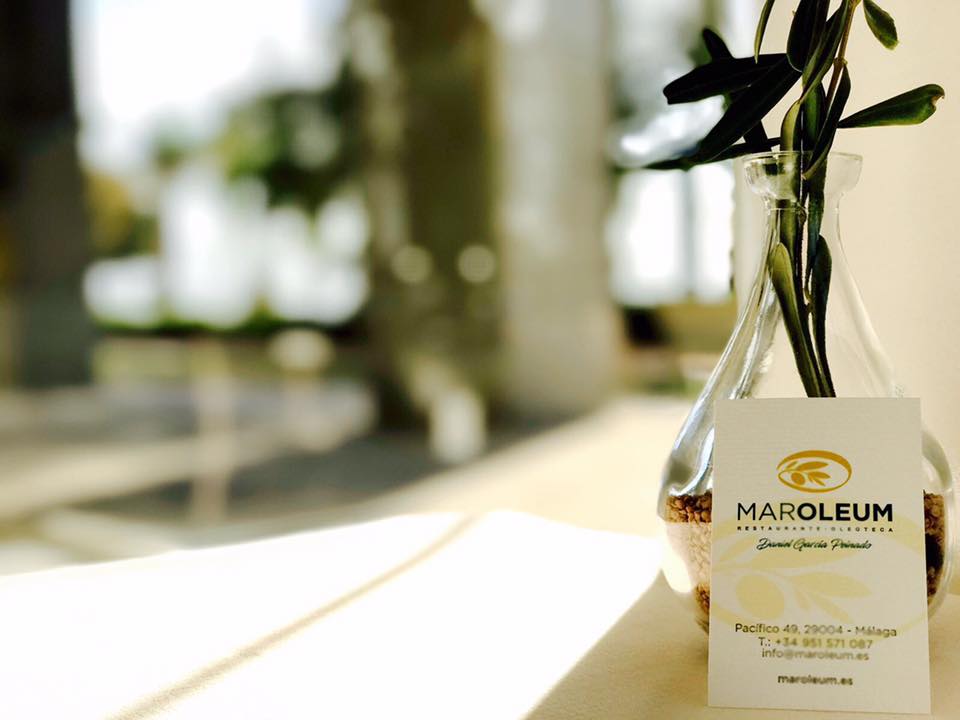 A newbie on the Malaga restaurant scene, Maroleum Facebook Page Maroleum takes olive oil culture to a whole new level. You can't actually buy EVOO here, but you can taste it in every single dish on the menu. You also live and breathe olive oil in the decoration, video installations and wall displays – where else can you watch the olive harvest as you savour the liquid gold at breakfast, lunch and dinner? As well as concocting unique EVOO creations, chef Dani Peinado offers olive oil tasting experiences.
Address: Calle Pacífico 49. Open: Daily 8am to midnight.
Like food? Have you been to the vineyards in Ronda?
https://theluxuryvillacollection.com/wp-content/uploads/2017/08/Cheese-from-Malaga.jpg
400
600
Phillipa
http://luxuryvillas.wpengine.com/wp-content/uploads/2013/04/Main_Logo-340-300x127.png
Phillipa
2017-08-02 16:17:00
2017-09-16 10:56:58
The Definitive Gourmet Foodie's Guide to Malaga