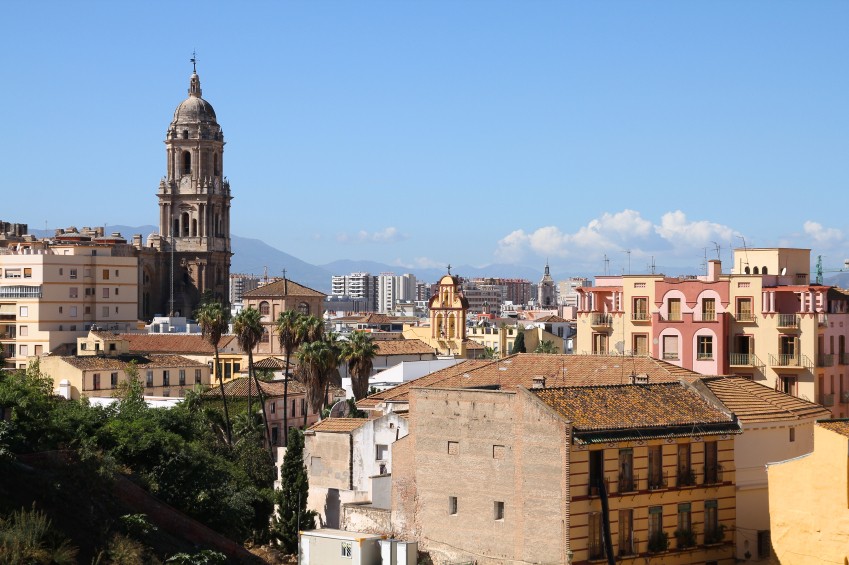 One of our favourite places to spend a leisurely day out on the Costa del Sol is Malaga, a city that is full of charm and character, and surprisingly easy to visit.
Since the Picasso Museum opened ten years ago, Malaga has become a vibrant, happening city whose cultural attractions now rival those in Seville, Andalusia's better known capital city.
Recent upgrades have turned what used to be a somewhat shabby historical centre into a chic and fashionable cultural capital that's overflowing with things to do, which is now firmly on the Spanish map.  Visitor numbers and hotel occupation are at their highest ever and Malaga is now a definite must-see on any Costa del Sol to-do-list.
Getting around Malaga
Malaga is Spain's sixth largest city, but it's compact with most attractions within easy reach of the centre. And it's mainly flat making it ideal for sightseeing on foot or bike. Several companies offer rental bikes and cycling tours round Malaga including Bike2Malaga, or there's the open-top Malaga Tour Bus whose routes gives you a good overview of the sights including the Gibralfaro Castle overlooking the city.
Taxis are plentiful and usually easy to find in the centre either at Taxi ranks or flagging down a passing cab showing a green light, though with much of the city centre pedestrianised it can be quicker to walk than take a taxi.
Top tip for visiting Malaga in a day
Pick up an audio guide from the Tourist Office in Plaza de la Marina (guides are free but you need to show your passport and a credit card). The six themed guides walk you round the main sites in Malaga and each tour lasts around two hours, excluding time for visits to museums etc.
You can also book a private tour guide through The Luxury Villa Collection for a bespoke day in the city with a local expert. Our Art in Malaga or Malaga Tapas tours are both excellent ways to see a side to the city you might miss with a guidebook.
What to See in Malaga
Modern Art: Take in some contemporary art in Malaga's up-and-coming Soho District situated between the river and port. Begin at the Contemporary Art Centre (Cacmalaga.org) housed in a 1940's market where the permanent and temporary exhibitions showcase the latest trends in modern art. Entry is free and guided tours are available in English.
Before you leave the CAC behind, admire the two massive murals that backdrop the museum. Painted by graffiti artists Obey and D Face in late 2013, these are a taste of the street art that characterises the narrow streets in the Soho District with galleries and small restaurants and bars. For coffee and snacks, try Picnic (Barroso 10) or Señor Lobo (Somera 10).
If you'd like a further dose of cutting-edge art, head for the Pompidou Centre on Muelle Uno on the Port. The iconic multi-coloured cube gives you a taster of what's inside where the permanent collection of very, very modern art is guaranteed not to leave you indifferent. Don't miss the museum shop, packed of fun and unusual gift ideas.
Indoor Market: Malaga's largest and most colourful market, is the Mercado de Ataranzas, whose recently restored building contains the original 14th-century Moorish gateway plus some stunning stained glass windows. Take your time to browse the stalls for fresh local produce including olives, dried figs and raisins, and Malaga sweet wine.
Calle Larios: Next stop is Malaga's most famous street, the pedestrianised Calle Larios, which is also its busiest and has become the vibrant central spine of the city.
Some sort of cultural display usually lines this pedestrian street and musicians, magicians and human statues always provide entertainment. Admire the 19th-century architecture as you make your way to the Plaza de la Constitución square at the top. Pop into the Café Central to see the tiled board explaining the ten types of coffee you can ask for in Malaga.
'One-armed Lady': Stop to admire Malaga's unfinished Cathedral, known as 'La Manquita' as it only has one finished tower. Interior highlights include the Pedro de Mena choirstalls and two giant 18th-century organs. And if you fancy a tour of the Cathedral rooftops, book your place at the Palacio del Obispo or online (Museosmalaga.net). It's 200 stairs up, but the panoramic views of the city below you make the climb more than worth it.
Museum of Malaga: The newest arrival on the Malaga cultural scene – it opened in mid-December – this giant museum ranks as the fifth largest in Spain and houses a unique collection of priceless archaeological pieces plus Spain's largest exhibition of 19th century Spanish art. Look out for the opening of the top-floor restaurant (due mid-2017) with some of the best dining views in town. Find them on their Facebook page.
Romans Meet the Moors: Take a stroll round Malaga's best-preserved and largest Roman monument, the Theatre, now restored to its former glory. From here, visit the Alcazaba fortress, not in the same league as the Alhambra in Granada, but the ruins give you an excellent idea of an 11th-century Moorish palace and there are lovely views over Malaga.
Picasso Museum: This is one of the best museums to get an overview of all the Malaga-born artist's styles from adolescence to his last days. All the works were donated by the Picasso family and the permanent works are complemented with excellent temporary exhibitions. Tours are available in English (Museopicassomalaga.org). The 15th-century palace also houses Roman and Moorish remains in the basement.
Museo Carmen Thyssen Malaga : Over 200 works, mainly Spanish paintings from the 19th century, from the Baroness Thyssen's private collection (Carmenthyssenmalaga.org) are on show in this restored Baroque palace. Temporary exhibitions are worth visiting too as they often include paintings by the world's masters.
Sky-high: Take a ride on the Malaga Ferris Wheel (find it to the right of the port entrance) for some more great views of the city. Time your twirl for sundown to make the most of the last light over the sea, port, mountains and Costa del Sol beyond.
Gibralfaro: If you're feeling energetic, walk up the (very) steep pathway to this Moorish castle perched over Malaga's old quarter. If not, take the tour bus or a taxi. Admire the sunset over Malaga and the Mediterranean while sipping a drink on the terrace at the Parador hotel.
Meal stops – a few of our favourites
El Palmeral, Palmeral de las Sorpresas (just inside port, near Plaza de la Marina) – Open all day for food and drink, specials here include innovative starters and traditional mains (the fideuš is excellent). Sit outside for prime views of the port and pergola walkway. Palmeralmalaga.com
El Pimpi, Granada 62 (near the Roman Theatre and Picasso Museum) – A long-running favourite with locals, this labyrinthine restaurant also has a great outdoor terrace overlooking the Roman Theatre. While the food's can be so-so, the setting and general atmosphere more than make up for it. Elpimpi.com
Eboka, Pedro de Toledo (off Císter, near the Cathedral) – One of the newest restaurants in town and it's already difficult to get a table without a reservation. Eboka takes traditional Spanish dishes, gives them a new twist and accompanies them with the perfect wine – ask Antonio the manager for advice on pairing. Ebokarestaurante.com
Mixtúrate Gastrobar, Casas de Campos 4 (in Soho, one block from Hotel Room Mate Valeria) – Brazil meets Asia in Malaga at this funky new restaurant in the heart of Soho where all the dishes are a feast for the senses. Don't miss the dessert tray – take your pick of the Kilner jars and lick your lips to the very last spoonful. https://www.facebook.com/pg/mixturategastrobar/about/?ref=page_internal
For more restaurants in Malaga see our top picks here, and for additional 'must sees' in Malaga, check out the Guide to Malaga travel app Guidetomalaga.com.
Like the sound of these things to do in Malaga – and looking for a beautiful place to stay nearby? Check out our collection of luxury villas near Malaga.
https://theluxuryvillacollection.com/wp-content/uploads/2014/01/iStock_000016316468Small1.jpg
565
849
Lindsay
http://luxuryvillas.wpengine.com/wp-content/uploads/2013/04/Main_Logo-340-300x127.png
Lindsay
2014-01-12 19:17:28
2017-09-03 13:33:38
Must-Sees for a Day in Malaga