4 Bedrooms

3 Bathrooms

Sleeps 8

Weekly Housekeeping

Wheelchair Accessible

Pool heating available*
Villa Kari effortlessly brings the blue skies and alluring Mediterranean views into a home as strikingly minimalist as it is comfortable. Located on Spain's tranquil yet exclusive Costa Tropical, this is a home of petit luxuries; 4 bedrooms and open-plan living, a sun-dappled terrace beside a gently heated pool*
At a glance
Accommodate up to 8 in four guest bedrooms in a villa with 215 square-metres (2,315 square-feet) of air-conditioned interiors
---
Host more family or friends by booking the adjacent Villa Kallan to accommodate up to 20 guests + staff across 2 villas
---
Panoramic views stretching from mountain to Mediterranean in most rooms
---
Sits atop Punta de la Mona – an exclusive outcrop with dramatic views, known as a tranquil playground for the Spanish elite and Hollywood jet set.
---
Show all
Show less
Drink in the sun and lap up sea views beside the 8 x 4-metre swimming pool, which can be heated*
---
Rustle up a gourmet feast in the well-equipped kitchen with hidden appliances
---
Pet-friendly villa offered by dog-loving owners
---
Tranquil La Herradura on the Costa Tropical, Granada – just 45-60 minutes from the city. Be on the beach in 10 minutes, or the Sierra Nevada's slopes in just 90 minutes
---
Welcome to Villa Kari
Perched on an exclusive hilltop overlooking the Costa Tropical, the ultra-modern Villa Kari is an architectural homage to all things Mediterranean.
Floor-to-ceiling windows frame the 280-degree panoramas sweeping from mountain to sea. Dramatic lines and monochromatic minimalism in driftwood-greys and sandy neutrals complement the setting.
You're in the tranquil community of La Herradura, where the world's elite and Hollywood jet-set come to get away from it all. Spanish sunbeams and the Costa Tropical lifestyle invite you to relax, just 10 minutes walk to the beach and 90 minutes drive to the slopes of the Sierra Nevada.
Villa Kari is that picture-perfect beachy retreat, with light-filled interiors and clean lines. Your home with sun-drenched loungers and sea-view swimming pool, a minimalist retreat where you can unwind and watch nature unfold.
This is soon to be your favourite spot in Europe. If not, the whole the world.
Step into a home where inside and out are in perfect synchronicity – a villa designed around the Costa Tropical's most striking Mediterranean views.
If a single snapshot could tell an entire story, then Villa Kari's would be this.
A floating designer staircase, its wingspan spread across an open-plan living-dining-kitchen. A celebration of clean lines and monochromatic minimalism in driftwood greys and sandy neutrals.
And, as the centrepiece: the polar opposite to this neutral minimalism. A sparkling sapphire vista of 280-degree Mediterranean views, framed by floor-to-ceiling glass. The breath-taking view starts over the villa's azure pool, sweeping down the Spanish roof tiles, before climbing over pine-dappled cliffs and ancient villages.
This is the heart of Villa Kari. This is why you're here. And all around, interior spaces form – living and dining, sleeping and relaxing. Each one framing, celebrating, and revering what may well be the Costa Tropical's most spectacular view. Here, the outdoors is inside. So you can spend your holiday as and how you wish.
The sun-drenched Villa Kari celebrates sweeping Mediterranean views and a matchless location in La Herradura – minutes to beaches and just an hour from the ski slopes.
Set in an elevated position – high on a hilltop in La Herradura – just 10 minutes to the sand and an hour to the Sierra Nevada slopes. This contemporary villa enjoys a privileged view over the sparkling Mediterranean: a view that takes centre stage from every corner of Villa Kari's tranquil outdoors.
Begin in the shaded pergola, with the Spanish sun streaming in. Unwind on one of the designer loungers taking advantage of this sun-dappled spot. Inviting you to relax for warm mornings, afternoons – full days – of poolside lounging and admiring the view.
And, about the view. It's unobstructed. Thanks to glass walls and smart landscaping, which simply complement the panorama.
Sit. Lounge. Sunbathe. And luxuriate in what may be the best view in Spain.
How Villa Kari works for you
Open-plan villa on 2 floors with 4 bedrooms, 3 bathrooms + WC (sleeps 8)
Accommodates 20 guests + staff when connected to Villa Kallan next door
Ultra-private location
8×4-metre swimming pool which can be heated for a supplement*
Wheelchair access to lower level and lift to parking and pool
Wifi available
Bose or Loewe large-screen television with internet TV
Exclusive new villa with designer interiors
Housekeeping and linen change weekly
Modern kitchen with American style fridge-freezer, Nespresso, microwave, induction hob.
If a holiday on the Costa Tropical is all about sun-splashed exteriors and alfresco living, then Villa Kari is made for this life. The open-plan, light-filled living-dining-kitchen area is on the first floor of the house, accessed via stairs or elevator from the ground floor entrance to the property.
The floating designer staircase and sleek windows are stand-out features in the living space. The beach-inspired décor offers muted tones of neutral wood and soft greys, with seating for a family of 6-8 around a large 55inch TV.
Dine with friends and family around the handmade wooden table in the formal dining room. Comfortably seating 8, it has sweeping views that will take your breath away. For a casual breakfast or drinks over evening cooking, you'll find island seating in the kitchen with 3 bar stools.
The modern designer kitchen features a central cooking island with concealed appliances, an induction hob, dishwasher, double ovens, Nespresso machine, and American-style fridge/freezer.
The 8×4-metre swimming pool and sundeck are on the level below the living room and are accessible by lift or stairs. Water can be gently heated for a small fee and there are sun beds and shade available at the poolside.
Vibrant, tropical planting around the pool helps give a sensation of being in your own little paradise, away from the cares of the world, while the upper terrace overs views to the bay of La Herradura.
Bedroom 1: Top-floor bedroom with king-sized bed and blue-white décor. Free-standing wardrobes and a shared terrace with views. Shared shower room with Bedroom 2.
Bedroom 2: Top-floor bedroom with queen-sized bed and soft grey tones. Built-in wardrobe and a shared terrace with panoramic views. Shared shower room with Bedroom 1.
Bedroom 3: Smaller top-floor bedroom with navy-white décor and a patio area. Shower room.
Bedroom 4: Ground-floor bedroom off the living area with wheelchair-access. Decorated in soft greys, there's a private garden area with plenty of shade, and en-suite shower room with roll-in shower.
Notes: There is limited space for additional beds. please contact us to discuss sleeping arrangements for small children or infants.
Light Housekeeping
Your rental includes a weekly visit from the housekeeper including a linen and towel change. Additional housekeeping hours can be booked and paid for directly to cover evening work such as after-dinner clearing up, or personal laundry.
Catered to your choosing
If you prefer not to cook, we work with expert professional villa chefs who can prepare a range of local or international dishes for you and your guests.
For a taste of authentic Spanish cuisine, ask about our gourmet Spanish menus, Paella demo's, wine tasting, or book a Tapas tour with our expert foodie tour guides,
Shopping Service
A complete villa pre-stocking service is available through your housekeeper, with their fee and goods paid for locally on arrival.
The LVC Guest Experience
When you book a villa with The Luxury Villa Collection, our Guest Experience Team will be on hand to help with all your holiday arrangements to ensure a smooth stay.
Our 'Little Black Book' of destination experts, who live locally and are all pre-approved, is at our disposal to help enhance your stay with us.
Experiences
This villa is within easy reach of a whole range of amazing experiences to add to your travel memories. From exciting family adventures like canyoning or diving to adrenaline-fuelled paragliding to gourmet wine tasting. Or to complete your holiday, what about private yachts, in-villa gourmet chefs and wellness treatments? We work closely with the best local suppliers to help make your stay extra special.
Skiing is always popular during the season (from December to late April). Sierra Nevada is great for beginners and children. Passes and ski hire can be arranged by the villa concierge.
For Spanish culture, explore the cities of Andalucia with a personal guide direct from your villa. Granada is an easy day trip away with the Alhambra Palace an absolutely must-see. For foodies we have selected the best places to eat in Granada city. Enjoy a selection of day tours or bespoke itineraries all with a door to door service in air-conditioned vehicles.
La Herradura is an 'under-the-radar' getaway for the rich and famous. You'll have privacy. But you won't be close to glitzy Michelin-starred restaurants, late-night beach clubs or a champagne party lifestyle.
Villa Kari is wheelchair accessible. There's a lift to access the house. And the main floor is open-plan with one en-suite bedroom with roll-in shower and wide doors.
Villa Kari is located in an elevated setting – an easy walk downhill to the beach (a short cut is available), but some energy may be needed to get back up in the summer.
Large groups can rent Villa Kari together with its bigger sister, Villa Kallan to accommodate a total of 20 guests + staff. There is a gate at the back of the properties that can interconnect the two.
The owner may accept well-behaved dogs by prior request.
Collections featuring this villa
Ultra-modern, this luxurious villa has floor-ceiling glass panels with open-plan interiors that make the most of the views. Featuring designer furniture through-out, a private swimming pool with sundeck, well-equipped kitchen, and state-of-the-art 55-inch screen with internet TV, the villa sits atop the exclusive Punta de La Mona.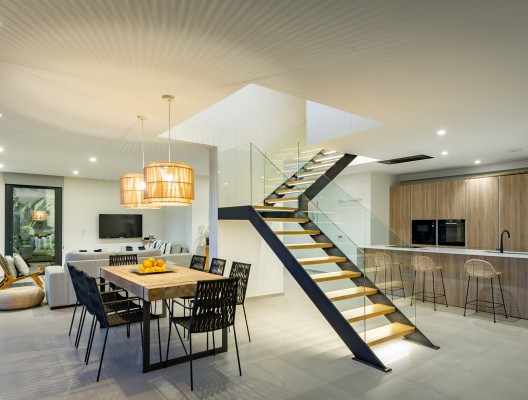 Enjoy the local area
Villa Kari is ideally positioned in a very private spot overlooking the bay of La Herradura. It's approximately 15 minutes walk to the first of several restaurants on the beach 'Playa de la Herradura', and about the same distance to the small town centre for a spot of shopping. There is also a shortcut that the manager can show you when you arrive, which gets you there in about 10 minutes.
Boat lovers can also walk in the other direction to the swish Marina del Este in about 20 minutes. There are taxis available in the resort, so some guests like to walk down, and then take a cab back up.
The best airport to use is Malaga, just under an hour away, but Granada airport is also convenient at just over an hour's drive.
Sandwiched between the Costa del Sol and Costa del Almeria, Costa Tropical is Granada province's coast. Different in feel to its neighbours, it has a rugged coastline, with scenic coves, jutting rocks and sandy pebble beaches.
Named after its climate, the Costa Tropical is famed for its tropical fruit. With mango and avocado groves carpeting hillsides and villages. This stretch of coastline has a relaxed vibe, in keeping with Granada's soulful, romantic feel. And the towns are mostly low-rise, sitting aside pristine waters.
This is hidden Spain – from lesser-known white villages perched on a rock, to unspoilt beaches, to incredible diving, nearby historical cities and skiing. There are plenty things for you to see and do in and around La Herradura. This area is ideal for outdoor pursuits. The diving from La Herradura is excellent. But if scuba diving isn't your thing, the snorkelling is just as good. A Mecca for cyclists, the region is great for road and mountain biking with routes (and e-bikes!) to suit all abilities.
A trip isn't complete without a visit to the Alhambra in the city of Granada. When you're done, head to the Moorish Albayzín district and watch the breathtaking sunset over the honey-coloured fort.
Malaga city itself is also worth exploring for its vibrant foodie scene and historical sights like the Gibralfaro and Alcazaba. It's just 50 minutes drive away from the villa.
Like this Villa?
Check availability and pricing here.
If it's not quite what you are looking for then please contact us and we will try our best to help.