If you enjoy getting out on the bike, Andalucia is the perfect holiday destination. With year-round sunshine and plenty of undulating coastal roads, challenging mountain climbs, city tours and family-friendly cycle paths, Andalucia has something for everyone of the two-wheeled inclination.
The region is a magnet for cyclists so you won't be alone. There's plenty of evidence of other cyclists online – on Strava.com, Mapmyride.com and Endomondo.com. And as well as giving you an idea of the best routes in your area, some have details of local cycling groups – perfect if you don't fancy riding solo.
To whet your wheels, we've pulled together our favourite cycling routes in Andalucia. As well as a family route, there are some more challenging road biking rides – all showcasing this region at its finest. You will be handsomely rewarded for your efforts. And you'll no doubt want to come back and do them again and again.
Via Verde de la Sierra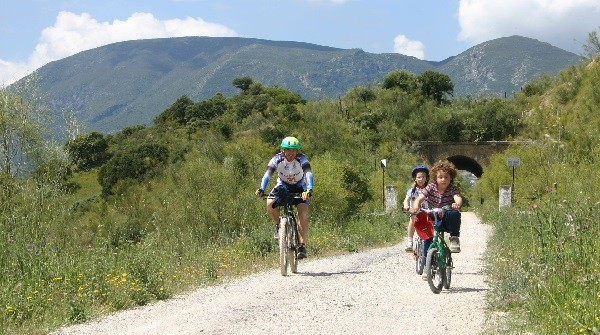 Distance – 35.6km
Elevation – 473m
'Via Verdes' are unused Spanish railways lines, which have been transformed into car-free routes for cycling, hiking and other leisure pursuits. Surrounded by breath-taking scenery and, for the most part, flat, they're ideal for family or group rides with less confident cyclists. If you want to do this as a day trip with your family, Toma & Coe can organise it all for you.
The award-winning Via Verde de la Sierra in Cadiz is 35.6km of spectacular cycling. Running from the village of Olvera through to Puerto Serrano, it's truly a taste of authentic Andalucia. A total of thirty tunnels provide cooling interludes as you pedal across bridges and viaducts through valleys, meadows and riverbanks. And with points of ecological interest along the way, there's plenty to see too.
Approximately halfway through the route, you'll find the visitor's centre for the Peñón de Zaframagón nature reserve, which houses one of Europe's largest resting colonies of Griffon Vultures. And further on, just past Coripe station, is the Chaparro de la Vega – a 700-yr old holm oak with branches that spread over 28m.
Pitstops: With eateries either in Olvera or Puerto Serrano, it's advisable to bring food, water and snacks. Bike hire is available in Olvera by companies including Sesca. And these will provide a taxi back from Puerto Serrano in case you're not quite up to the gentle uphill back to Olvera. You'll need to order in advance though.
Table Mountain & The Montes de Malaga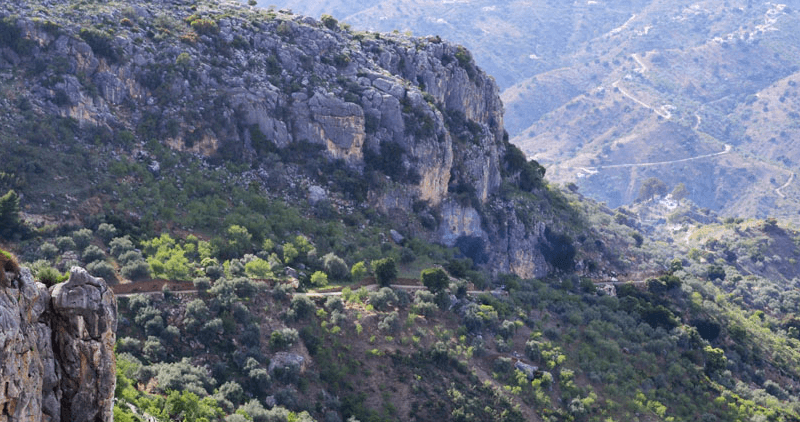 Distance – 79.3km
Elevation – 1,524m
During the weekends, you'll see numerous lycra-clad ciclistas climbing the A-7000 or A-7001 to reach the Montes de Malaga. This route goes further east, rewarding you with incredible views of the Almijaras, Sierra de Loja and Antequera as well as the Montes de Malaga. Heaven.
Starting in Rincon De La Victoria, warm up the legs for 20km along the N340 coastal road seafront before heading inland at Torre del Mar on the N340a.
On reaching Velez-Malaga, find the quieter A-725 and, just before Trapiche, turn left and cross the A-356 to reach the MA-3113. From here, you start a gentle ascent through the valley. Passing the quaint little pueblos of Triana, Benamargosa and Salto del Negro, you soon turn left onto the MA-3105. And from here, there's a challenging climb to the Moorish village of Comares atop Table Mountain. Cycle up through the village walls and reward yourself with panoramic views from the Balcon de la Axarquia.
Getting back onto the MA-311 (where the MA-3105 ends), wind your way up the hill and drink in the views, before reaching a plateau where the Montes de Malaga come into sight.  After a delightful swoosh on top of the world, descend into the valley, taking care to turn left before Olias and right at Totalan to come back to Rincon de La Victoria at the end of the MA-3202.
Pitstops: There are plenty of chiringuitos for a cuppa, fuel or end of ride copa in Rincon de La Victoria and Benajarafe. For home-cooked Spanish cuisine en-route, try the restaurants near the Balcon de la Axarquia in Comares, or the well-known Table Mountain restaurant in Los Ventorros just past Comares.
Exploring Moorish Pueblos on the Ruta del Mudejar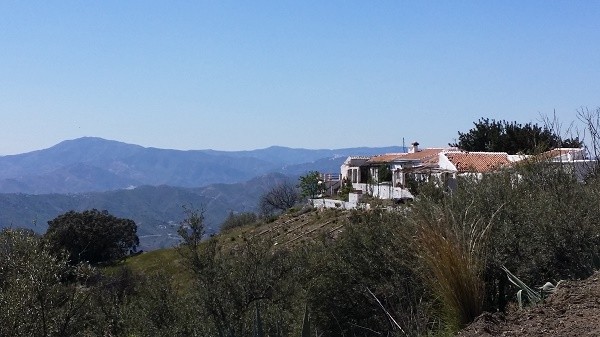 Distance – 73.1km
Elevation – 1,723m
Starting in Caleta de Velez, spin the legs along the N340 coastal road before pedalling inland through Velez-Malaga and Trapiche. Past these, you ascend gently through the valley before turning right onto the Ruta de Mudejar – a tourist route celebrating five Moorish mountain pueblos in this part of the Axarquia.
From here, there's a steady climb to Canillas de Aceituno. Then an undulating winding road takes you through the mountains to Sedella, Salares, Canillas de Albaida and finally Competa.  Then you descend into Torrox before making your way back to Caleta de Velez along the coastal road.
Along the way, you're rewarded with incredible views – the Montes de Malaga and Antequera as you climb out of the valley. Once Canillas de Aceituno is in sight, the mighty Maroma comes into view. And as you descend towards Torrox, the eastern Sierra de Almijara crowd the skyline.
Pitstops: Stop for refreshment or something more substantial in the bustling villages of Canillas de Aceituno or Competa. And perhaps a celebratory cerveza and tapa on the beachfront promenade at Caleta de Velez.
Riding The Coastal Route to Cerro Gordo Natural Park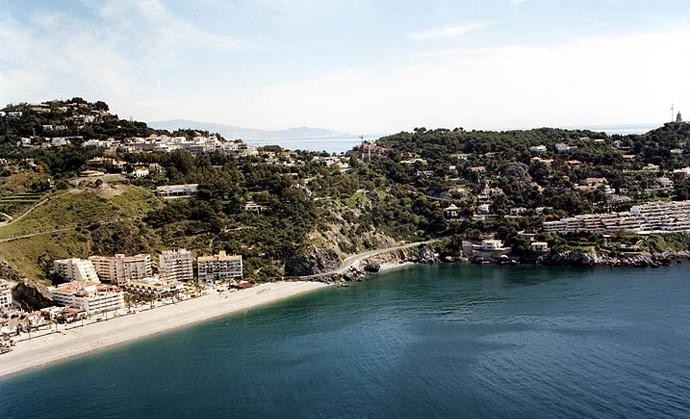 Distance – 63.5km
Elevation – 1,170km
The N340 coastal road east of Malaga has some of the finest cycling in Europe. Sandwiched between the expansive Mediterranean and the Almijara mountain range, the views are truly awesome. And with the added bonus of a sea breeze, riding these undulating roads is a dream.
The stretch between Caleta de Velez and La Herradura passes tourism hotspots El Morche, Torrox Costa and Nerja before reaching the picturesque Cerro Gordo Natural Park. Here, the road becomes quieter, framed by dramatic cliffs, secluded beaches and rocky outcrops.
The Cerro Gordo turn-off is signposted, just before you enter a tunnel. Take this right and do the short but exhilarating climb to the viewpoint. From here, you can see Torre del Mar and, on a clear day, the mountains of Malaga. To the other side, you'll see the secluded horseshoe bay of La Herradura – if you're lucky with the Sierra Nevada peaking over the top.
Pitstops: The town roads are lined with bustling cafes and restaurants and you'll find chiringuitos in Torrox Costa and just before Nerja. There is a lovely Mirador restaurant on Cerro Gordo, but don't count on it being open.
Climbing the Rio Verde to Meson Los Prados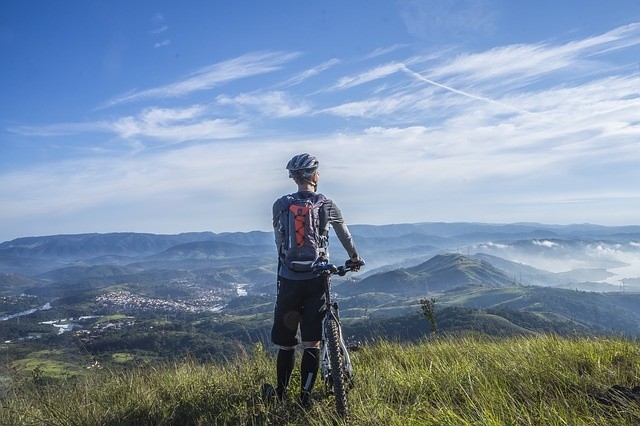 Distance – 65.1km
Elevation – 1,555m
Don't be fooled by the length of this ride. Cyclists come from all over to cycle this route, which is in part categorised as HC (hard as nails) by Strava. But it's not just about the challenge. The views are truly spectacular. And when you ride it, you're likely to see plenty of other cyclists adding it to their ride portfolio.
It's a 'there and back' on the old 'main' road between Almuñecar and Granada. It's easy to find (once you've survived 'death by roundabout' in Almuñecar). You just find the A4050 for Jete and Otivar. Then you follow it to the top.
As you climb, the views change from lush avocado groves carpeting the valley, to dramatic mountains and rocky outcrops, to a shaded forest on the plateau at the top.
NB: Adding to this route's exhilaration quotient, the road is vertiginous and hairpins sharp in parts. There are sometimes fallen rocks near the top. So take care when descending.
Pitstops: There are plenty of good restaurants and eateries in Jete and Otivar. There is also the well-located Meson Los Prados restaurant – frequented by cyclists – at the top.
Malaga to Cadiz: The Ronda – Grazalema Loop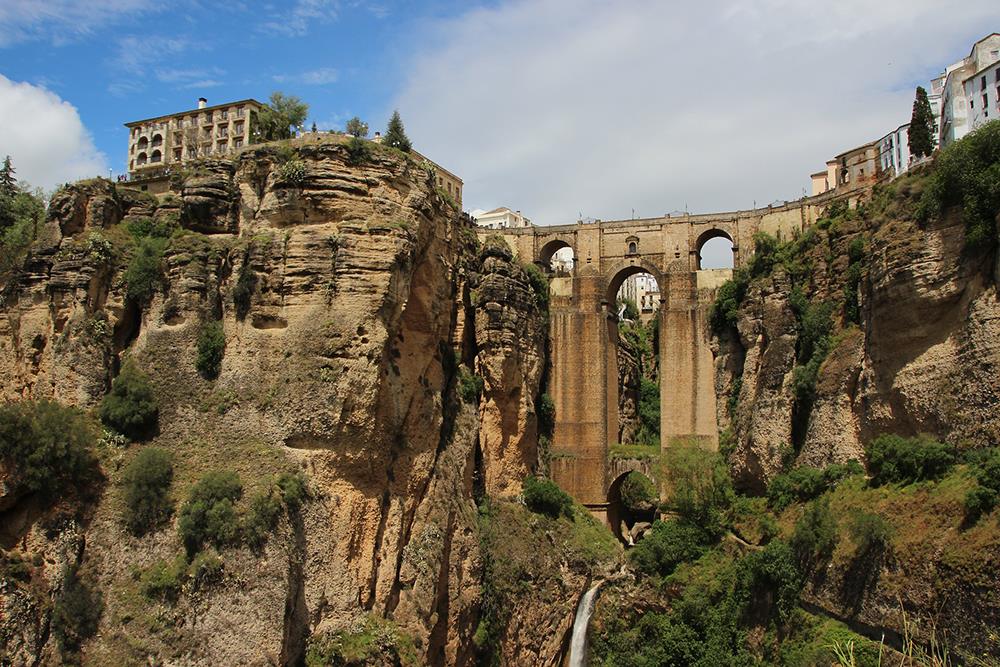 Distance – 69.3km
Elevation – 1,467m
If you're staying along the Costa del Sol, a trip to Ronda will be high on your wishlist. This ride starts and ends there, giving you a chance to wander around the historic town and check out the views from its jaw-dropping gorge. It also crosses into Cadiz, to the pretty village of Grazalema, which nestles in the foothills of the Sierra de Pinar. In fact, if you are staying in Cadiz province, you could even start and end from there.
After leaving Ronda, the ride climbs steadily on the A-374 – a reasonably busy road with good-sized hard shoulder. Then, after 10km, take the left fork onto the A-372 and follow this to Grazalema. This beautiful undulating road has cork forests, the occasional mountain goat and incredible views across the valley.
After taking a look (and perhaps refuelling) in Grazalema, take a left and then descend the valley on the CA-9123.  Shortly after, turn right on the A-2300* and make your way towards Montecorto. From here, you can get back onto the A-374 and make your way back to Ronda. Or you can bypass this for 6km on the more scenic MA-8404 before making your way back to the A-374 and climbing back to Ronda for a celebratory cerveza.
*Take a left here to make the ride a solid 100km, circling the delightful Zahara-El Gastor Reservoir Strava.com
Pitstops: There are lots of great places to dine or buy artisan delicacies in Ronda and Grazalema. Take the 100km option and you could fuel up while drinking in the dreamy views of the reservoir at El Mogote another place in Algodonales.
NB: If leaving from Ronda, be aware that the town adds 12km and a good 280m climb to the ride. So parking and starting on the outskirts near the A374 will give your legs a break.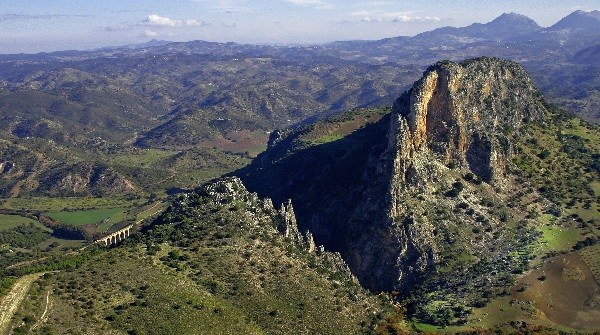 Be Prepared..
Thanks to the abundance of cyclists, cars usually give you a wide berth with road signs on popular routes advising a healthy 1.5m clearance. But despite this, you should keep your wits about you. Gradients can be extreme – so take care when descending, particularly on hairpin bends. Also, it's illegal to cycle more than two abreast and to run traffic lights. So follow the rules to avoid any hefty fines.
Before getting started, be aware that; although the sun shines (almost) daily, you'll need to adapt your rides, clothes and gear according to the time of year.
When the sun is 'hot n' high' in July and August, it's best to go out on the bike earlier in the morning. Wear sun cream; carry plenty of water; and choose routes with lots of shade from forests and groves. Or cafes and restaurants…
It's warm, sunny and perfect for cycling during April, May, June, September and October. Despite this, it's still worth slapping on the sun cream and bringing plenty of water. In fact, it's good to make sure there are water sources en-route too. Most towns and villages have fuentes (fountains), but not all of them. So fill your water bottle at every opportunity. And because you're likely to sweat, bring electrolyte drinks or gels as well as snacks.
From November to March, the weather can be temperamental. Although it's warm in the sun, the wind is chilly – particularly in the mountains. So make sure you bring lots of warm layers and a windproof mac. And check the weather forecast for rain. Because when it rains, it really does rain.
Do our cycling routes tempt you to try them? Our concierge can arrange guides, bike hire and support vehicles for your cycling holiday, contact us for more information.
https://theluxuryvillacollection.com/wp-content/uploads/2017/12/Bikes.jpg
794
1200
Phillipa
http://luxuryvillas.wpengine.com/wp-content/uploads/2013/04/Main_Logo-340-300x127.png
Phillipa
2017-12-01 13:28:22
2017-12-04 11:57:21
Six Epic Andalucian Cycling Routes