The European polo season has begun and the 10 goal world-class players are looking forward to play and to chalking up some serious goals. As spectators, on the other hand, we can't wait to see the fast-paced, warrior-like tournaments and talented, agile ponies – not to mention, of course, spending time with friends, getting the fizz in, and everything else that goes on at a day at the polo.
Where is the Polo in Sotogrande?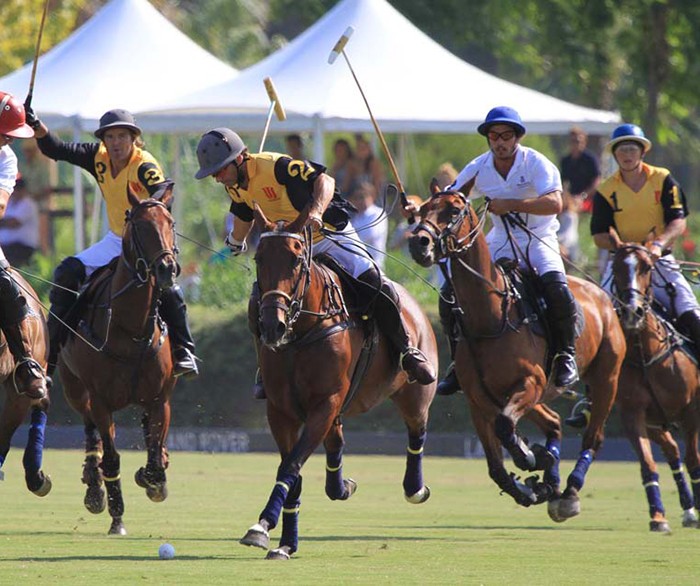 The Santa Maria Polo Club in Sotogrande – which is just over the border of Malaga province into Cadiz province in southern Spain – is a famed location on the polo high goal tournament circuit.
Holding 20 tournaments this year, Sotogrande is the location in Spain. Santa Maria Polo Club with its magnificent manicured grounds is perfect for the big games of the summer. The Gold Cup and Silver cups, which attract the best polo teams in the world, are the major dates in Spain's polo diary.
Address: Sotogrande, A-7, 11310 San Roque, Cadiz; telephone: 956 61 00 12. Santamariapoloclub.com.
Other Polo Clubs in Sotogrande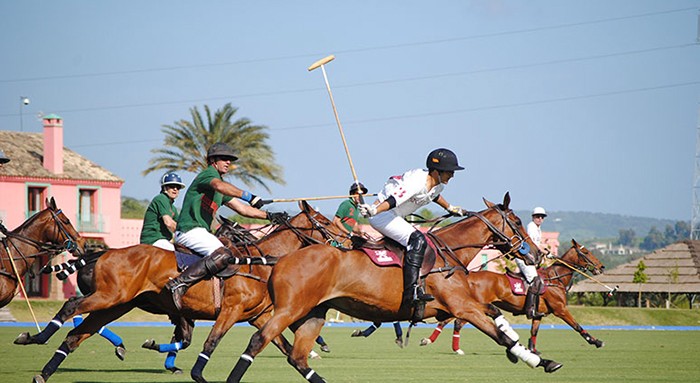 Dos Lunas Polo Club has two polo fields; address: 11349 San Martín del Tesorillo, Cadiz; telephone: 956 61 80 52. Doslunas.es.
Polo Valley Polo Club for polo tuition; 29692 Casares, Malaga; telephone: 951 97 95 58. Polovalley.co.uk.
Ayala Polo Club has three fields; Hacienda de San Enrique, Km 1, 11312 San Enrique de Guadiaro, Cadiz; Telephone: 670 96 18 41.
When to Go to the Polo in Sotogrande – 2018 Dates:
7-10th June – XVIII Andrés Paradé Memorial Tournament
7-10th June – IV Doña Maria de la Mercedes Memorial Tournament
15-24th June – II Patrick G. Hermés Cup and XIV Conde de la Maza Memorial Tournament
28th June – 1st July – XIII Copa de Jerez Tournament
5-8th July – XXIV Enrique Zobel Memorial Tournament
12-15th July – Women's Polo Tour
25th July – 1st September – 47th International Polo Tournament (the main event)
What to Expect?
An exciting day out for everyone, it's great for families, couples or groups of friends. There's plenty to do at Santa Maria Polo Club during the tournament – a shopping village, pop-up childrens play area, bars, lots of socialising and after parties with live music and DJs. Friday and Saturday nights are the busiest during the month long tournament.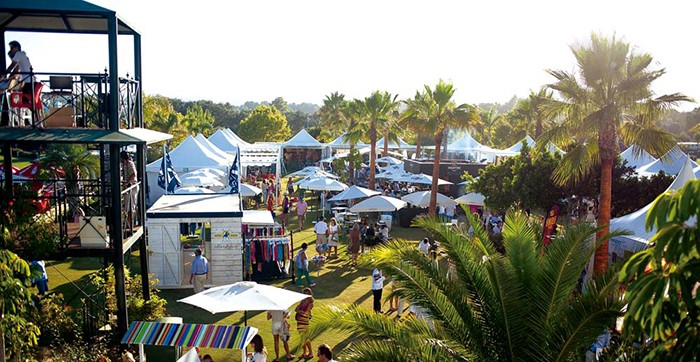 What to Wear?
Casual clothing is the order of the day. If you're a guy you can't go too far wrong with adopting the Nacho Figueras look, basically. Ladies keep it comfortable, classic and elegant. By all means go casual with linen but a touch of formality wouldn't be out of place, either. This isn't Ascot, though, so keep the hats at home.
Polo Elsewhere in Europe
Since its heyday in the 20s and 30s polo is having a major resurgence. Urban polo clubs are popping up across the continent, and more and more variations of the game are becoming popular (snow polo is even played in St Moritz, Courcheval, Kitzbuhel, Klosters, Megeve and Val D'Isere during the winter months).
In Europe, England, France and Spain are the main players for polo. For the biggest tournaments the season starts in early May in England, then France and Spain in July and August. The high goal season in England includes the Cartier Queen's Cup at Guards Polo Club, and the Veuve Cliquot Gold Cup at Cowdray Park. Once the Gold Cup is won the focus is on mainland Europe until the end of August.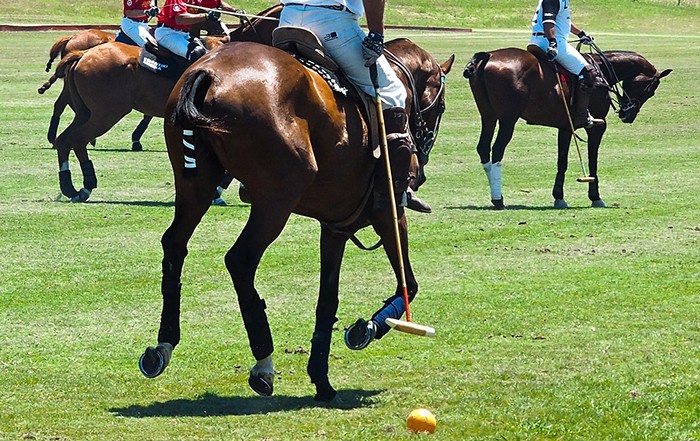 Haven't Experienced a Polo Match? The Need-to-Know Polo Guide for Newbies
A polo field is 15 acres – so pretty large – but given that there are 8 horses per game sometimes topping 35mph the space soon gets eaten up. Teams are of four: player 1 is offence, 2 is defence (they really cover the ground and is the hard worker in the team), 3 is often the captain (and chief strategist) and 4 is defence, the person who can hit the ball the hardest.
Polo is incredibly fast-paced and the ball can reach speeds of 100 miles per hour. A polo chukker (or period of play) is seven minutes and most are played to six chukkers. After the first seven minutes horses can be changed for fresh legs as many times as a team wishes and are ready waiting for players throughout the game.
Fast, exciting and fun, there's quite nothing like a polo game.
It's free entrance to see the polo in Sotogrande unless it's a major match (a semi-final or final, then the cost is between 5€ – 15€). It's a fun thing to do while visiting this part of southern Spain. If you fancy experiencing it for yourself, check out our handpicked selection of luxury villas in Sotogrande. Our concierge can help with any aspect of planning a day and night at the polo, including VIP seats/tickets – just get in touch.
https://theluxuryvillacollection.com/wp-content/uploads/2017/06/rio-sotogrande-fields-santa-maria-polo.jpg
586
700
Phillipa
http://luxuryvillas.wpengine.com/wp-content/uploads/2013/04/Main_Logo-340-300x127.png
Phillipa
2017-06-22 09:00:00
2018-07-05 12:34:44
Polo – Sotogrande's Summer Sport