Sotogrande has friends in high places. From musicians and A-list movie stars to former UK prime ministers – and even a royal polo fan or two – it's been the luxury resort of choice for some of the world's more discrete rich and famous types for many years now.
It's an unusual place, too. It's not a 'town' in the strictest sense of the word, but is actually a privately owned, and rather exclusive residential complex. As a result, it keeps itself to itself a bit, and can be just a little hard to get to know.
From golf to gastronomy via polo and playas, in our Sotogrande guide we've tried to lift the lid on some of its best bits – so you can really get the most out of your next visit.
Location & Getting There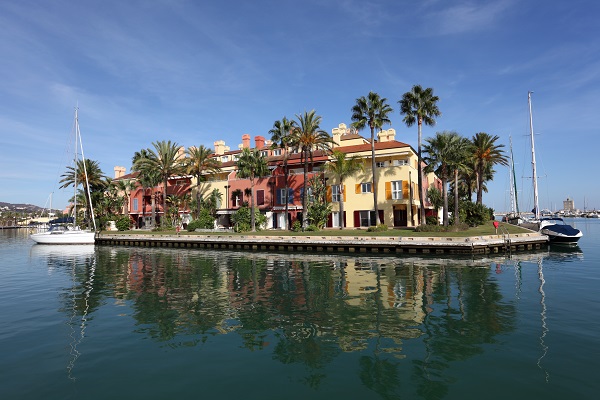 First things first: where is Sotogrande? It's about an hour's drive from Malaga airport – if you take the Autopista rather than crawling along the old N340, that is. Gibraltar International Airport is even nearer at about 25 minutes by car. Driving from Sotogrande to Marbella only takes about 35 minutes.
Golf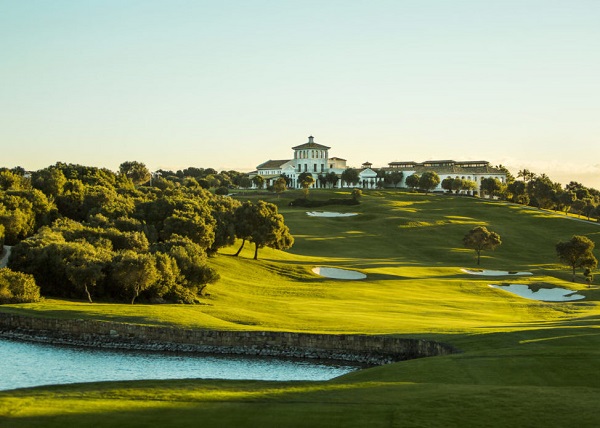 Golf is always going to be one of the main draws for many visitors to Sotogrande. Which is hardly surprising given that there are no fewer than five golf courses to choose from in the immediate vicinity, and a couple of those are amongst the very best in Spain.
La Cañada and La Almenara are both excellent and suitable for high to mid-handicappers, while La Reserva, the Real Club de Golf  and world-famous championship course, Valderrama, are really best left for only the most accomplished golfers.
(For more golf inspiration, see our pick of the best Costa del Sol golf courses.)
Beaches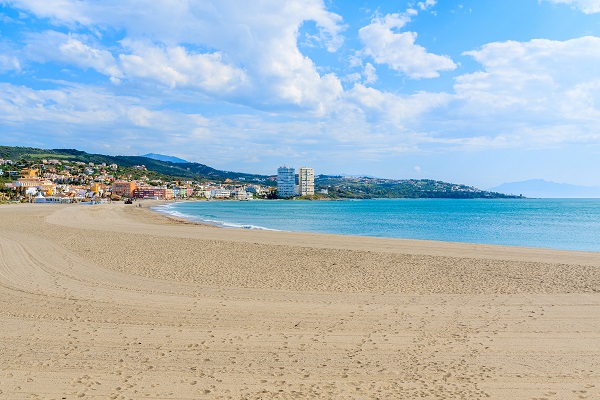 As the name suggests Playa de Sotogrande is the main beach, stretching away directly from the estate itself. For ease, comfort and a range of facilities, this is the place to head. It's also home to the ultra-stylish and adults-only Trocadero Beach Club, which if you book in advance makes for a great base camp for the day.
On the other side of the port, Torreguardiaro is another good bet for a nearby strip of sand to stretch out on for the afternoon. Here, too, there's a good beach club – Chambao – to try.
Ever so slightly further afield, Playa Guadalquiton is a wilder choice, and one of the quieter, less developed and more attractive stretches of sand you'll find between Malaga and Gibraltar.
For something a little different – and a whole lot luxe-ier – the La Reserva resort (Lareservaclubsotogrande.com) is home to Spain's first, and to date only, private beach. A manmade sandy lagoon in the hills above Sotogrande, it's a spectacular spot (see the video below to get a flavour) that's packed with facilities including paddleboards and kayaks if you fancy getting a bit of exercise.
With warm, shallow waters and shady chill out areas, La Reserva's inland beach is ideal for families (although there's also an adults-only pool) and it comes with a full complement of restaurant, bar and even a rather nifty beach boutique.
Sotogrande is at the far westernmost end of the Costa del Sol, and unlike most of the rest of the region, is in Cadiz rather than Malaga province. As a result, the beaches of the Costa de la Luz – which are some of the most beautiful in the whole of Spain – are just over the other side of the Rock.
Restaurants & Bars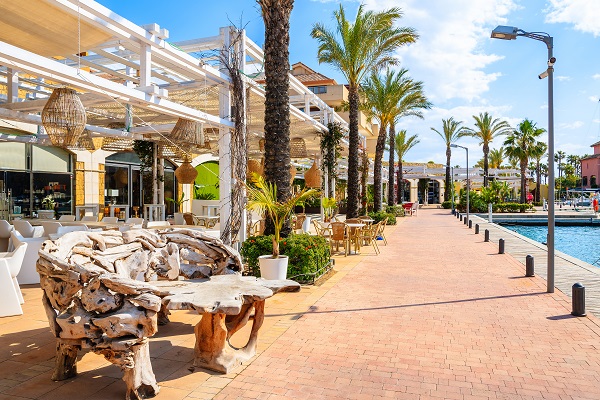 In the heart of the port, Belgian-owned Mytilus (Plaza de Los Naranjos, 8) is one of the best restaurants in Sotogrande. In amongst a heavy meat offering (we can heartily recommend the Chateaubriand) delicious Belgian dishes like moules frites make an appearance.
Next door to the polo ground, La Cancha II (Haciendas de San Enrique, s/n, 11312 San Enrique de Guadiaro) is another of the area's best places to eat, specialising in the finest Argentine beef in a gorgeous setting next to lush, green polo fields.
For something more relaxed, Inboca Gastrobar, PuraTapa (both of which are on the Avenida del Mar) and its sister bar down in the Marina, Bokana, are a few of the best places to head for tapas.
A little outside the resort, just up the road towards San Roque, La Finca (Ctra. Nacional 340, Km 127) offers some excellent Thai fusion cuisine in a pleasant courtyard setting.
Nightlife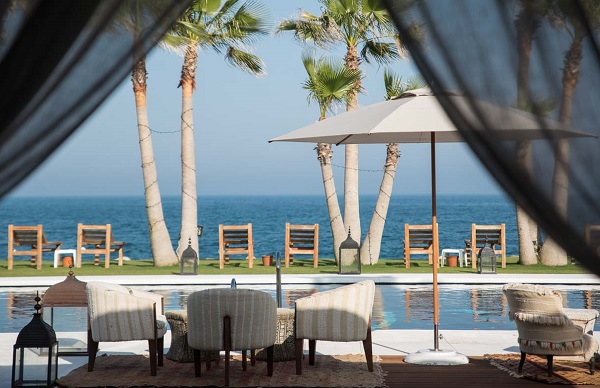 In the summer, Sotogrande after dark is all about the beach clubs. The coolest hang-out of the moment is definitely the Trocadero Beach Club (pictured – Grupotrocadero.com). With loungers, large Moroccan lanterns, rugs, cushions and parasols set against a backdrop of seafront palms swaying in the breeze, it may well be the most Instagrammable spot in Sotogrande.
There are a few other options worth dropping into if you want to make the most of the cool sea air in the evenings. El Octogono (Paseo del Río, 0, 11310 Torreguadiaro) doubles up as a great place to play padel or tennis; Bunker Beach Club (Paseo del Parque, S/N) at the easternmost end of Guadalquiton is a lovely spot and often has live music on in the evenings; finally, up the other end of the resort on Torreguadiaro beach, Chambao (Playa Torreguadiaro, s/n) is another attractive place for drinks and sea views.
A couple of relaxed bars in the port worth checking out are The Hairy Lemon and Ké bar. A couple of real Sotogrande nightlife institutions – which are practically next door to one another in the heart of the port, handily enough – they've been the meeting place of choice for a quick bite, a drink and a spot of people watching for the sizeable expat community for years now.
Shopping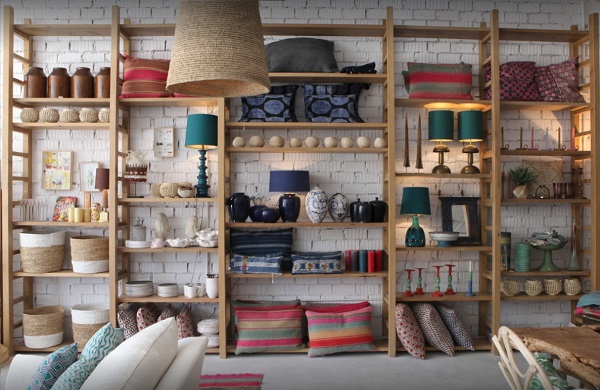 From Monaco to Puerto Banus, where there are yachts there's luxury shopping. And Sotogrande's no different, with plenty of choice for a bit of light retail therapy.
The pedestrianised Blue Sotogrande shopping quarter is the place to start. Here, Itsomi (Local 14, Ribera del Marlin) does a lovely line in beachwear, jewellery and accessories, Patricia Darch (Local 32-33, Ribera del Marlin) is an interior design showroom and De Gruyter (Ribera del Marlin 35) is an ultra-chic furniture store.
El Mercado de Levante is a fab Sunday market of artisan stalls and interesting pop-up shops, which in the summer months also opens up on Wednesday and Thursday evenings.
There are also a couple of nearby shopping centres to choose from in Mar y Sol and SotoMarket.
Other Things to Do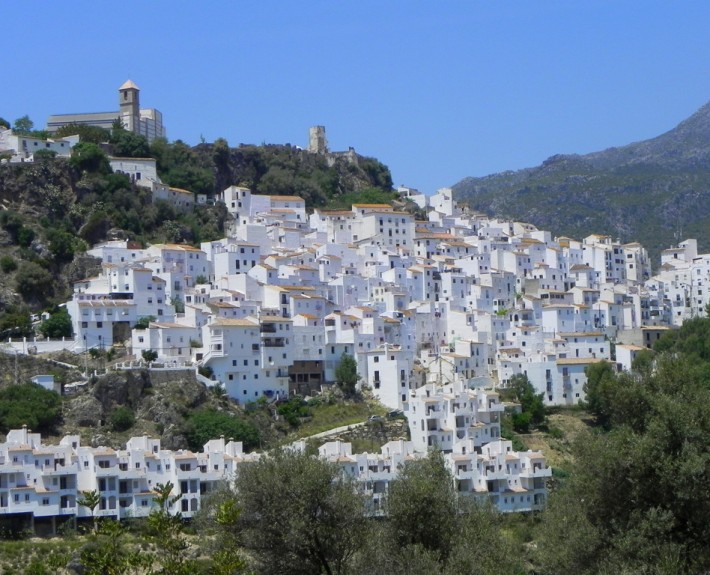 Golf, shopping and dining aside, Sotogrande itself is not exactly overflowing with things to do in the sightseeing sense of the word. Which is kind of understandable – it's a luxury resort where people are supposed to come to kick back and relax, after all.
The surrounding area itself, though, is absolutely packed with sights and attractions. If you don't fancy another day's sunbathing, there are countless great day trip options right on the doorstep,  from Gibraltar, Marbella old town or Ronda (see the day trip provided by tour company Tomaandcoe.com) or one of the beautiful nearby white villages like Casares (pictured above), Jimena de la Frontera or Gaucin.
A fishing trip is also a brilliant day out. You're right at the mouth of the Mediterranean, where it meets the Atlantic, and the variety of fish you can catch ranges from swordfish and tuna to mackerel and even conger eel. Dean's Charter Fishing (Deansfishingholidaysinspain.com) runs a tight ship and conforms to the required 'catch and release' regulations.
If that seems a little bit too much like hard work, you can charter a yacht for the day with Yachting Sotogrande (Yachtingsotogrande.com).
The absolute best way to see the Sotogrande resort is by a Mini Moke beach buggy. There's a great company called The Jolly Mile (Thejollymile.com) where you can hire a cooler-than-cool Mini Moke and drive around visiting all the hot spots.
When to Go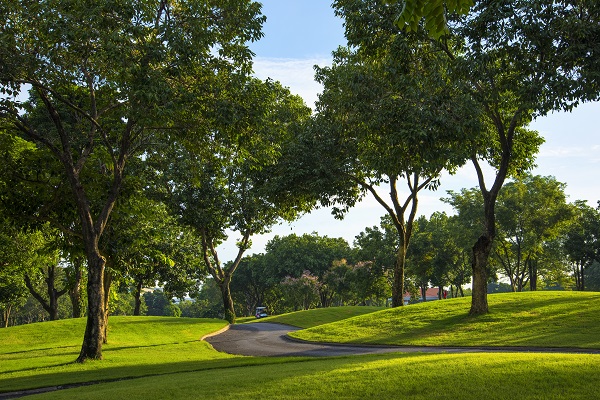 As with the rest of the Costa del Sol, while it may be at its liveliest during the summer months Sotogrande's very much a year-round destination. The weather is superb, with an average of +300 days of sunshine per year and winter temperatures that rarely drop much below the high teens or early twenties celsius.
A couple of dates do stand out, though. First: the polo. Sotogrande's 'other' sport after golf is a big deal. The polo season runs from June to early September and takes place at the exclusive Santa Maria Polo Club adding a real dash of international glamour to the high summer months. (You can find out more with our Sotogrande polo guide.)
Another great time to be in Sotogrande is when the Sunset Valley Weekend festival (Sunsetvalleyweekend.com) is on. Taking place from 10-12 August in the Santa Maria Polo Club, the line-up tends to be 80s Spanish old favourites and 60-70s retro classics.
Where to Stay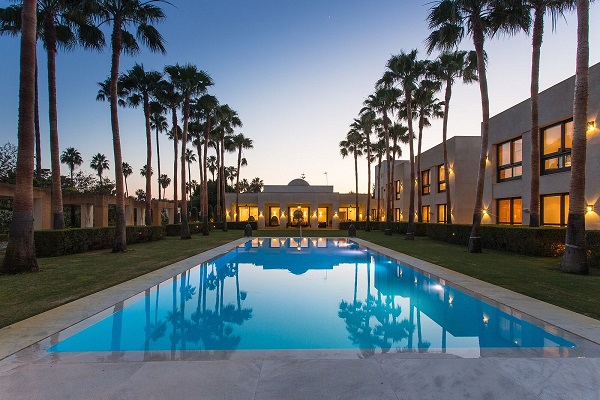 There are undoubtedly some decent Sotogrande hotels to stay at. But we're the Luxury Villa Collection, and we're going to stick our neck out here and say that they're not a patch on our handpicked selection of villas.
Villa Artea is a sleek, modern design villa that's all clean lines, white-on-white minimalism and chic open-plan living spaces. Villa Karima (pictured above) is something else. A 16-bedroom pleasure palace of staggering proportions and a dizzying list of facilities, it's more like its own self-contained luxury resort than anything resembling a standard 'villa'.
https://theluxuryvillacollection.com/wp-content/uploads/2018/08/sotogrande-yachts-waterways-1.jpg
399
600
Phillipa
http://luxuryvillas.wpengine.com/wp-content/uploads/2013/04/Main_Logo-340-300x127.png
Phillipa
2018-08-29 12:21:18
2018-08-29 18:36:58
Your Guide to Sotogrande