While Ronda may not a big town, it's certainly a town that's big on flavours. From fine dining to neighbourhood tapas bars, some of the finest eating and drinking in Andalucia can be found in amongst our pick of the best restaurants in Ronda.
Bardal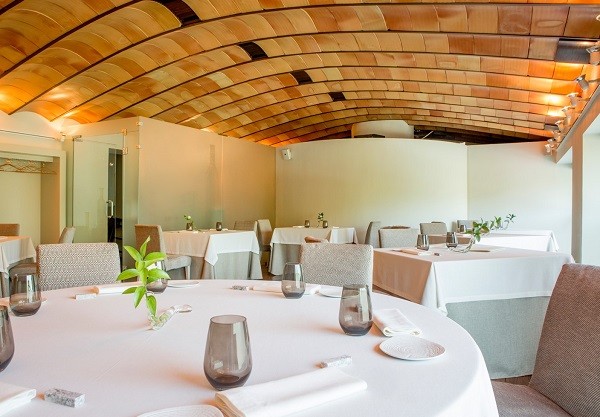 Bardal was awarded its first Michelin star in November 2017. And it merely rubber-stamped what everyone in foodie circles already knew: that Ronda had become one of the best places to eat in southern Spain. Headed up by Benito Gomez, the Catalan chef behind long-time LVC favourite, Tragata, the award hardly came as a surprise, either: since it opened its doors back in July 2016 it's been wowing the critics.
There are two tasting menus to choose from: a shorter and a longer one. Dishes featuring hearty components like veal head, venison and black pudding, and delicate takes on local stews and soups like gazpachuelo, combine creative flair and technical ability while still being married to Rondeña roots. Combined with pairings from a wine cellar of nearly 200 bottles, it's a spectacular dining experience from start to finish.
Address: Calle José Aparicio 1, 29400 Ronda; Tel. 951 48 98 28; Restaurantebardal.com.
Restaurante Azahar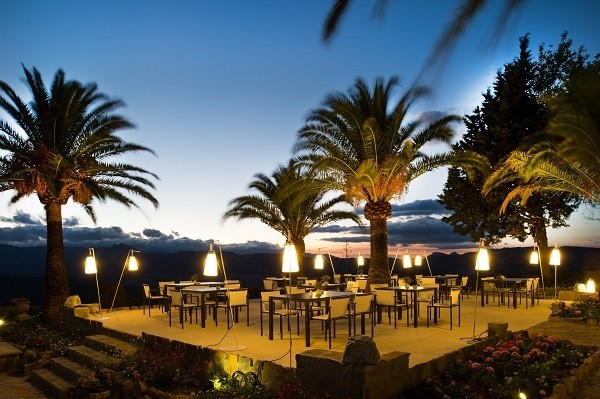 One of the best fine dining options in town, Azahar is the Andalucian outpost of Eboca Restaurants, an extensive network of top-class eateries that stretches from Barcelona to Ibiza via the Dominican Republic. The restaurant of the Hotel Catalonia Reina Victoria, as you'd expect from such a serious set-up – and the fairly elevated price tag – the emphasis is on high-end ingredients beautifully put together into dishes that are as elegant as they are delicious.
Mouth-watering meat dishes include bull's tail, kid slowly oven-cooked to crispy perfection and served with a cherry jus and vegetable tempura, and a suckling pig that can even (just about) vie with the jaw-dropping views as the most inviting part of the restaurant.
Address: Calle Jerez 25, Ronda 29400; Tel. 952 87 12 40; Restauranteazahar.com.
Restaurante Bodega San Francisco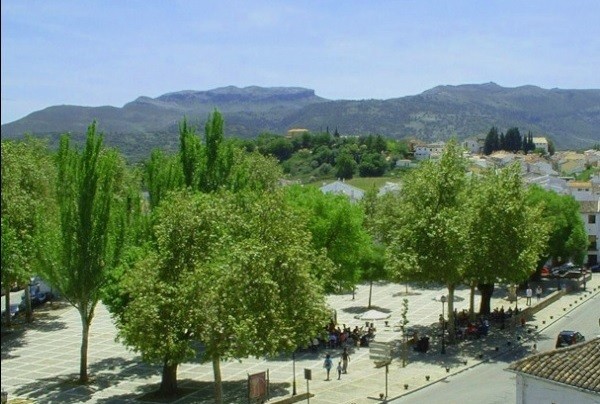 No matter what your gastronomic ambitions are, you can't spend more than a few days in Andalucia and not set foot in a typical spit and sawdust joint. While there are undoubtedly rougher round the edges places to eat where you'd still expect an excellent bite to eat, Bodega San Francisco more than fulfils this brief.
All of the basic ingredients are in place, from the beams and polished terracotta floors to the legs of ham hanging above the lovely gleaming wooden bar. Fancy the food is not, but whether it's green peppers 'al padron' (fried, salted and blistered to within an inch of their greasy lives) to fried fish, spicy prawns, or snails when they're in season, it's a quintessentially Andalucian experience.
In the evenings, the terrace area – out on a square dotted with noisy, bird-filled plane trees (pictured) – is one of the most inviting spots in town for a drink and a light bite.
Address: Plaza Ruedo Alameda 32, 29400 Ronda; Tel. 952 87 81 62; Bodegasanfrancisco.com.
Abades Ronda Restaurante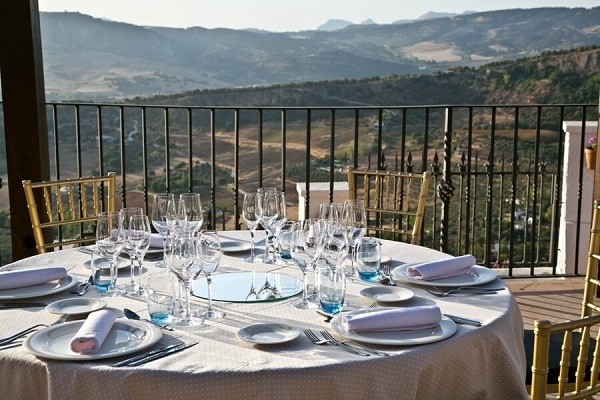 Another restaurant that falls firmly into the category marked 'special' is Abades Ronda. Standout dishes range from the sublime – think foie with local goat's cheese and caramelised apple and delightfully delicate turbot on a bed of baby vegetables – to the frankly ridiculously delicious, a sirloin of Iberico pork that, in our opinion, would be worth trying to scale the gorge for.
And speaking of the gorge… it's right there, like an extra dining companion, opening out on to views that stretch away across the sun-dappled fields and olive groves to the misty Serrania de Ronda in the distance. Mesmerising.
Address: Paseo Blas Infante, 1, 29400 Ronda; Tel. 952 87 13 67; Abadesronda.com.
Tragata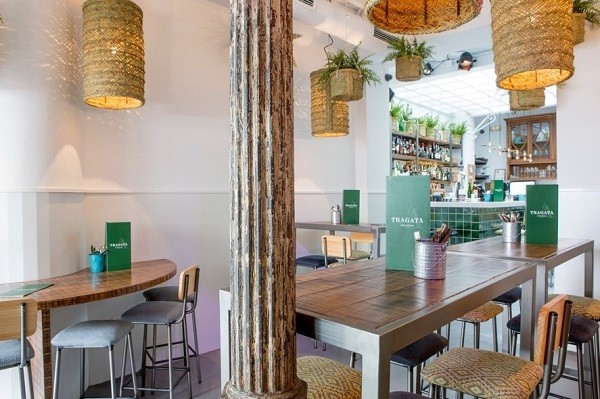 Tragata's been one of Ronda's top restaurants since it opened what seems like yonks ago. It's hardly surprising given that owner/chef Benito Gomez (the man behind recently Michelin-starred restaurant, Bardal – see above) cut his teeth in Ferran Adria's La Alqueria at Hacienda Benazuza, as well as the kitchens of Jean Luc Figueras and Dani Garcia.
And the food? Asia meets Andalucia in a nutshell, with squid sandwiches, Russian salad and eggs 'a la flamenca', all making an appearance alongside the likes of prawn tempura, beef tataki and noodles and Thai-style seabass. Not only is it high quality fare, but it also makes for a nice change from the more traditional dishes you tend to find on your average southern Spanish menu.
Address: Calle Nueva 4, 29400 Ronda; Tel. 952 87 72 09; Tragata.com.
Entre Vinos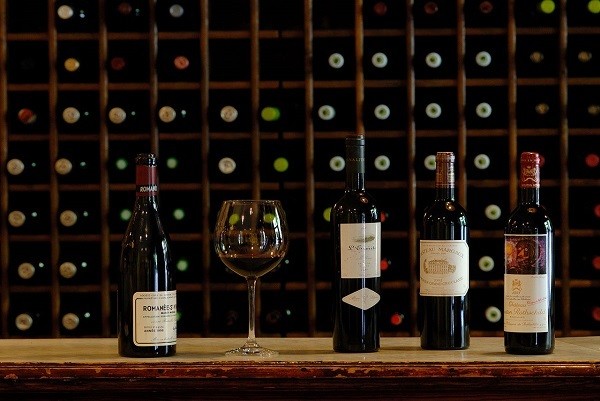 First the downsides: Entre Vinos is on a rather humdrum residential street out to the far north of the old town. The positives more than outweigh its slightly uninspiring location, however: it's an inviting little neighbourhood wine bar with a lively atmosphere and a cracking selection of local Ronda wines.
Elsewhere in the positives column, food-wise all the classics are here from jamon, morcilla, presa and garlicky mushrooms to some fine cheeses and pates. Our top tip, though, has to be the squid cooked in its own ink and served with noodles.
Address: Calle Pozo 2, 29400 Ronda; Tel. 658 58 29 76; Facebook page.
Restaurante Almocabar
Tucked away at the southernmost end of Ronda's historic centre, this charming little neighbourhood tapas bar and restaurant is very much one for all seasons. On chilly winter nights, great hearty plates of oven-cooked lamb and partridge stew are served up in the cosy interior.
In the summer, by contrast, the terrace is a great spot for sitting out in the square over a cool gazpacho or one of their fine salads and admiring the swooping swallows against a backdrop of the Moorish Puerta de Almocabar gate.
Address: Plaza Ruedo Alameda, 5, 29400 Ronda; Tel. 952 87 59 77; Facebook page.
Taberna Tropicana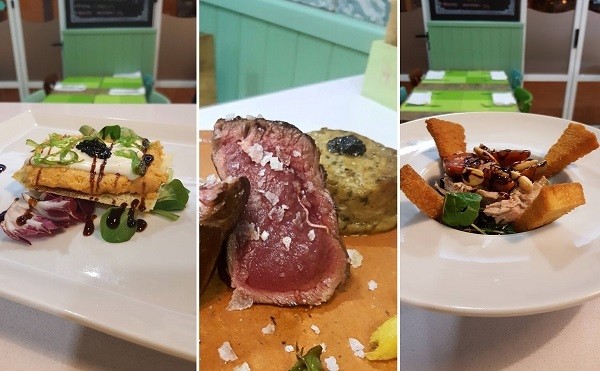 There's much more to Tropicana than meets the eye. A modern looking tapas joint on the corner of a typically Spanish block of flats way off the tourist trail to the north of the town, as seriously good dish after dish comes out of the kitchen you soon realise that you've stumbled into one of the best tapas bars in Ronda.
What's good? On a fairly extensive and varied menu, it's the meat that really stands out. The crisped oxtail tapas is a great way to kick things off, while the house speciality gourmet burgers are vast towers of juicy meat. It's the barbecued entrecote and T-bone steaks that claim the prize, though – they're things of rare beauty, crisscrossed with marbling, lightly charred on the outside and succulent and tender within.
Oh, and they serve a very mean gin and tonic, too.
Address: Avenida Malaga & Calle Acinipo, s/n, 29400 Ronda; Tel. 952 87 89 85; Tabernatropicana.com.
Appetite whetted by our pick of the best Ronda restaurants? For more things to do in this stunning town, check out our guide to Ronda in a day.
https://theluxuryvillacollection.com/wp-content/uploads/2017/09/abades-view-gorge1.jpg
400
600
Phillipa
http://luxuryvillas.wpengine.com/wp-content/uploads/2013/04/Main_Logo-340-300x127.png
Phillipa
2017-09-18 18:38:00
2017-11-28 11:05:11
Eight of the Best Ronda Restaurants & Tapas Bars