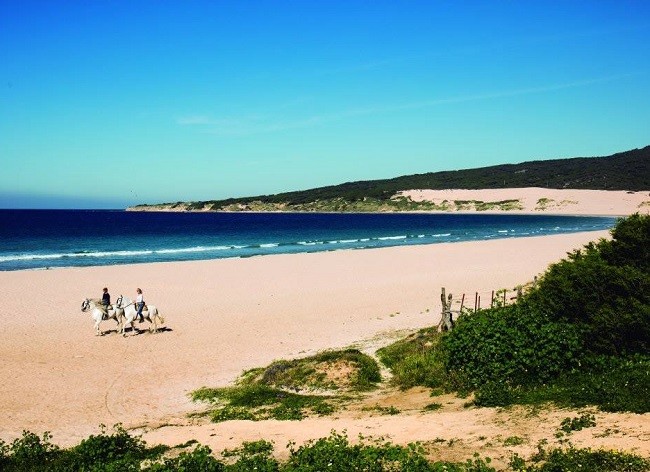 Psst… want to know where the savvy, sand-loving traveller heads for their European beach fix? Four little words: the Costa de la Luz.
It's long been a jealously guarded secret amongst in-the-know Spanish visitors that the beaches on Cadiz's Costa de la Luz are some of the best in Spain. These days, though, the definitely secret's out, and barely a year goes by without one magazine or another stating this fact.
Where is the Costa de la Luz? 
Good question. It's the coast that faces the Atlantic Ocean stretching from the Portuguese border to Tarifa (just west of the Gibraltar and the Costa del Sol) where the Mediterranean sea and the Atlantic meet – as the Flamenco guitarist Paco de Lucia said, entre dos aguas, or 'between two waters'.
The Costa de la Luz stretches over two provinces in Andalucia, Cadiz and Huelva. Now, these beaches have a different feel altogether to those of the neighbouring Costa del Sol. Wilder, and yes occasionally windswept, but also in many places almost completely lacking in development. The glamorous beach clubs are swapped for boho-chic beach-side bars, and raucous champagne spray parties traded in for chilled sun-downers. In a word: bliss.
Our Pick of the Best Beaches on the Costa de la Luz
Valdevaqueros Beach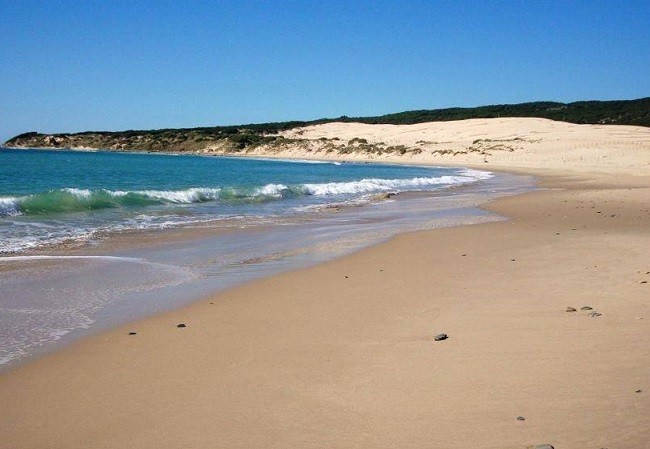 Along from the lovely little port town of Tarifa is the epicentre of the kitesurfing scene on the Costa de la Luz, Playa Valdevaqueros. This huge beach, which rises to an enormous sand dune at its westernmost end, is where you go if you want to get active or at least be seen with the surfer types. The few beach bars that flank the edge of Valdevaqueros beach are cooler-than-cool chill out affairs with plenty of facilities for your boards and low-slung seating to kick back in.
El Palmar – Near Vejer de la Frontera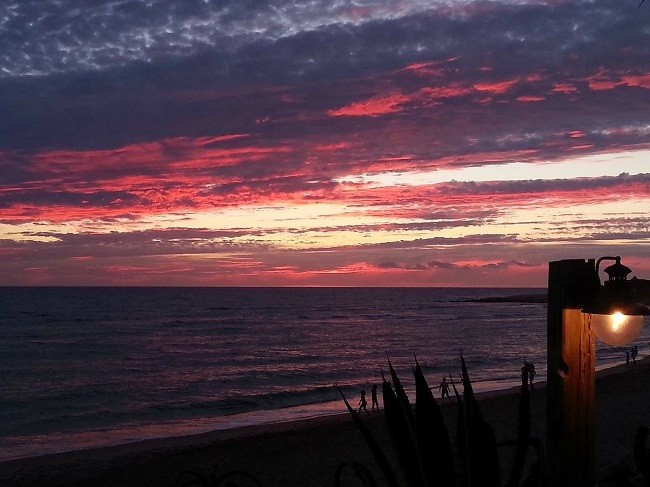 Our absolute favourite Costa de la Luz beach for, well, everyone really is El Palmar. Crashing Atlantic waves and surf hire shacks keep the most energetic entertained. The pristine huge white sand beach is ideal for sunbathing and sandcastle-making for little ones.
The small but perfectly formed selection of beach bars and restaurants keep hunger pangs away and allow for easy afternoon beverage runs. Then, as the evening sets in, the livelier beach bars with live DJs and music keep the young (and young at heart) happy with beach beds and a place to be seen. El Palmar beach has it all.
LVC recommended place to grab a bite: Restaurante La Torre; Latorredelpalmar.com.
Bolonia Beach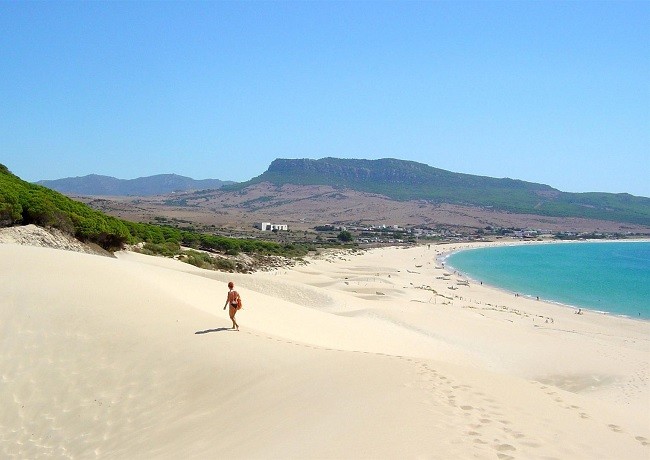 Next on our list of go-to Cadiz beaches is in the hamlet of Bolonia. As with El Palmar, the coastline is protected so there are only a few buildings around. The few that make up the hamlet and a handful towards the dunes are there to make your time more convenient. A handful of low-key bars and restaurants sell mainly seafood to visitors who want a respite from the midday sun.
Eating and sun-bathing aside, there's also horse riding on offer, a summer craft market and the extensive Roman ruins of Baelo Claudia to explore. A wooden path winds its way up from the edge of the village to the waving fringes of a pine forest that skirts the dunes towards the west of the beach. As well as being a beautiful spot, it's ideal for a run or leisurely saunter. Stay for sunset and take the hike up to the top of the dunes: the view of the sun melting in to the horizon is the stuff that holiday memories are made of.
LVC recommended place to grab a bite: Off the beach – Las Rejas (Lasrejasrestaurante.com); on the beach – Sirocco (Siroccobolonia.es).
Playa La Fontanilla in Conil de la Frontera
Convenient – with a capital 'C' for Conil. From little boutiques, supermarkets and banks to restaurants, tourist information and bars, Conil de la Frontera is a whitewashed town beside the sea with every amenity you could possibly ask for. It has a lovely old centre and is very popular with Spanish visitors from the interior towns when the mercury starts to climb and the heat becomes just too much to bear.
Just to the west of Conil de la Frontera is Playa La Fontanilla. This huge, golden sandy beach with surf is really family-friendly. While there are restaurants that spill onto the sand, don't fret, the skyline isn't spoilt by high-rises or congested eateries.
LVC recommended place to grab a bite: Restaurante La Fontanilla – it's open all afternoon and is a popular local haunt (Lafontanilla.com).
Calas de Poniente – Near Conil de la Frontera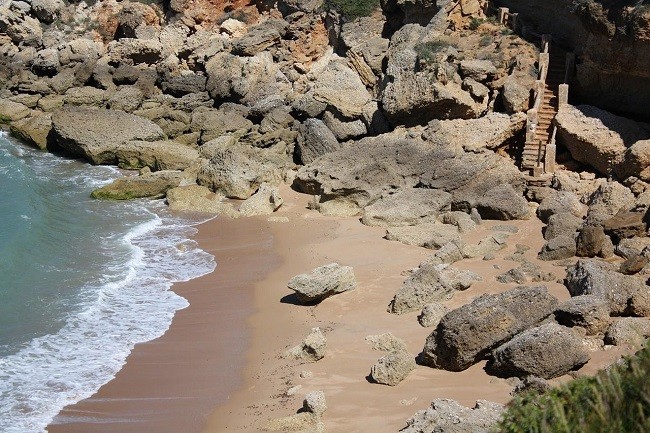 Another beach near Conil de la Frontera is Calas de Poniente. A cala is an area enclosed by cliffs, so unsurprisingly these beaches, which number seven in total, are like hidden coves. They aren't the easiest to access (but aren't prohibitively difficult by the same token) so just pack light and expect to have plenty of space to yourself. If you want to get back to nature these beaches with clear sea and clean sand are nudist, but we'd describe them as more 'clothing optional' as beach-goers don't have to completely disrobe. However, if you fancy banishing all tan lines then these are the beaches to visit.
LVC recommended place to grab a bite: Lunch options in the immediate vicinity are next to non-existent, so take a cooler box with Jamon Iberico, melon, anchovies, tomatoes, avocado and fresh bread.
Los Caños de Meca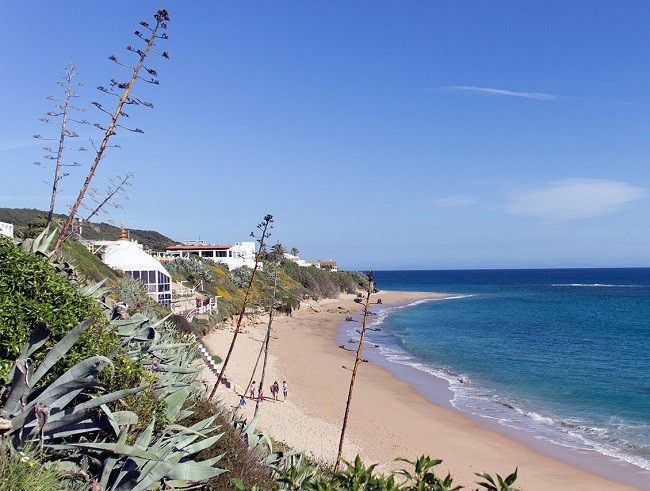 Just up the coast from the rugged fishing town of Barbate and fringed with dramatic cliffs, Caños de Meca is everything you'd hope for from a wild Cadiz beach. On the main street (Avenida Trafalgar) right by the beach there are a few scruffy bars where everyone gathers to drink cocktails and watch the sunset. Once the sun's melted into the ocean, the party gets started – and the night is a long one.
LVC recommended place to grab a bite: La Laja (La-laja.com); or in Barbate, the superb El Campero (Restauranteelcampero.es).
Playa del Carmen / Playa Zahara de los Atunes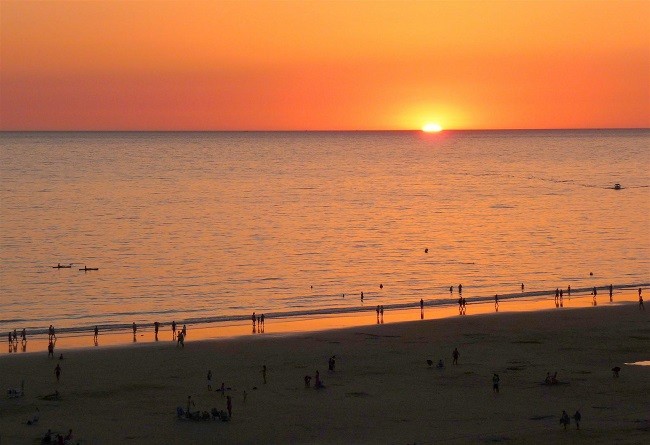 Smaller and with a slightly sleepier feel than Conil, Zahara de los Atunes sits between Cape Trafalgar and the Costa's nightlife hub, Tarifa. The town beach (although there are many beaches either side to choose from) is Playa del Carmen. This beautiful beach caters for families with sunbeds, upbeat chiringuitos (beach-side restaurants), surf board hire, paddle boarding, longboarding, kite surfing and everything you'd need in between.
Zahara de los Atunes is foodie to its core, and eating seems to be the first thing on everyone's agenda when they get here. And with good reason, too: if you like Red Tuna, a town with 'tuna' in its name is likely to be the place for you. You can expect a lot better than average fare in the restaurants in Zahara de los Atunes – it's a town that prides itself on its cuisine.
LVC recommended place to grab a bite: In town – 21 Restaurante (21restaurante.com); on the beach – La Luna which gets lively as the sun sets.
Fancy spending the summer on one of Cadiz's best beaches? Match the stunning surroundings with a stay at one of our luxury Costa de la Luz villas.
https://theluxuryvillacollection.com/wp-content/uploads/2017/06/bolonia-beach1.jpg
460
650
Lindsay
http://luxuryvillas.wpengine.com/wp-content/uploads/2013/04/Main_Logo-340-300x127.png
Lindsay
2017-06-19 12:00:02
2017-06-19 11:53:06
Eight of the Most Jaw-Dropping Beaches on the Costa de la Luz